What Is Firmwater LMS?
The LMS for training companies. Create distinct, branded e-learning sites for each of your clients or sell courses B2B and B2C with our Shopify e-commerce integration. Build custom courses of different sizes, and mix and match modules. With our multi-tenant solution, a single course update is automatically applied for all clients and learners. We provide personal and responsive support, taking the time to listen and understand your needs. No wading through community forums. Call us today.
Who Uses Firmwater LMS?
Training companies both big and small who deliver and sell e-learning courses. Our customers include commercial training companies, non-profits and certifying organizations.
Where can Firmwater LMS be deployed?
Cloud-based
On-premise
---
About the vendor
Firmwater
Located in Toronto, Canada
Founded in 2001
Languages
English, French, German, Spanish
Firmwater LMS pricing
Starting Price:
US$495.00/month
Yes, has free trial
No free version
Firmwater LMS does not have a free version but does offer a free trial. Firmwater LMS paid version starts at US$495.00/month.
Pricing plans
get a free trial
About the vendor
Firmwater
Located in Toronto, Canada
Founded in 2001
Languages
English, French, German, Spanish
Firmwater LMS videos and images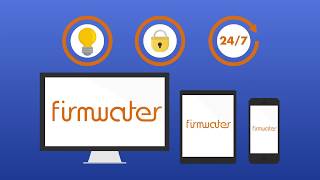 Features of Firmwater LMS
Asynchronous Learning
Blended Learning
Certification & Licensing
Content Library
Course Management
Course Tracking
Customisable Branding
Learner Portal
Learning Management
Learning Paths/Tracks
Mobile Learning
Reporting & Statistics
Reporting/Analytics
SCORM Compliance
Tests/Assessments
User Management
eCommerce Management
Firmwater LMS Alternatives
Bradley
LMSW-IPR, CFLE in US
Verified LinkedIn User
E-Learning, 2–10 Employees
Used the Software for: 2+ years
Awesome!!!
Comments: My company has been with Firmwater since late 2015, and we could not be happier. Their customer service beats any company I've worked with in the past by leaps and bounds. They genuinly want your business to be successful, and go the extra mile to help us out and learn the software. Well worth the money, and unless prices go up some time in the future I think our relationship will last for a long time.
Pros:
The software is user friendly for a non-skilled individual like myself to not only deliver educational content, but also on the backend for controlling content, managing users, and providing reports.
Cons:
Not a durn thing so far :), super easy and I am learning new things all the time.
Anwyn
Creative and Production Coordinator in US
Nonprofit Organisation Management, 11–50 Employees
Used the Software for: 1+ year
Great product, stellar customer support
Pros:
The Firmwater LMS product is incredibly intuitive and user friendly. We are able to easily keep track of our clients and specific users, and there was hardly a learning curve. We did multiple conference calls with [SENSITIVE CONTENT HIDDEN], our Firmwater representative, who gave priceless instruction and suggestions again and again to get us set up. And that's what really impresses me; the customer support. The longest it has ever taken to receive a response from their support team is still less than one business day. They are quick to respond, knowledgeable about their product and the authoring tools (I primarily use Articulate Storyline). It would have been infinitely more difficult to set up our site without their instruction, advice, and hard work. Their help has been invaluable
Cons:
I don't have any outright complaints. If a user is experiencing issues with the trainings we put out it's sometimes because they're using outdated software. [SENSITIVE CONTENT HIDDEN] has been able to tell me if the user is on a mobile device and what browser and version they're running. It would be helpful if we could have that information.
Alternatives Considered: Litmos
Reasons for Switching to Firmwater LMS: Firmwater has many more options for us to use to keep our learners on track and provided pre and post tests.
Firmwater Response
3 years ago
Anwyn, Thanks for your kind words! We are happy to hear that we were able to help you get off to a good start with Firmwater LMS. Regarding the info on user devices - this is a report that you have access to in the system. I'll give you a call to show you how you can access it! You can also find instructions in our help center (under General Admin Guide > Reports > Logins). Best, Josie & the Firmwater Team
David
Founder in US
Verified LinkedIn User
E-Learning, Self Employed
Used the Software for: 2+ years
The Best LMS Value For the Money
Comments: As we grew, we discovered opportunities to bundle our courses and add more products. Then we added a knowledge shop. We know that with Firmwater support, we can continue to scale without the drama. It's refreshing in a way when as the founder, I have no technical background.
Pros:
In my six years using Firmwater software, I have had not one complaint by our more than 6,000 graduates or me. Everything we requested, they either complied or showed us a better solution. After six years, I shopped to see what I might be missing. Within a few days, I knew I would be missing Firmwater. There is something magnetic about providing services beyond expectations that generates a loyal customer base, and Firmwater can count me as one of those.
Cons:
When you are using a product and working with Firmwater support teams, there is nothing to like least because we are an e-commerce business, and every report and response translates to increased revenue on some level. If you are in the e-commerce business, you need to take a close look at Firmwater LMS.
Firmwater Response
last month
Hi David, It's been a pleasure working with you over the past six years and your kind words mean so much to us. We're glad that your ecommerce business has flourished and we're pleased to have been a part of that! We look forward to continuing our partnership as you seek to scale your business even further. Thanks again, The Firmwater Team
Patrick
Client Experience Manager in Canada
Used the Software for: Not provided
Does the job
Comments: The firmwater software does gets us by. The reporting feature is not ideal and I often question the accuracy of its data, and I feel as if I have no specified customer support manager.
Pros:
Once I figured out what I needed to get done in it, it is relatively easy to use.
Cons:
user interface appears outdated and reporting feature is lacking.
Firmwater Response
6 years ago
We¿re sorry to hear that Patrick. Our team is known for excellent customer support and are quite surprised to see that you feel this way as we have always received excellent compliments for our service from your end. We have been trying to reach out to you and further explore the features you needed. Please give us a call or email us at your convenience to discuss this in more depth.
Jennifer
Managing Director in US
E-Learning, 2–10 Employees
Used the Software for: 6-12 months
Excellent LMS to sell courses to clients!
Comments: Firmwater LMS setup and customer service is exceptional! The integration with a financial processing system was the main reason we selected Firmwater. We wanted an LMS that integrated with a subscription processing system to sell the course library to clients. Firmwater LMS provides self-service features to clients which was important to us.
Pros:
The integration with a financial processing system was the main reason we selected Firmwater. Firmwater also provides client managers with an excellent self-service feature. Clients can subscribe, enroll/change employees access, and track employee course progress. The customer support provided by Firmwater LMS is exceptional!
Cons:
The reporting features are not fully customizable, but that isn't a feature that is important to us. I don't use reporting hardly at all.
Alternatives Considered: LearningCart
Reasons for Choosing Firmwater LMS: Integration with a subscription financial processor and client self-service.
Reasons for Switching to Firmwater LMS: We chose Firmwater LMS because of easier set up and customer service support.
Firmwater Response
4 months ago
Hi Jen, Thank you so much for your kind words! It's been a pleasure working together to help grow your subscription training business. We're looking forward to our continued partnership in 2023! -The Firmwater Team