What Is Smartsheet?
Smartsheet, an online work execution platform, empowers organizations to plan, track, automate, and report on work. Over 80,000 brands rely on Smartsheet for project and work management because of its easy-to-use interface, real-time gantt charts and dashboards, and work automation features.
*2018 Awards: Named a Leader in Enterprise Collaborative Work Management by Forrester Research, Selected to Deloittes Fast 500 List, Recognized for Technology Innovation & Vision by 451 Research
Who Uses Smartsheet?
Smartsheet's intuitive online project management app is used broadly across organizations to track and manage diverse types of work for teams large and small, from enterprise companies to SMB's.
Where Smartsheet can be deployed?
Cloud, SaaS, Web-based, Android (Mobile), iPhone (Mobile), iPad (Mobile)
About the vendor
by Smartsheet
Located in Denver, US
Founded in 2012
Phone Support
Chat
Smartsheet pricing
Starting Price:
US$7.00/month
Yes, has free trial
No free version
Smartsheet does not have a free version but does offer a free trial. Smartsheet paid version starts at US$7.00/month.
get a free trial
About the vendor
by Smartsheet
Located in Denver, US
Founded in 2012
Phone Support
Chat
Smartsheet videos and images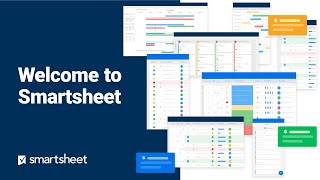 Megan C.
Producer, Owner in US
Verified LinkedIn User
Insurance, 2-10 Employees
Used the Software for: 2+ years
Critical in daily management
Comments: I absolutely love the software and the company. The system meets our needs and is flexible when we need to make adjustments. While the cost is fairly high to start up, annually it is worth the cost, as it streamlines our processes and allows us to be more efficient.
Pros:
This is the tool we use every day, every hour, to track all of our enrollments and clients. Our team monitors enrollments and other CRM tools don't give us the flexibility to track multiple events and data points. It's Excel but on steroids with multiple functions and features. We're using it more and more every day for reporting up to our management team on progress for our client events.
Cons:
I'm not so good at the formulaic side of things and making sheets talk to each other, or building a dashboard, is not an intuitive process. There are not step by step instructions or visuals which is something I need personally. It's a lot of trial and error in getting things set up. When I first started, it was very expensive to work with someone who helped build the infrastructure base and looking back there are many things I'd have done differently if I'd understood it a little better. A lot of the consultation time was wasted in trying to get the person to understand what we were trying to achieve.
Aaron R.
Director, Business Solutions & IT in US
Verified LinkedIn User
Wholesale, 11-50 Employees
Used the Software for: 2+ years
Good For Value, Limits in Scale
Comments: Generally a good experience. Trouble only came when trying to do more advanced data analysis, and workflows.
Pros:
Very good with basic project management features. Kanban is great, and you can view data multiple ways (kanban, gantt, table). The workspaces tool is cool, it's a good way to organize reports and data. Reports are great for showing users only the data they need, and keeps them out of source data tables. There is also good cross sheet functions like you would see in excel. Smartsheet is also one of the most widely available tools to be integrated with. Tools like Zapier make it easy to integrate with, and you can also upgrade to a live data connector to visualize your data in a tool like tableau.
Cons:
Features can be way behind. They just introduced features like pivot, and group to analyze data. Their internal workflow tools are behind what's commonly available in the marketplace. And if you want to use a separate workflow tool like Zapier, you will pay to use it. Their row limit just went up from 5,000 to 20,000 in a sheet in 2020, which was always a limit of how much we could scale the tool.
Alternatives Considered: Google Sheets, Microsoft Excel and Quickbase
Switched From: Zoho Projects
Reasons for Switching to Smartsheet: Smartsheet is cost effective, and has better control rules and UI than spreadsheets.
Omar O.
Director of IT in US
Food & Beverages, 51-200 Employees
Used the Software for: 2+ years
Source: SoftwareAdvice
Smartsheets for everyday management
Comments: To me, the best combination of the ease of use and familiarity of a spreadsheet with the complexity of a project management tool. Very satisfied
Pros:
The tool is more than a project management tool. I use it to manage my department's budget, collaborate with internal and external team members. I like that I can access it from anywhere I am
Cons:
Could use some of the more advanced functionality like automatically keeping track of KPIs such as Earned Value, schedule variance, etc. I would like it if I could "play" with effort vs duration without affecting the main baseline until I am ready and obviously, I would like to keep history of baseline changes
Alternatives Considered: monday.com, Clarity Software and Wrike
Reasons for Choosing Smartsheet: Looking for something affordable, cloud-based that would allow us to collaborate and manage projects in one single repository
Switched From: Asana and Microsoft Project
Reasons for Switching to Smartsheet: The right balance of cost, ease of use, and functionality
Patrick H.
Procurement in US
Construction, 11-50 Employees
Used the Software for: 2+ years
Solid software for quick and easy spreadsheets & Gantt charts
Comments: While I prefer Smartsheet for Gantt charts, or quick and simple spreadsheets due to its ease of use, I have been disappointed with all of the other marketed features, and would recommend Google Sheets in general, since it is similarly collaborative, has better options for in-depth formulas, customizing of sheets and automated emailing with query's and G-script, and is free.
Pros:
Smartsheet is my preferred software for Gantt charts, and for quick & simple spreadsheets. The formatting features are especially effective, such as easy indenting and quick checkbox options that can be used with formulas. Gantt charts on Smartsheet are quick and intuitive with all the options I would like to have. Dashboards can be a nice way to have an overview with links to different sheets if you have a project with several documents, and are willing to spend the extra time and money to set it up.
Cons:
The big Con with Smartsheet is that it lacks the in-depth features of similar spreadsheet software that is also usually freely available. Conditional formatting the way you would like it to work can take a surprisingly long time, as it can take many conditions (often one per column per action) to accomplish what you would think would take a handful. Automatic email sending from sheets sounds great but is still not very fleshed out, and options are pretty limited. Complex formulas usually need to be done in several hidden columns or they can end up taking large paragraphs of hard-to-edit text and numbers due to lack of formula options. This can also make complicated spreadsheets pretty slow. Bugs occur infrequently, but make me prefer to double check important sheets.
Paul W.
Director of IT & Project Management in US
Telecommunications, 2-10 Employees
Used the Software for: 1+ year
Take the Giant Step Up from Excel!
Comments: It significantly improved and increased our efficiency and effectiveness in order and project management. This is our second year of our subscripition and we don't see any reason to change to anything else for what we have to do.
Pros:
Many are using MS Excel to track projects and orders... If this is your world, then you have to try out Smartsheet! Excel like User Interface that does a whole lot more. Schedule reminders, automate tasks, work flow, and the list goes on... and yet, the with the straightforward simplicity of a familiar EXCEL like environment. Other Project Management tools are great, but for those of us that like the EXCEL look and feel, you will find Smartsheet super easy to adopt and you will love the awesome features it provides. Smartsheet also regularly sends out tips on how to improve your processes and ideas on how to use it in many other ways.
Cons:
When compared to some of the other solutions like Trello, BaseCamp or Asana, Smartsheet may not be as 'flexible' since it adheres to an Excel like user interface. Maybe this is because of my lack of knowledge in all aspects of Smartsheet's features? Overall, there's not much I don't like about Smartsheet for the way me and my team has to use it.
Alternatives Considered: Asana, Basecamp and Trello
Reasons for Choosing Smartsheet: Most of our team members were using Excel and the familar user interface ensured a high adoption rate versus the other PM tools.
Reasons for Switching to Smartsheet: We love the user interface that is similar to Excel and knew more of our team members would embrace Smartsheet because of this.