What Is SuperOffice CRM?
SuperOffice CRM has one goal; to help you find, catch and keep more customers. Our focus on creating a simple and user-friendly CRM solution ensures you work more productively. SuperOffice CRM integrates with all Office applications and supports all leading technology platforms. Available on any device.
Who Uses SuperOffice CRM?
Medium sized companies looking for a user-friendly CRM system that enables you to track sales activities, nurture leads, send targeted email campaigns and respond quickly to customer support tickets.
Where can SuperOffice CRM be deployed?
Cloud-based
On-premise
---
About the vendor
SuperOffice
Located in Oslo, Norway
Founded in 1990
SuperOffice CRM pricing
Starting Price:
€45.00/month
No free trial
No free version
SuperOffice CRM does not have a free version and does not offer a free trial. SuperOffice CRM paid version starts at €45.00/month.
Pricing plans
About the vendor
SuperOffice
Located in Oslo, Norway
Founded in 1990
SuperOffice CRM videos and images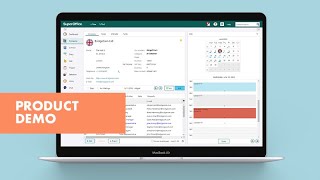 Features of SuperOffice CRM
Activity Dashboard
Alerts/Escalation
Alerts/Notifications
Appointment Management
Appointment Scheduling
CRM
Calendar Management
Calendar/Reminder System
Call Centre Management
Campaign Management
Collaboration Tools
Contact Database
Contact Management
Customer Database
Customisable Reports
Customisable Templates
Data Import/Export
Document Storage
Email Management
Email Marketing
Incident Management
Interaction Tracking
Knowledge Base Management
Lead Management
Lead Qualification
Live Chat
Marketing Automation
Mobile Access
Multi-Channel Communication
Opportunity Management
Performance Metrics
Pipeline Management
Prioritisation
Queue Management
Quotes/Estimates
Reporting/Analytics
Sales Pipeline Management
Segmentation
Self Service Portal
Social Media Integration
Support Ticket Management
Task Management
Territory Management
Third Party Integrations
Workflow Management
SuperOffice CRM Alternatives
Reviews of SuperOffice CRM
Marcel
Co Founder in Netherlands
Verified LinkedIn User
Used the Software for: 2+ years
It really is the most user friendly CRM that you can imagine.
Comments: Insight and overview in all processes, pre-sales and after-sales. Better and more personal communication with prospects and customers.
Pros:
User interface is great. Very easy to use and administer. Users can work with the CRM functions within a few hours. Integration with Office applications and Office 365 is more than perfect. You can use Outlook like you always did and still your emails are stored in CRM linked to the right customer and project. I love the fact that you never really have to search for anything. All parts of the application are never more than two clicks away.
Cons:
Only one thing that bothers me using SuperOffice: the standard reports are very basic. We use the dashboards a lot -they are great- and there are some Apps in their own app store that allow us to generate the reports we need.
Matt
Managing Director in UK
Events Services, 2–10 Employees
Used the Software for: 2+ years
You can almost say it 'runs the company'!
Comments: We run the business on SuperOffice, dealing with customer communications (incoming and outgoing) and sales pipeline management, but most importantly the event management using the projects area.
Pros:
I like the fact that we can out every process in to the CRM, from sales to event management, data capture and enquiry management.
Cons:
The Community needs a bit of work adding more complex resources in, but as a starter guide is useful and support do assist.
Alternatives Considered: Dynamics 365, Salesforce Sales Cloud and HubSpot CRM
Reasons for Choosing SuperOffice CRM: Zoho was not easy to navigate and the costs accumulated quite quickly when you started using the system more.
Switched From: Dynamics 365, Salesforce Sales Cloud and HubSpot CRM
Reasons for Switching to SuperOffice CRM: Cost and simplicity. The others needed too much work and cost to develop for our needs. SuperOffice had these areas ready made in the price with easy ways to adapt to our needs.
Devesh
Head of Operations, Analytics & Technology in India
Education Management, 51–200 Employees
Used the Software for: 1-5 months
Innovative CRM but needs significant improvement
Comments: Currently we have stopped using it due to certain bugs in this product, hopefully they have sorted it out.
Pros:
It was simplified and easy to use, conference call feature is pretty useful too.
Cons:
Cross connection in calls, balance gets deducted after every call, owing to call forwarding, which is not the case with other crms.
Alternatives Considered: Zoho CRM, LeadSquared and Exotel
Switched From: Exotel
Reasons for Switching to SuperOffice CRM: We used it for few months, but due to certain issues we switched to other crms.
Eva
Business Process Developer in Sweden
Education Management, 11–50 Employees
Used the Software for: 2+ years
Stellar CRM
Comments: SuperOffice has been a great hub for collecting, organizing and making sense of valuable contact data and insights, whilst providing all the features and tools needed to manage information about people, projects, relations and other aspects that are important to our line of business.
Pros:
It is reliable, easy to implement and use and optimizes all our contacts, relationships, projects, tasks etc.
Cons:
Perhaps the marketing module should be included in the base package.
Alternatives Considered: Salesforce Sales Cloud
Reasons for Switching to SuperOffice CRM: Affordable and contains a wide range of practical and intuitive features, and comes with a user friendly interface.
Verified Reviewer
Verified LinkedIn User
Mechanical or Industrial Engineering, 51–200 Employees
Used the Software for: 2+ years
Save time and increase overview
Comments: Good product, easy to use.
Pros:
Bus storing all the customer and supplier data in one user friendly CRM package we save a lot of searching time. Who sent when the message? As it is userfriendly even salesman work happy with it, not only office people.
Cons:
Some bugs are annoying and the repair information is slow and merely on the online software. On premesis takes longer or does not happen at all. Some features seem to be invented by software guys or girls but ptobably not first presented to a user panel.