Who Uses clickto?
Daily programs such as after school, senior centers, community centers, enrichment programs, virtual classes, live class-based remote schools and more!
What Is clickto?
clickto is a Virtual Program Management and Operation Platform with a fully integrated Virtual Classroom. It was created to help you easily manage your online program. We've also eliminated the biggest headache for After School, Youth Movement, Summer Camps, Schools, Colleges, Universities that are looking to go virtual: one link for each student that moves them from room-to-room or class-to-class, reducing the user frustration of needing to keep a list of unique links for each class.
clickto Details
Training
Live Online
Documentation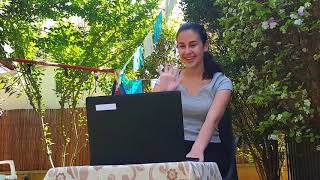 Play
clickto pricing overview
clickto does not have a free version but does offer a free trial. clickto paid version starts at US$1.99/one-time.
---
clickto Features
Attendance Management
Billing & Invoicing
Calendar Management
Customer Management
Faculty/Staff Management
For Summer Camps
Medical Management
Online Registration
Parent Portal
Program Management
Academic/Education
Asynchronous Learning
Blended Learning
Built-in Course Authoring
Corporate/Business
Gamification
Learner Portal
Mobile Learning
SCORM Compliance
Synchronous Learning
Video Conferencing
eCommerce
eLearning Companies
Attendance Tracking
Breakout Rooms
File Sharing
Interactive Whiteboard
LMS Integration (LTI)
Polls/Voting
Raise Hand
Real-time Chat
Reporting/Analytics
Session Recording
Two-Way Audio & Video
Adam B.
Camp Director
Nonprofit Organisation Management, 51-200 Employees
Used the Software for: 1-5 months
Overall Rating

Ease of Use

Features & Functionality

Customer Support

Value for Money

Likelihood to Recommend
Reviewer Source

Reviewed on 21/9/2020
"Clickto saved our summer"
Comments: Excellent, would absolutely recommend.[SENSITIVE CONTENT HIDDEN] is amazing!
Pros: The platform allowed us to manage a large scale camp program with total ease. It was parent free and campers had their own link for the week, rather than having to switch from link to link for all the different classes. The platform is smart, intuitive, and super easy to use. We loved it.
Cons: If campers don't have a strong wifi connection, or an older device, there are some technical difficulties, but they were beyond our control.
Reviewer Source

Reviewed on 21/9/2020
Judith S.
Co-director
Individual & Family Services, 11-50 Employees
Used the Software for: 1-5 months
Overall Rating

Ease of Use

Features & Functionality

Customer Support

Value for Money

Likelihood to Recommend
Reviewer Source

Reviewed on 21/9/2020
"Successful Virtual Camp Experience"
Comments: Given that our virtual world isn't going to end soon, clickto offers an option that is especially appealing for children and youth programming. No tech help was needed all week and loved the way it transitioned us from activity to activity, and enabled guest speakers to "show up" in the right place.
Very versatile to allow for the administrator to navigate from group to group, and to readily make adjustments to our schedule.
Pros: Once I got the hang of using it, the software was easy to use as the administrator and for our staff to use. It paired well with a platform to offer a great virtual camp experience that made participation for our campers incredibly simple too - one link for our week together. I liked the features that allowed us to create spaces like our real camp, and similarly, the activities. Loved how easily it transitioned campers from activity to activity, and how readily my co-director and I could pop in and out of different groups to see how everyone was doing. Also really liked how easily we could upload YouTubes and photos so that each activity was ready to go. Our campers loved playing with the easily accessible whiteboards and the chat feature. A small detail but fun for our campers was how easily we could change their names as some wanted to adopt "camp names." Finally, the guest link for outside presenters landed each of them in the right place for their session.
Cons: Only being able to show 16 cameras at once was the only significant "con." I'd also saying pricing options - I'd really like to be able to purchase by use - so
If I had a once or twice a month group program, we could use it.
Reviewer Source

Reviewed on 21/9/2020