What Is Deel?
Deel is the all-in-one HR platform built for remote teams. It's the simple way to manage all aspects of a global team, from culture and onboarding, to local payroll and compliance.
With Deel, companies scale globally at speed. Hire and onboard anyone in over 150 countries using a tech-enabled self-serve process with compliant local contracts and seamless international payments. Deel gives you a central view of your global team in one dashboard so you can hire the best talent anywhere.
Who Uses Deel?
Deel is for businesses of all sizes looking for a better way to hire teams abroad. Deel serves more than 15,000 customers, from SMBs to publicly traded companies.
Where can Deel be deployed?
Cloud-based
On-premise
Deel videos and images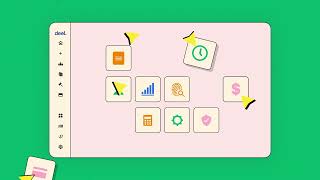 Features of Deel
ACA Reporting
API
Access Controls/Permissions
Activity Dashboard
Alerts/Notifications
Approval Process Control
Benefits Dashboard
Benefits Management
Budget Management
Budgeting/Forecasting
Collaboration Tools
Compensation Management
Compliance Management
Compliance Tracking
Contract Drafting
Contractor Management
Customisable Reports
Customizable Fields
Dashboard
Data Import/Export
Deduction Management
Digital Signature
Direct Deposit
Document Management
Document Storage
E-Verify/I-9 Forms
Electronic Forms
Electronic Signature
Employee Benefits Administration
Employee Database
Employee Management
Employee Onboarding
Employee Portal
Employee Profiles
Engagement Tracking
Feedback Management
HR Management
Health Insurance Administration
Leave Tracking
Market Data Analysis
Meeting Management
Merit/Bonus Management
Onboarding
Org Chart Creation
Orientation Workflow Management
Payroll Management
Payroll Reporting
Pre-built Templates
Pulse Surveys
Recruitment Management
Reminders
Remote Support Software
Reporting/Analytics
Retirement Plan Management
Salary Planning
Self Service Portal
Status Tracking
Subcontractor Management
Surveys & Feedback
Talent Management
Tax Compliance
Third Party Integrations
Time & Attendance
Time Off Management
W-2 Preparation
Workflow Management
Becka
Chief Operations Officer in US
Verified LinkedIn User
Entertainment, 11–50 Employees
Used the Software for: 1+ year
Reviewer Source
The best solution for our small company's global-hiring needs remains Deel
Comments: We went with Deel, even though they were slightly more expensive than comparable products, solely for their customer engagement and service factors. They have been a boon to our studio's ability to hire internationally and compliantly, and we could not have done this without them. We consider the Deel teammates assigned to our studio as a part of our overall payroll and HR team and chat with them constantly to better serve our teammates, but also to help improve the overall Deel experience for small businesses like us, who are looking to go global and tap into the talent around the world but lack the means to do it themselves.
Pros:
First and foremost, the customer service is top-notch at Deel. Their teams are responsive, knowledgeable, and also self-aware enough to know when they may not have a ready answer, but they do know how to find and deliver one in a timely manner. We love the flexibility of options for hiring internationally - be it as an EOR or as a contractor but without the overhead of compliance and ensuring we're adhering to international requirements and laws we do not understand. They're also always listening to suggestions about how to provide better services and options, regardless of company size, which as a small company, we greatly appreciate.
Cons:
There are still some rough edges with Deel's billing system and fully fleshing out some optionality within different countries, but while this is something we don't particularly see as a pro - the opportunity that the Deel team has taken to turn cons into wins balances these negatives out. They will work through your understanding and take suggestions -- it's never a "this is it, so deal" from them. They remain collaborative and aware of their weaknesses and areas for improvement. Sometimes billing statements aren't the clearest unless you talk to their support team to decipher them, but we've already seen updates on this front and look forward to continual improvements.
Paule
HVAC Contract Engineer in France
Mechanical or Industrial Engineering, 1,001–5,000 Employees
Used the Software for: 6-12 months
Reviewer Source
Streamlined Global Hiring & Payroll Management with Deel
Comments: Overall, Deel has been a game-changer for my company, allowing me to hire and manage my global team efficiently. The platform's features and user experience are both top-notch, and it has allowed me to focus on growing my business rather than spending time on administrative tasks.
Pros:
As a user of Deel, I have found that it significantly simplifies hiring and onboarding remote employees from around the world. I appreciate the streamlined, user-friendly interface and the ability to manage payroll, contracts, and compliance all in one platform. The support for over 150 countries has made it much easier for me to expand my team with talented individuals from different regions.
Cons:
While Deel has been incredibly helpful, I have encountered occasional difficulties with currency conversion rates and minor delays in payments. However, their responsive customer support team has been quick to resolve these issues when they arise.
Information Technology & Services, 2–10 Employees
Used the Software for: 1-5 months
Reviewer Source
Like buying a car, everything is nice till the sale point, from there it's a disaster
Comments: BAD BAD BAD Really bad. Signing up was a pleasure, the pitch sounded perfect, the idea itself is overdue and the promises that were made gave me confidence that this was the best possible solution. Firstly, they charge a calendar monthly service fee no matter when you joined, I joined on the 21st so I still paid in FULL for that month despite getting NO service and no paychecks. Had they disclosed that I would have waited till the first of the next month to join. Their customer service is a non existing joke, they no longer respond at all to my inquiries. The first time I tried to speak to them my message was - "hey, is there a phone number for support?", as I wanted to speak to someone on the phone. Their response was that a ticket was submitted and I will get a response in about 3 days via email....all I asked was if they had a phone number or not...After hours of frustration they PROMISED a supervisor would call me to help, no one ever called. Now, I have a CRITICAL issue with my employee, he got paid his first paycheck no issue, but his next paycheck was due a week ago and never showed up, there is actually a paystub on the Deel platform showing that he got paid on time, but the money was never transferred to his bank. I'm sure these things happen, that's just life, problem is there is NO ONE to speak to, they have not been answering chats in over 4 days, no response at all, no one to email (I tried, got no response) , and they have no phone number...so here we are.
Pros:
I only liked the ideas it promised to do, as it turned out to be a nightmare there is unfortunately nothing left to like.
Cons:
The (lack of) support, very little control over salary, many default options that should not work for most businesses, just one healthcare plan which is mediocre and uncompetitive. The part to least like is simply not getting paid, seeing a pay stub that claims you were paid but nothing to show for in the bank and not a single possibility to communicate with a human about your issue. Also they will charge you a full monthly fee by calendar month no matter what (so you will pay the same for 1 day of service or 30)
Cynthia
Operations Manager in US
Computer Software, 11–50 Employees
Used the Software for: 1+ year
Reviewer Source
Must have tool for all remote companies
Comments: It's been easy to use and a life saver for remote work.
Pros:
Deel makes compliance easy worldwide for both employees and contractors.
Cons:
It is a bit pricey for having international employees.
Alternatives Considered: ADP Workforce Now and Paychex Flex
Reasons for Choosing Deel: Direct deposit issues with international contractors. Needed an international employee option.
Switched From: Gusto
Reasons for Switching to Deel: The intro meeting and demo covered everything we were looking for with ease of use.
Meimei
Director of HR in US
Automotive, 51–200 Employees
Used the Software for: 1+ year
Reviewer Source
Deel makes it easy to manage contractors globally
Comments: I've had a great experience with Deel, from implementation and ongoing support.
Pros:
Deel is user friendly and easy to use, and it has global coverage to streamline the process of managing contractors or employees globally.
Cons:
I wish Deel could provide the local compensation data.
Alternatives Considered: G-P
Reasons for Switching to Deel: Deel's representative was responsive, and the platform is user friendly.