What Is BookyWay?
Do you own a business that requires appointments?
You may find a "dedicated" app to book appointments on the market for almost every activity that requires reservations and payments, hard to use, and with excessive costs. BookyWay has the essential functions for any category, and you can use it IMMEDIATELY without any support
You won't find a cheaper system, in some cases free. Thousands of professionals already use BookyWay: barbershops, dog lovers, horse racing, driving schools, tire dealers..
Who Uses BookyWay?
MANAGEMENT SYSTEM FOR BOOKING CLASSES AND COURSES The most economic management system for Fitness Centers, Personal Trainer, Gym, Crossfit, Yoga, Pole Dance, Swimming Pool on the market.
Where can BookyWay be deployed?
Cloud, SaaS, Web-based, Android (Mobile), iPhone (Mobile), iPad (Mobile)
About the vendor
Gymtrainer
Founded in 2014
24/7 (Live rep)
Countries available
Italy
Languages
English, French, Italian, Polish, Spanish
About the vendor
Gymtrainer
Founded in 2014
24/7 (Live rep)
Countries available
Italy
Languages
English, French, Italian, Polish, Spanish
BookyWay videos and images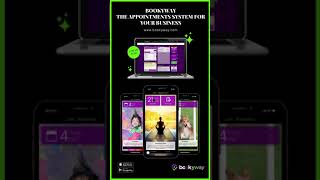 Compare BookyWay with similar products
Features of BookyWay
Activity Dashboard
Alerts/Notifications
Appointment Management
Attendance Management
Attendance Tracking
Availability Management
Billing & Invoicing
Booking Management
Calendar Management
Calendar Sync
Class Management
Class Scheduling
Client Database
Client Management
Client Portal
Communication Management
Contact Management
Contract/License Management
Customer Database
Customisable Branding
Event Calendar
Event Management
Event Scheduling
Marketing Automation
Membership Management
Mobile Access
Multi-Location
Online Booking
Online Payments
Online Registration
Payment Processing
Real-time Updates
Registration Management
Reporting & Statistics
SMS Messaging
Self Service Portal
Social Media Integration
Third Party Integrations
Website Integration
Tayo O.
Founder in Nigeria
Sports, 2-10 Employees
Used the Software for: Free Trial
Alternatives Considered:
Best deal ever!!! ... After 5 days of Searching
Comments: As a business owner that have used two other booking softwares over 6 years, I can tell you that BookyWay offers all the features that my business needed and my clients wanted
Pros:
Absolutely easy to setup Unlimited Locations Unlimited bookings Unlimited classes Mobile App for customer booking (Excellent) Instructors get to see only clients that book and no more The gallery of usable photos The pricing deal You get to start paying after uploading all existing clients You only pay when a new client is registered (that's so cool) Push notifications to client mobile App You can add validity/Expiration period to client registrations You can credit client with prepaid classes You really don't need a payment platform to run this.
Cons:
SMS alerts Email Marketing Integrations with other Apps (Not sure yet)
Debbie A.
Pilates Business Owner in UK
Health, Wellness & Fitness, 2-10 Employees
Used the Software for: 1+ year
Easy to use Booking System for customers
Comments: Very good customer service. I have e-mailed on many occasions and got all problems solved
Pros:
Its so simple and easy to use. Gives my clients flexibility to book onto classes and unsubscribe if they change their mind.
Cons:
I would love to be able to have all my members birthday's on the system so that I can easily see who has Birthday's each month. I would like to send a group e-mail to all the clients on the system at once, it currently doesn't allow you to send to everyone. I would also like to use my own pictures, it would be far more personal having group pictures of the clients who come to the class.
Shajidul H.
Head Coach in UK
Sports, 2-10 Employees
Used the Software for: 1+ year
Small improvements can make this much better
Comments: It does the job I need which is create a timteable and allow customers to book into classes. The customers find it easy to use. But the admin side for making changes is a little poor and can be frustrating.
Pros:
For the customer the app is great and easy to use
Cons:
For admin it's a bit of nightmare making changes, especially if you notice a small mistake on a recurring class and then you have to go delete the class and renter everything. A feature such as allowing changes for all future classes like Google calender would be ideal. Also most changes need to be done on a pc as the phone browser is not very good. An app for the admin would also be great.
Mattheos G.
Personal trainer in Cyprus
Health, Wellness & Fitness, 2-10 Employees
Used the Software for: 1+ year
The ultimate business saver
Comments: After looking through a few apps BookyWay was the only one which covered all my needs. It has all the features I need and it is easy to set up and be used by my clients.
I also want to express my thanks to the excellent staff members who replied to all of our requests quickly and in detail.
Pros:
The creation of the calendar has been a real help for me and the addition of their workouts on the software as well.
Cons:
Not having the option to cancel an appointment on a course without having the rest of the weeks also canceled.
Rebecca B.
Gym owner in Spain
Health, Wellness & Fitness, 2-10 Employees
Used the Software for: 1+ year
Invaluable booking system
Comments: I started using BookyWay during the COVID pandemic due to restrictions in the fitness industry. I have been a small gym owner for 25 years and this has been one of the most valuable tools I have introduced into my centre for class control and client communication.
Pros:
Easy to use. Choice of language. Clear insight into daily/weekly bookings. Reasonably priced.
Cons:
At times the software can run a little slow and be a little ' jumpy' Very limited choice of exercises for client personal programme.