What Is ServiceWorks?
BOOST YOUR FIELD SERVICE OPERATIONS WITH US. No matter what service you offer we have solution for you. We offer end to end business solutions for everything you need including Schedule, Dispatch, Billing,Invoice, Route Optimization, GPS Tracking, CRM.
With all the features you get excellent customer service for FREE. The onboarding to the site is made EASY and PAINLESS as we import all your customer and price list data.
Who Uses ServiceWorks?
1. Appliance and HVAC 2. Cleaning Service 3. Pest Control Service 4. Auto Repair 5. Fleet Management 6. Aviation Maintenance 7. Electrical and Plumbing 8. Landscaping and much more
Where can ServiceWorks be deployed?
Cloud-based
On-premise
---
About the vendor
Service Works
Located in Chesterfield, US
Founded in 2015
ServiceWorks support
Phone Support
24/7 (Live rep)
Chat
Countries available
Canada, United States
Languages
English, French
About the vendor
Service Works
Located in Chesterfield, US
Founded in 2015
ServiceWorks support
Phone Support
24/7 (Live rep)
Chat
Countries available
Canada, United States
Languages
English, French
ServiceWorks videos and images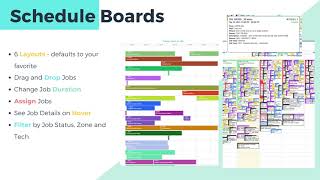 Compare ServiceWorks with similar products
Features of ServiceWorks
Accounting Integration
Activity Dashboard
Activity Tracking
Alerts/Notifications
Appointment Scheduling
Asset Tracking
Automated Scheduling
Availability Management
Billing & Invoicing
Booking Management
CRM
Calendar Management
Calendar Sync
Client Database
Client Management
Confirmation/Reminders
Contact Database
Contract/License Management
Customer Database
Customer History
Customer Management
Customer Portal
Customisable Invoices
Customisable Reports
Customisable Templates
Data Import/Export
Delivery Tracking
Dispatch Management
Document Management
Electronic Payments
Electronic Signature
Email Management
Employee Management
Employee Scheduling
Equipment Management
Equipment Tracking
Estimating
Fleet Management
For HVAC Companies
For Handyman Industry
For Janitorial Services
For Lawn Care
For Locksmiths
For Pest Control Companies
For Plumbing Industry
GPS
Geographic Maps
Historical Reporting
Interaction Tracking
Inventory Management
Invoice Creation
Invoice History
Invoice Management
Job Management
Job Scheduling
Location Tracking
Maintenance Scheduling
Messaging
Mobile Access
Mobile Alerts
Mobile App
Mobile Payments
Mobile Signature Capture
Mobile Time Tracking
Multi-Location
Online Booking
Online Invoicing
Online Payments
Online Time Clock
Order Management
Parts Management
Payment Collection in the Field
Payment Processing
Pest Activity Tracking
Preventive Maintenance
QuickBooks Integration
Quotes/Estimates
Real Time Monitoring
Real Time Notifications
Real-time Scheduling
Real-time Updates
Recurring Appointments
Reminders
Repair Management
Reporting & Statistics
Reporting/Analytics
Returns Management
Route Optimisation
Routing
SMS Messaging
Scheduling
Search/Filter
Self Service Portal
Service History
Service Management
Status Tracking
Surveys & Feedback
Task Management
Tax Calculation
Technician Management
Third Party Integrations
Time & Expense Tracking
Time Tracking
Timesheet Management
Warranty Claims Management
Warranty Tracking
Work Order Creation
Work Order Management
ServiceWorks Alternatives
David
President / Co-owner in Canada
Renewables & Environment, 2-10 Employees
Used the Software for: 6-12 months
Alternatives Considered:
How service works saved us at least one full time employee AND made our services better
Pros:
The scheduling and ease of information gathering. The way it is setup we can easily navigate and find what our client wanted and we are now able to customise even more their experiences with us. It has removed a lot of non value added activities that we had to do manually. We have the opportunity to look for cost overruns and how efficient we are as a company every day and at any time we have access to progress reports.
Cons:
The initial configuration is rather easy but being in Quebec, Canada has made some issues difficult for us in setting up taxes and linking up quick books. Otherwise the CRM, Dispatch, job creating software ticks all the boxes for us.
Consumer Services, 2-10 Employees
Used the Software for: 1+ year
Great software
Comments: It's a great app for appliance repair companies like us.
Pros:
Offers a lot of options and makes everything really easy for the office and techs both.
Cons:
It has occasional bugs that make it impossible to work but it's rare and the customer service is great about fixing it!
JOSH
Service Manager in US
Consumer Services, 2-10 Employees
Used the Software for: 1+ year
Could be great. Maybe wait a few years
Pros:
The software is inexpensive. The features they proclaim to have are great, but many of them do not work as advertised if at all.
Cons:
There are constant major changes that are not communicated. Repeat failiures within the software are almost a weekly event. It is to the point where we joke around about betting what is going to fail next. We have had issues with everything you can think of from ordering/checking in parts, submitting claims, sending notifications, routing, scheduling, accounts receivable, reports made, etc. You name it and it either is still not working or has broken multiple times in the last few months. Most recently was today when customers were getting notifications if the schedule date was changed on their ticket. It was the notification to let them know parts were in. Also today was the system automatically changing the status of tickets with backorder parts received to a status that isn't usable. These are both items that have failed before and I'm sure will fail again. They fail to test updates sufficiently when they are made time and time again. Their customer service is non existent. Easy way to tell is to try calling the number yourself. I'm convinced it is set to just go to voicemail automatically, and don't expect a call back. The only live person ever available was the sales rep who first set us up. He was great but has now left the company and I expect many users will do the same.
Service Works Response
2 years ago
We are constantly trying to improve and provide all of our customers support and care. We always listen to our customers and add new features. We learn from you to make our software better everyday. Thanks for the feedback and being an amazing customer!
Facilities Services, 11-50 Employees
Used the Software for: 1-5 months
Alternatives Considered:
Happy with ServiceWorks
Comments: The support from ServiceWorks has been FANTASTIC. I would highly recommend this product.
Pros:
The mobile app fit our needs very well. The point of sale portion works for our retail business. The scheduling and dispatch are perfect for us.
Cons:
The instructional videos were good but I wish there were more to choose from.
Construction, Self Employed
Used the Software for: 1-5 months
End of the search
Comments: My overall buy point was their customer service. The attention to detail that [SENSITIVE CONTENT HIDDEN] delivers to my situation gives me all the confidence in the world that I will stay with this company for a long time. We can now set this aside as we rebuild our business in the future. We are licensed in NY. TN and AZ and are expecting 100 employee's in each location. This software will be going right along with us.
Pros:
I like the population auto fills. The search ability is a key factor in running our business. We ran a business in Arizona with twenty-five employee's and keep tracking of what was going on was our biggest hurdle. I tried a lot of other software for this purpose (several costing 5 times the cost of sw) without the power of service works.
Cons:
Just like learning any new software there are some frustrations along the way. There are a few bugs in the system that haven't been ironed out yet, for example; sometimes I will but in place holder information like the phone number if I don't know it. I will enter all fours or something with the intent to go back and enter the number when I get it. SW uses the ph number for the customer number. I doesn't allow you you to edit the customer number, oh it has the edit icon and you can delete it, but it won't allow you you to enter anything. By the way the work around for this one is copy and paste.