What Is Papershift?
Papershift helps you manage & automate employee rota planning, leave management, and staff time tracking on the cloud.
With over 200,000+ users, Papershift is Europe's most loved workforce planning software.
Who Uses Papershift?
Shift planners & HR Teams of small & medium businesses. Especially loved by Retailers like Supermarkets, Restaurant & Food business, Dental Clinics & Health centres, Leisure & clubs, Courier & more
Papershift Details
Papershift
Founded in 2015
Papershift pricing
Starting Price:
€49.00/month
Yes, has free trial
No free version
Papershift does not have a free version but does offer a free trial. Papershift paid version starts at €49.00/month.
Pricing plans
get a free trial
Papershift Details
Papershift
Founded in 2015
Papershift videos and images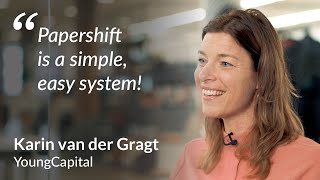 Papershift deployment and support
Support
Email/Help Desk
FAQs/Forum
Knowledge Base
Phone Support
Chat
Deployment
Cloud, SaaS, Web-based
Mac (Desktop)
Windows (Desktop)
Linux (Desktop)
Chromebook (Desktop)
Android (Mobile)
iPhone (Mobile)
iPad (Mobile)
Training
In Person
Live Online
Webinars
Documentation
Videos
Liselot R.
Web Front-End / UX Development Specialist in Germany
Verified LinkedIn User
Computer Software, 51-200 Employees
Used the Software for: 6-12 months
Lots of features but easy to use
Comments: I can log my work, sick days, vacations, and plan my calendar in a few clicks without disrupting my work. The app is very nice!
Pros:
At my company, we work remotely and value our personal work/life balance. One of the features is the "Work Balance": I can quickly see how much time I've been working, the upcoming vacation days and holidays, and now I can plan better my own schedule. The time tracking feature is easy to input, we can note our breaks but we also have the setup that calculates it in case we forget. You can register sick dates and upload files related to it, so we don't have to wait to process it during hard times. Everything is in sync with the calendar, but my favorite feature is the sidebar, as it gives you a glance of the work balance hours and the vacation time. It's super easy to use and I know the HR team has everything organized in easy steps!
Cons:
The only thing I'm missing is the auto-log hours. The feature is available, as one of the customer representatives from Papershift reached out to me once, but I'm not sure how to activate it. I guess I need to talk to the admin about that.
Johannes R.
CEO in Germany
Hospitality, 11-50 Employees
Used the Software for: 1-5 months
Good Software for Owner
Pros:
The Shiftplan is very food to use. For Position Manager as well. Easy to configure
Cons:
The Usability for Workers. It will be easier if workers can use a app and login without private mail account. Maybe Personal-ID oder personal Keyword. Not in a browser. In a Android or iOS app.
Alternatives Considered: Planday and Staffomatic
Reasons for Switching to Papershift: Good Support from the first day. Is so important to be not alone in the first steps.
Georgina B.
Office Manager in UK
Photography, 2-10 Employees
Used the Software for: 6-12 months
Great product! Easy to use and great customer service
Comments: Great experience. From the trial, to now, [SENSITIVE CONTENT] has been great at helping me with any initial questions and always checking in to see if we are still using ok and need any help.
Pros:
How easy it is to use! The simple need for an online calendar which staff and management can see - request holidays and view others in their department is so useful
Cons:
Everything is great, I would say a total number of sick days would be good on the employee profiles rather than having to calculate myself but its very minor
Alternatives Considered: Timely, Timetastic and BambooHR
Reasons for Choosing Papershift: Costs, and overall need, the other system held other things that we really didn't need. And also the simple layout was very important.
Reasons for Switching to Papershift: Overall contact and communication and simplicity plus cost.
Jens K.
Geschäftsführer in Germany
Verified LinkedIn User
Staffing & Recruiting, 11-50 Employees
Used the Software for: 1+ year
Ein unfertiges Tool, das leider nicht weiterentwickelt wird
Comments: Ich weiß nicht, welches Business mit diesem Tool sauber arbeiten soll - "normale Unternehmen" auf jeden Fall nicht. Vielleicht ist es für die Gastro oder für Kneipen brauchbar, aber auf gar keinen Fall für klassische Betriebe/GmbHs
Pros:
Die Zeiterfassung hat grundsätzlich funktioniert, allerdings gab es viel zu viele Bugs und Fehler, die auch diese Grundfunktionalität massiv beeinträchtigen.
Cons:
- Der Preis wurde ohne Rücksprache erhöht, obwohl die Nutzeranzahl verringert wurde, Rückfragen hierzu wurden ignoriert - Grundlegende Funktionen sind nicht fehlerfrei nutzbar. Selbst das Aushängeschild, die Zeiterfassung, hat unfassbar lächerliche Fehler und Lücken in der Logik - Für jede kleinste Standardfunktionalität wird ein Aufpreis berechnet, in anderen Tools ist das nicht so - Fehler werden nicht behoben - Das Produkt wurde in 14 Monaten Nutzung in keinster Art und Weise weiterentwickelt, es tut sich nichts - Urlaube und Krankheiten zu verwalten ist ein absoluter Krampf, hierfür ist das Tool unübersichtlich und nicht zu gebrauchen - Kalenderansicht kann nur auf 3-6-12 Monate angesehen werden...? - Vorgesetzte können fast unmöglich zugewiesen werden, die Zuweisung generell ist absolut chaotisch und unbrauchbar
Alternatives Considered: Timebutler
Reasons for Switching to Papershift: Wir wurden leider von der Werbung und dem Auftreten getäuscht.
Papershift Response
last month
Hallo Jens, danke für Dein Feedback. Wir ändern Preise entweder mit Vorankündigung oder wenn ein neues Paket durch den Self-Service gebucht wird. Nachfragen per E-Mail oder Chat werden innerhalb weniger Stunden beantwortet. Telefonisch sind wir Mo-Fr 9-17 Uhr erreichbar. Ich interpretiere in die Logikfehler, dass wir Deinen Anwendungsfall in Papershift nicht vollständig abbilden konnten. Wenn in Deinem Fall noch zusätzliche Bugs aufgetreten sind, möchten wir uns dafür entschuldigen. Papershift ist eine Platform, die es Organisationen ermöglicht, Personaleinsatzplanung besser zu regeln. Dabei müssen wir Themen priorisieren, die einen Großteil unserer Kunden betreffen. Hier kommt es leider auch vor, dass wir spezielle Anwendungsfälle mit separaten (kostenpflichtigen) Individuallösung ergänzen müssen. Bitte lass uns darüber sprechen, was bei Dir nicht funktioniert hat, wie es aus Deiner Sicht sollte. Du kannst uns gerne unter [email protected] oder 0721 75 40 23 46 kontaktieren.
David B.
Zahnarzt in Germany
Health, Wellness & Fitness, 51-200 Employees
Used the Software for: 2+ years
Mitarbeiter Planung - leicht und unkompliziert
Pros:
Die größten Pluspunkte liegen im Eliminieren von Zettelwirtschaft, die Verfügbarkeit von überall und auf jedem Gerät, die Übersichtlichkeit und die Mitarbeiterintegration.
Cons:
muss ich lange überlegen und mir fällt nichts ein