What Is Deepser?
Deepser is a modern ITSM software with an interactive web interface. It allows you to manage all services in a single platform and organize support requests, improving customer satisfaction and optimizing the use of company resources. Deepser is modular and scalable: Ticketing, CMDB, ITAM, Flows, CRM etc. It allows a rapid implementation and various integrations. Available Cloud and On Premise. All features are included in the low cost of the license: It is convenient and tailored to your needs.
Who Uses Deepser?
Every organization that needs to structure its service using a modern ITIL compliant tool. Deepser helps you giving right priority to every request and process and assigning tasks to the right teams.
Where can Deepser be deployed?
Cloud-based
On-premise
---
About the vendor
Deepser
Located in Schio, Italy
Founded in 2017
About the vendor
Deepser
Located in Schio, Italy
Founded in 2017
Deepser videos and images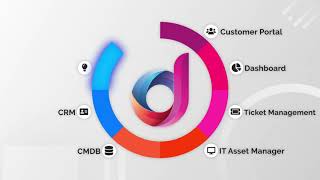 Compare Deepser with similar products
Features of Deepser
Access Controls/Permissions
Activity Dashboard
Alerts / Escalation
Alerts/Notifications
Asset Tracking
Audit Management
CMDB
Cataloguing/Categorisation
Change Management
Collaboration Tools
Communications Management
Compliance Management
Compliance Tracking
Configuration Management
Content Management
Contract/License Management
Customer Support
Customisable Reports
Dashboard
Device Auto Discovery
Full Text Search
IT Asset Management
IT Reporting
Incident Management
Incident Reporting
Interaction Tracking
Inventory Management
Issue Auditing
Issue Management
Knowledge Base Management
License Management
Live Chat
Macros/Templated Responses
Maintenance Scheduling
Multi-Channel Communication
Prioritisation
Problem Management
Real Time Notifications
Relationship Mapping
Remote Access/Control
Remote Monitoring & Management
Reporting/Analytics
Self Service Portal
Service Level Agreement (SLA) Management
Supplier Management
Task Management
Text Editing
Third Party Integrations
Ticket Management
Workflow Configuration
Carlo
Project Manager in Italy
Verified LinkedIn User
Information Technology & Services, 11-50 Employees
Used the Software for: 1-5 months
Alternatives Considered:
Deepser and Device 42 a complete solution for ticketing and asset management
Comments: I contributed to the choice of Deepser that best met my client's needs. Moreover, it is integrated with the American Device 42 software that is more focused on Data Centers.
Pros:
User Experience Ease of use Integrated with Active Directory
Cons:
nothing in particular or it is too early to find defects
Nadia
Puchasing &controlling Manager in Italy
Mechanical or Industrial Engineering, 11-50 Employees
Used the Software for: 1-5 months
Perfect tool to keep track of maintenance work
Comments: Deepser gives us total visibility of the service hours contracted; there is no risk to work for free! We get reminders when a contract is about to expire and action needs to be taken to renew it. The system informs us when there is scheduled maintenance to organize. Our field technicians can insert directly in the system the amount of hours they spent at the client's plant, type of maintenance done, extra notes and they can create instant work report to be signed by the client.
Pros:
Ease of use; competent project managers and support team
Cons:
There is no native App of Deepser, but it is web-responsive
Marco
Senior Developer & End User Support in Italy
Verified LinkedIn User
Information Technology & Services, 11-50 Employees
Used the Software for: 1-5 months
Alternatives Considered:
Gestione Ticket innovativo
Comments: La mia esperienza complessiva è eccellente, lo consiglierei sicuramente.
Pros:
Il prodotto è molto ricco di funzionalità, non nascondo ci sia voluto del tempo per padroneggiarlo ma ora sia io sia i miei clienti non ne possiamo più fare a meno. Sicuramente ha come punto di forza l'interfaccia e la personalizzazione, anche lato End User è molto intuitivo.
Cons:
All'inizio risulta un po' macchinoso, occorre quindi farci la mano e impararlo
Daniele
System Integrator in Italy
Computer Networking, 2-10 Employees
Used the Software for: 6-12 months
Alternatives Considered:
Finalmente, perfetto per le MSP!
Comments: Dopo svariate ricerche per un prodotto che si adattasse con facilità e personalizzazione alla nostra realtà con Deepser l'abbiamo trovata.
Mi ha stupito la rapidità di nuove features e la precisione della roadmap.
Molto soddisfatti per i moduli che usiamo noi, Help Desk, Knowledge Base, Password Manager, CMDB, CRM.
Pros:
Costo, personalizzazione e semplicità sono i punti forti. Le API sono perfette! Con Deepser abbiamo centralizzato i nostri servizi.
Cons:
Bisogna munirsi di pazienza iniziale per la startup, ma non credo esista un software dove non che sia calzato a pennello senza un attività iniziale di personalizzazione, anzi..
Barbara
Operations Manager in Switzerland
Verified LinkedIn User
Transportation/Trucking/Railroad, 11-50 Employees
Used the Software for: 1+ year
DeepDesk e la sua combinazione vincente: flessibilità unita a qualità del lavoro
Pros:
Il sistema dispone di una struttura di base dei moduli (ticket/CRM/etc..) che pero' è altamente flessibile e personalizzabile a seconda delle esigenze del cliente. Il Team di DeepDesk si è rivelato disponibile e attivo nello sviluppare implementazioni pensate ad hoc per le nostre esigenze, il che rende il sistema qualcosa di malleabile e adattabile alle mutabili dinamiche lavorative, fattore essenziale per chi come noi lavora in un settore che necessita di continue migliorie e sviluppi per stare al passo con il mercato. Credo che non esista il software perfetto, esiste invece una perfetta sinergia quando si trova il partner in grado di comprendere i bisogni e tradurli in un software sempre aggiornato, al passo con la naturale evoluzione dell'azienda e delle sue attività.
Cons:
Gestire alcune modifiche, in particolare di "forma", spesso ci è parso un po' complicato ed alcuni passaggi dei processi interni risultano alle volte macchinosi - soprattutto in presenza di una grande quantità di gestioni (lato ticket). Il sistema permette di fare molte cose ma senza un manuale di istruzioni spesso possiamo solo rimetterci all'assistenza di DeepDesk per avere delle modifiche forse gestibili anche in autonomia.