What Is WooRank?
WooRank is an automated website reviewing tool with advanced SEO auditing and monitoring, keyword tracking, competitive analysis, and a powerful site crawl.
With WooRank you can easily monitor your SEO health and get actionable advice and insights to optimize your website. WooRank also provides white-label PDF reports and a unique Lead Generation tool for digital marketing professionals.
Who Uses WooRank?
For marketing agencies, and small businesses to large businesses.
Where can WooRank be deployed?
Cloud-based
On-premise
WooRank videos and images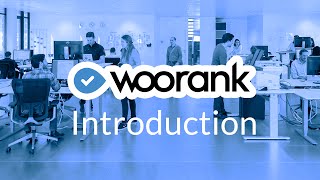 Compare WooRank with similar products
Features of WooRank
Activity Dashboard
Audit Management
Competitive Analysis
Content Management
Keyword Rank Tracking
Keyword Research Tools
Keyword Tracking
Link Management
SEO Management
Visual Analytics
Rebecca
Digital Marketing Executive SEO Specialist in UK
Verified LinkedIn User
Marketing & Advertising, 11-50 Employees
Used the Software for: 2+ years
An Indepensible Resource
Comments: There's been a few buggy issues on our account, but I've contacted support and they've dealt with it as quickly as they can, and kept me up to date along the way.
It's an expensive investment to keep the tool compared to the huge functionality of other tools, but we couldn't work without.
It's part of our SEO routine for our clients and there's no other tool that can offer quite the same service.
Pros:
The summary score at the top gives you a rating for the site, so you can prioritise client sites based on needs. The score is also easy to relate to clients and gives them context for their websites overall technical optimisation. The items on the list are all ranking factors, some large some small, and they affect the number proportionally from what I can tell. They have clear descriptions of what they are, why they matter and how to solve them - so even our non SEO team members can check things over. The white labeled reports allow us to generate a great resource for our sales team without too much time investment.
Cons:
The factors it tracks don't seem to change often, even though the algo changes daily. A few bits like underscores will change your score, but are unlikely to change your rankings. They may be amending constantly in the background but from the front end it looks pretty static. I think there's been two amends in the last year.
Writing & Editing, Self Employed
Used the Software for: 2+ years
Alternatives Considered:
One of the industries most experience on-page technical auditors
Comments: I've been using Woorank for over ten years, back when their tool was a free on-page scanner. They've since expanded to including keyword tracking and competitor tracking, plus other useful features.
Pros:
Woorank is incredibly easy and simple to setup and start using. Just plop your domain name or URL in and boom, it's doing its thing. I appreciate how easy it is to get a quick report of critical on-page elements like title length, multiple H1 tags, etc. in one spot site-wide.
Cons:
Woorank's competitor analysis features are a little lacking. You can plop three competitor URLs in but you have to know those competitors yourself. If you don't, it won't suggest possibilities. Not a deal breaker for most people, but Woorank assumes you know your business.
Financial Services, 11-50 Employees
Used the Software for: 2+ years
Website analysis and optimization score checker.
Comments: Woorank is a powerful SEO tool that helps you track and improve our online marketing efforts. It provides an easy-to-use dashboard that allows me to track everything from my backlinks to my keyword rankings. I also love the easy-to-use backlink checker, which allows me to make sure that my and my client's websites are protected against Google penalties.
Pros:
Woorank is a traffic analysis tool that has helped me understand the impact of changes to my site design, page structure, and content. I've been able to improve my traffic, conversions, and revenue through in-depth analysis of my site in comparison to my competitors.
Cons:
Woorank is a great way to track the progress of our content marketing efforts and our overall site performance.
Verified Reviewer
CEO in Sri Lanka
Verified LinkedIn User
Marketing & Advertising, 2-10 Employees
Used the Software for: Free Trial
It is not yet there
Comments: Competitive field so can't blame them for the price point but did not feel it is justifiable
Pros:
The free solutions that were provided in the beginning
Cons:
Not stacking up against the competition who seems to be integrating with many other tools at a rate
Bed
Managing Director in Nepal
Design, 11-50 Employees
Used the Software for: 2+ years
Source: SoftwareAdvice
Affordable and worthwhile investment for my business.
Comments: I run a number of websites across various platforms and this tool has been a lifesaver for me. I can quickly check the health of my sites and make sure they are optimized for search engines. I also love the easy to follow advice, which is a nice way for me to learn about SEO. The free version is great, but the paid one is worth it for the extra insights.
Pros:
WooRank is a website analysis and SEO tool that provides a lot of services, but the one that I found to be the most valuable is the SEO and marketing advice. With so many marketing and SEO-related services that I'm responsible for, having a tool that can provide me with the advice I need to make sure that everything is running smoothly is a great help.
Cons:
I found this service to be a helpful tool for my digital marketing efforts. It's affordable and while it is a bit of a learning curve, the support team is very helpful and friendly.