What Is TalentCards?
Meet TalentCards, the mobile learning app that puts training in your people's hands, no matter where they are in the world. Unlike traditional LMSs and training software, TalentCards is built for mobile, frontline, and deskless employees— people whose jobs keep them on the move.
Build powerful microlearning courses online and deliver them straight to your team's smartphones. Deliver training on safety, compliance, sales, product info, soft skills, and more, without interrupting the work day.
Who Uses TalentCards?
TalentCards is a perfect fit for companies with deskless and mobile employees who need training that's easy to access, quick to complete, and makes a lasting impact.
Where can TalentCards be deployed?
Cloud-based
On-premise
---
About the vendor
Epignosis
Located in San Francisco, US
Founded in 2012
TalentCards pricing
Starting Price:
US$50.00/month
Yes, has free trial
Yes, has free version
TalentCards has a free version and offers a free trial. TalentCards paid version starts at US$50.00/month.
Pricing plans
get a free trial
About the vendor
Epignosis
Located in San Francisco, US
Founded in 2012
TalentCards videos and images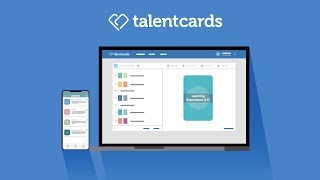 Features of TalentCards
Activity Dashboard
Alerts/Notifications
Assessment Management
Assignment Management
Asynchronous Learning
Audio/Video Recording
Bite-Sized Learning
Built-in Course Authoring
Communication Management
Compliance Tracking
Content Library
Content Management
Course Authoring
Course Management
Course Publishing
Course Tracking
Customisable Branding
Customisable Questions
Customisable Reports
Data Import/Export
Employee Engagement Software
Employee Portal
Gamification
Goal Setting/Tracking
Leaderboards
Learner Portal
Learning Management
Learning Paths/Tracks
Media Import
Mobile Access
Mobile Learning
Multi-Language
Multi-User Collaboration
Multimedia Support
Performance Metrics
Progress Reports
Progress Tracking
Quizzes
Reporting & Statistics
Reporting/Analytics
Self-Learning
Template Management
Tests/Assessments
Third Party Integrations
Training Administration
Training Management
User Management
Video Management
PAUL
MD in Indonesia
Verified LinkedIn User
Human Resources, 2–10 Employees
Used the Software for: 1-5 months
Easy To Use, Engaging Microlearning System For Mobile Phones With Many Applications
Comments: I am using it in my business. I'm a sales trainer / coach and am recommending to my clients that they use it with their Sales Teams for all of the purposes I referred to above.
Pros:
An engaging product - the "Card Sets" are visually impactful, fun and easy to use (click and swipe) - great design! Authoring is very straightforward. Many uses, including: drip feeding training in bit sized chunks pre training briefings / post training reinforcement / product updates / on-boarding / daily communication with geographically spread teams. Information can be shared in narrative form, pictures, links to web pages, links to videos on YouTube and you can upload audio or dictate messages directly into the app. Very competitively priced compared to other MLS. Developed by the company that produced TalentLMS - the Learning Management System for laptops which is robust and well designed. Same applies to TalentCards.
Cons:
I haven't found any issues. Already works very well and I know they are constantly refining the app.
Epignosis Response
3 years ago
Hi Paul, thanks for taking the time to leave your insightful feedback and review! It's great to hear that TalentCards is adding value to your sales coaching business!
Shaliza
Freelance Learning Designer in Malaysia
E-Learning, Self Employed
Used the Software for: Free Trial
The Answer to Today's Learners Dreams!
Comments: Helps me to create bite-sized learning courses and offering this to the clients who'd like to offer a busy group of learners new skills. I can also offer this as an additional learning tool to supplement a bigger/longer course. E.g. if students are taking a 3 months online course, using an e-learning platform to get their main content, submit course work etc, this can come together as a side tool to guide them through certain tasks or short projects. But if TalentCards have the submit respond feature (like Primer has), and is easier to embed images (ringt on my uploaded background), I'd use it as one complete course - because it 'bite-size' learning mode, phone-friendly, can be taken and done anywhere would be much more tempting for today's learners. You guys have done a great job! Well done! Keep on going!
Pros:
I love how easy it is to set it up. It's very simple, I learnt to use it in one day! As a Learning Designer, looking at the look and feel of the software, I think it is very simple for the students, this subsequently will result to make even a complex subject seems easy to learn. Having the option to embed video, URL or audio is also very handy - helps me to provide a variation on content for the students.
Cons:
The quiz widget is very limited. I love creating activities that allow students to post a response - not just one answer. An MCQ that allows more than one answer and right/wrong selection can also aid to create constructive and more effective learning activities. I am not unable to embed an image on top of my uploaded background - but we can do it using the images provided in the software. Being able to do this will help so much in reducing GD work to embed images onto backgrounds, adjusting, resizing etc.
Epignosis Response
3 years ago
Thanks for leaving us a review, Shaliza! It sounds like you mastered TalentCards super quickly and that's exactly what our team of designers aims for! It's great to hear that the variety of content is keeping your learners more engaged. Keep an eye out for some exciting updates to our card editor in early 2020 where you can expect more quiz and design options for cards and different ways to gather user feedback - this should take your learner engagement to the next level!
Shea
Global Manager for Learning Deployment in US
Medical Devices, 10,000+ Employees
Used the Software for: 1-5 months
TalentCards Rapid Learning Platform
Comments: My overall experience has been mostly positive. The devs / account manager has been responsive to feedback and getting features implemented and bugs corrected. I feel there are still gaps in support which need addressing.
Pros:
From a Learners perspective, the platform is a great utility for e-learning. This platform is great for hyper learning on the go with an easy to use philosophy.
Cons:
The administrative functions leave much to be desired. The product seems to be under development and lacking many key features to allow administrators to have the same ease of use as the Learners. Granular administrative permissions is also a very needed feature.
Epignosis Response
3 years ago
It' great to hear that TalentCards is proving to be popular with your students, Shea! We are constantly revising the admin features based on user feedback and we're working on a lot of quality of life improvements for admin functions which are due by the end of the year, so we think you'll be super happy with these updates! We've also increased our dedicated support team so that we can help our clients get back to the business of training!
Bruce
Photo Manager in US
Real Estate, 11–50 Employees
Used the Software for: 2+ years
I would recommend TalentCards
Comments: TalentCards has been a valuable tool for our Team, to be trained remotely.
Pros:
I like the fact my team members can use in the field.
Cons:
I have not been able to get the QR code feature to work the way I would like it to.
Epignosis Response
3 weeks ago
Thank you for your review, Bruce! Look out for a message from our team so that we can help you and your team members get the most out of the QR code functionality!
Kimberley
Marketing Co-Ordinator in South Africa
Information Technology & Services, 201–500 Employees
Used the Software for: 1+ year
Talent Cards, taking your staff training to another level!
Comments: The time that I save with Talent Cards allows me to focus on other tasks at hand. Our Sales Team is equipped with the product knowledge and it is easily available to them via their mobile phones. The reporting is a breeze. I can really recommend Talent Cards
Pros:
The fact that I can tailor each module to the specific requirement for individual brands that our company distributes, thus ensuring that our team is up to date with the product knowledge required for them to go out and make sales. It is so easy to do monthly reports not only for the overall results for a module but I can do individual reports as well.
Cons:
The only comment that I have here is in the design process of the modules, I feel that there could be an improvement in selecting images, managing font size etc. But to be honest Talent Cards are always looking at ways to improve the process
Alternatives Considered: Axonify and iSpring Learn
Reasons for Switching to TalentCards: This was based on value for money and also the fact that it was so easy to use and the results have saved us time and money
Epignosis Response
3 months ago
Hi Kimberley, Thank you so much for your review, it means a lot to our team. We're so glad to hear that TalentCards is helping you save time and money, and that it's making a real impact on your team. Stay tuned for exciting updates and improvements coming in 2023, especially to the card editor, that will make image selection and font changes even smoother!