What Is Zoho Projects?
Zoho Projects is a cloud based project management software with over 200,000 customers worldwide. It helps you plan your projects, and execute them with perfection.
With Projects, you can assign tasks easily, communicate effectively with both your team and clients, be informed on all project updates, get detailed reports on work progress and deliver projects on time, everytime.
Who Uses Zoho Projects?
Teams of all sizes and industries that are looking for a PM tool to plan, track and collaborate on their projects.
Where can Zoho Projects be deployed?
Cloud-based
On-premise
---
Zoho Projects support
Phone Support
24/7 (Live rep)
Chat
Zoho Projects pricing
Starting Price:
€5.00/month
Yes, has free trial
Yes, has free version
Zoho Projects has a free version and offers a free trial. Zoho Projects paid version starts at €5.00/month.
Pricing plans
get a free trial
Zoho Projects support
Phone Support
24/7 (Live rep)
Chat
Zoho Projects videos and images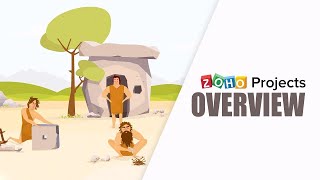 Features of Zoho Projects
Access Controls/Permissions
Activity Dashboard
Activity Tracking
Alerts/Escalation
Alerts/Notifications
Approval Workflow
Assignment Management
Backlog Management
Bar Chart
Billable & Non-Billable Hours
Billing & Invoicing
Budget Management
Budgeting/Forecasting
Bug/Issue Capture
Calendar Management
Capacity Management
Client Portal
Collaboration Tools
Colour Codes/Icons
Commenting/Notes
Communication Management
Content Management
Cost-to-Completion Tracking
Create Subtasks
Customisable Templates
Dashboard
Dependency Tracking
Document Management
Drag & Drop
Email Management
Email-to-Task Conversion
Employee Database
Employee Scheduling
Expense Tracking
File Sharing
Gantt/Timeline View
Idea Management
Import Tasks
Kanban Board
Knowledge Base Management
Live Chat
Milestone Tracking
Mobile Access
Mobile App
Mobile Time Tracking
Notes Management
Online Time Tracking Software
Overtime Calculation
Percent-Complete Tracking
Portfolio Management
Prioritisation
Progress Tracking
Project Management
Project Planning
Project Planning/Scheduling
Project Scheduling
Project Time Tracking
Project Tracking
Real Time Editing
Real Time Notifications
Recurring Tasks
Reporting & Statistics
Reporting/Analytics
Reporting/Project Tracking
Resource Allocation & Planning
Resource Management
Search/Filter
Status Tracking
Tagging
Task Editing/Updating
Task Management
Task Progress Tracking
Task Scheduling
Task Tagging
Templates
Third Party Integrations
Time & Expense Tracking
Time Tracking
Timesheet Management
Vacation/Leave Tracking
Video Conferencing
Workflow Management
Zoho Projects Alternatives
Prathamesh
Tech Lead Manager in US
Verified LinkedIn User
Apparel & Fashion, 1,001–5,000 Employees
Used the Software for: 2+ years
Excellent tool for task management
Comments: My overall experience is great with Zoho projects, it works fine if given the right technology support. In past three years we have done multiple updates and customization on Zoho projects and they have worked well for us. I personally would recommend Zoho projects to others to built a very good project management tracking system.
Pros:
Zoho projects has been part of our organization from past 3 years. It is a very useful tool for project management. It has high importance in task management especially in tracking down deliverable in kanban projects. The user interface is very friendly and the dashboard is highly interactive. Milestones can be easily set and can be tracked throughout its completing period. Project lags, time delays, and bottlenecks can be identified easily in the system. This tool also helps to manage teams and individual tasks assigned to each person. Notifications can be enabled to track individual performances. Overall, this tool is multi-purpose tool that can perform wide range of tasks.
Cons:
Zoho projects are hard to customize. Its scalability is very limited to certain tasks. It is good in project management, but it fails to provide a communication channel between people. Chat windows lag a lot between communication and real time forums take lot of time to update. Zoho requires high internet bandwidth, slow internet creates problem with updates and Zoho starts lagging. Multi user portal has also lot of issues. Even multi user portal is a common feature. The feature creates issues with file sharing. It takes lot of time for file transfers.
Sarah
System Administrator in US
Verified LinkedIn User
Information Technology & Services, 10,000+ Employees
Used the Software for: 1+ year
Superb Business Project Management Software
Comments: A project can be assigned to an individual with the help of a group chat, a deadline, and a list of what needs to be done and how long they have to do it.
Pros:
There are a variety of options for visualizing any given project, and it's all quite straightforward and user-friendly. It's also an effective means of communication and cooperation inside the group. Simply put, it allows us to monitor the latest advances in our field.
Cons:
When compared to rivals, I think the Zoho team may benefit from a more updated look and feel. The result could be an even greater edge for Zoho in the marketplace.
amy
Operations Manager in US
Management Consulting, 11–50 Employees
Used the Software for: 1-5 months
Source: SoftwareAdvice
Do not get Zoho Projects!
Comments: Terrible.
Pros:
There is very little, if anything about this product that is likable. I guess, if pushed, I would say the calendar feature and the forum features are interesting but by no means makes up for the lack of features overall of Zoho Project. We are a small to medium business that recently, and regrettably, transitioned from Harvest to Zoho. There is quite a gap in pricing between the two platforms but you get what you pay for, mainly how many users you have. Zoho Project feels more like a bata test platform, then an actual product that should be live and used by any business. If you are doing very basic project management, like planning a wedding or a home renovation this tool would be good for you. But why would you pay for it when you can get any template on-line for free. The only other "pros" I could manage to list is their support. They have a help representative chat feature which is good and they are responsive. Unfortunately for them and mean most of it was used to inform me that "that feature is currently not available". Overall go with Harvest!
Cons:
Does not integrate with Quickbooks. Can not add basic client contact information. Can't view all invoices that are due or in draft form (they force you to use another one of their clunky platforms). The Zoho Dashboard is terribly unhelpful and uninformative. You can not run basic reports like; time reports for team members across projects, expenses, invoiced projects, etc. You can't even simply alphabetize Client Users, so as you add clients they are sorted by when you entered them, only. You can only export information in one format and the reports provide very little (helpful) information; for example if you want to export your Clients. The report that is generated only provides the internal Client ID#, Name, User Name, Email Address, Role, Invoice. It does not provide State/End Dates, what Projects are associated with Clients, any Budget information, and so on, and so on. Invoice, Expense, and Time information are shown and available only through each individual Project. You can not see all invoices due, total amounts out standing, or time sheets across Projects and Clients. You are forced to click into each individual project to access that information and once again, the reports you are able to generate are very limited. I could go on about all the "cons" associated with Zoho Project but I don't have time.
Selma
Content Manager in Algeria
Internet, 2–10 Employees
Used the Software for: 2+ years
Zoho Projects: A Powerful Project Management Tool
Comments: Overall, I have had a positive experience with Zoho Projects. It is a powerful tool that has all the features I need to manage my projects. The user interface is easy to use, and the reporting and analytics features are excellent.
Pros:
Zoho Projects has a great user interface that is easy to use and navigate. It has all the features I need to manage my projects and tasks, and I can keep track of the progress of the project. The reporting and analytics features are great, and I can easily access the information I need.
Cons:
Zoho Projects can be slow at times and the customer support could be improved. The dashboard could also be more customizable, as it can be difficult to find the information I need.
Verified Reviewer
Verified LinkedIn User
Information Technology & Services, Self Employed
Used the Software for: 1+ year
The top project management application based on the cloud
Pros:
ZohoProjects provides a comprehensive solution for our project management requirements, offering numerous advanced features to tackle end-to-end challenges. It serves as a centralized platform for tracking all aspects of project management. One of the standout features of ZohoProjects is it's effortless tracking of work progress, remaining hours for tasks, and weekly working hours. The real power of ZohoProjects, however, is unlocked when integrated with other Zoho products. For example, by combining timesheets with Zoho Invoice, we can easily bill consultants. The potential applications are limitless.
Cons:
This product is not disliked, however, due to its extensive features, there is a considerable learning curve involved. Additionally, while Zoho projects offer mobile apps, the quality of these apps is poor. The product's task search capability is also notably weak and requires improvement in their search algorithm to enhance its overall quality.