What Is Sortly?
Sortly is a super simple inventory and asset tracking system to VISUALLY track your items and their details including location, price, condition etc for a more intuitive (and less maddening) way to track your items. Get started for free today.
Key Features:
- Access via Computer (web), Tablet or Smartphone
- Give team members or customer access
- Create or connect to any barcodes or QR codes
- Check in/out items with in-built scanner
- Get Alerts and Reminders
Who Uses Sortly?
We built Sortly to simplify inventory for every kind of business - Whether you lend out items to employees, sell inventory to customers or just need to keep tabs on your stuff being used.
Where can Sortly be deployed?
Cloud-based
On-premise
---
About the vendor
Sortly
Located in Redwood city, US
Founded in 2013
Sortly pricing
Starting Price:
US$0.00/month
Yes, has free trial
Yes, has free version
Sortly has a free version and offers a free trial. Sortly paid version starts at US$0.00/month.
Pricing plans
get a free trial
About the vendor
Sortly
Located in Redwood city, US
Founded in 2013
Sortly videos and images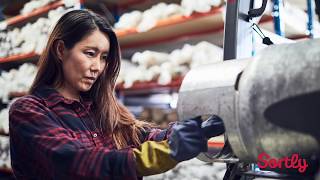 Features of Sortly
Activity Tracking
Alerts/Notifications
Asset Tracking
Audit Management
Audit Trail
Barcode / Ticket Scanning
Barcode Generation
Barcode/Label Management
Barcoding/RFID
Batch Printing
Check-in/Check-out
Customization
Expiration Date Management
Inventory Auditing
Inventory Control
Inventory Management
Inventory Optimisation
Inventory Tracking
Item Management
Label Designer
Label Templates
Location Tracking
Mobile Access
Order Management
Product Identification
Purchasing & Receiving
Reorder Management
Reporting/Analytics
Search/Filter
Serial Number Tracking
James
Operations Manager in Canada
Verified LinkedIn User
Farming, 11-50 Employees
Used the Software for: 6-12 months
An excellent and simple app to manage inventory.
Comments: Overall, I'm extremely happy with the software. Its created efficiency within my business and has saved me a lot of money on part runs for items that we already had in inventory. I would highly recommend this software.
Pros:
What I like most about the app is how simple it is to use and categorize product. As a small business owner, I was having a tough time trying to find an inventory program that fit out business needs. Once I found Sortly Pro, it streamlined our business and created efficiencies company wide.
Cons:
The only negative I have experienced is with the lack of instant notifications. I wish it notified the administrator or owner when specific items are pulled from inventory. A suggestion would be to include this as an option when entering inventory into the system.
Ali
Home Stager in US
Verified LinkedIn User
Design, 2-10 Employees
Used the Software for: 6-12 months
Great platform, but still needs work
Comments: I am a home stager and after trying several other inventory platforms, Sortly Pro was my favorite. I am frustrated with some basic features that it lacks, but overall, it does what I need.
Pros:
I love that it is simple, user-friendly, and very ascetically easy to use.
Cons:
There have been several simple updates that I have requested to customer service. I think for a program specifically designed to track inventory, specifically inventory that moves from location to location or customer to customer, then all inventory should have a 'home' or 'original destination' file so that when it is done at a location or customer then you simply click 'home' and them item goes back to it's original file. For example, I have upwards of 20-30 items that go to a client at one time. When they get returned to my inventory, I have to manually send them back to their original folder one by one. Yes, I can do bulk move, but I have nearly 100 'original destination' folders because all my inventory is categorized in folders. So I have to move the sofas to the 'sofas' folder and the lamps to the 'lamps' folder etc. I would like to be able to 'bulk select' and 'move to home folder'. Also, the option to drag items from one folder to the menu on the left would also help expedite daily actions.
Brianna
Owner of Upstaged Denver in US
Real Estate, 2-10 Employees
Used the Software for: 1+ year
Absolutely no customer service
Pros:
Pictures. Would be relatively easy to use with Pugh all the glitches
Cons:
Have had nothing but problems with this program. It is very simple programming errors that they seem not to care about or address at all. Every time we have had issues, we try to call, but there is no number they just make you email. However I receive a response saying they will get back to us and then never respond from there. We are basically just communicating with a computer system with no human interaction. Problems we have: (1) website doesn't communicate with app and is severely delayed. (2) Items don't update when you edit them. For instance, I change a quantity on an item, press save, and it doesn't update. Have to do that about ten times or more for it to register. Causes major problems. (3) when you move like items back into a folder, they don't merge. So if you have 2 of the same item, move one over to a stage, and then move it back, it duplicates the item instead of merging back with the original. OVERALL LOTS OF PROBLEM AND ABSOLUTELY NO HELP ON BEHALF OF SORTLY. IF YOU ARE LOOKING FOR A BASIC INVENTORY SYSTEM WITH LOTS OF GLITCHES, THIS IS FOR YOU!
José Miguel
Owner MenosHuella SpA in Chile
Import & Export, 2-10 Employees
Used the Software for: 6-12 months
A nice solution for inventory management without the typical problems
Comments: One of our problems with our E-commerce stores was handling inventory management in a single and straightforward app. Although we test many other solutions, and all have the same problem, the number of extra features complicates the central part we need. However, after giving it a try to Sortly, subscribing to an annual plan was an obvious decision. The components for online inventory management (including the mobile app) were ideal for us. Until now the experience is excellent, and for sure we stay with the service for more years.
Pros:
Folder and subfolders creation Barcode search and scanner. Code and label creation. Easy to use.
Cons:
Lack of user interface languages. It would be nice if they added more languages to the preferences.
Dallas
Customer Support Specialist in US
Verified LinkedIn User
Consumer Electronics
Used the Software for: 1-5 months
Sortly Pro has been a great tool in transitioning from the old spreadsheet into the 21st century.
Comments: The ability to track inventory on the go, efficiently.
Pros:
The ability to create custom fields and specify the metadata for said field. Quick to add/move/remove/edit items with quick actions. The tagging system is an efficient way to group products. You can easily track quantities and move and adjust as needed on the fly with simply an app on your phone. You get the intricacy of a spreadsheet with the user interface of an app. If you can add/edit/remove items on a social media profile, then you are savvy enough to create a basic inventory system in this platform.
Cons:
With any startup, you're going to have growing pains. They are still perfecting the system. The silver lining is in their response to customer feedback. I don't know if I would call this a con, but there is definitely something of a learning curve. For instance, to create a detailed, intricate inventory system, properly, is going to take some trial and error. There are features and ways to manipulate the app that aren't necessarily apparent. For instance, understanding it's best to keep 'Folders' to a minimum and instead use the tagging system to identify and classify items. We have our own struggles with managing inventory, but once you get a baseline established, in a normal inventory environment, maintenance shouldn't be too labor intensive.