What Is Factorial?
Factorial is a powerful human resources software that employees love almost as much as HR does. With a simple, intuitive interface, Factorial streamlines HR processes at every stage of the employee life cycle. Making recruitment, onboarding, time tracking, time-off management, and performance reviews easy. HR managers have enough to do! Make admin more efficient so you can concentrate on the things that really matter.
Who Uses Factorial?
Factorial specializes in helping small- and medium-sized businesses.
Where can Factorial be deployed?
Cloud, SaaS, Web-based, Mac (Desktop), Windows (Desktop), Linux (Desktop), Windows (On-Premise), Linux (On-Premise), Chromebook (Desktop), Android (Mobile), iPhone (Mobile), iPad (Mobile)
About the vendor
Factorial
Located in Barcelona, Spain
Founded in 2016
Phone Support
Chat
About the vendor
Factorial
Located in Barcelona, Spain
Founded in 2016
Phone Support
Chat
Factorial videos and images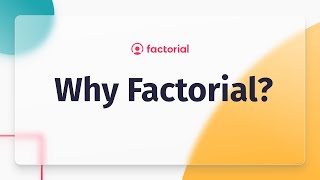 Compare Factorial with similar products
Features of Factorial
360 Degree Feedback
Absence Management
Accounting Integration
Activity Dashboard
Activity Tracking
Activity/News Feed
Alerts/Notifications
Anonymous Feedback
Applicant Tracking
Application Management
Approval Process Control
Approval Workflow
Assessment Management
Asynchronous Learning
Audience Targeting
Automated Scheduling
Automatic Time Capture
Benchmarking
Benefits Management
Billable & Non-Billable Hours
Billing & Invoicing
Blended Learning
Budget Management
Budgeting/Forecasting
Built-in Course Authoring
CRM
Calendar Management
Campaign Management
Candidate Management
Candidate Profiles
Candidate Tracking
Career Development
Careers Page
Case Management
Certification & Licensing
Chat/Messaging
Check Printing
Collaboration Tools
Commission Management
Communication Management
Compensation Management
Compensation Plan Modeling
Compensation Statements
Competency Management
Compliance Management
Compliance Tracking
Continuous Feedback
Contractor Management
Corporate Card
Course Management
Course Tracking
Customisable Branding
Customisable Templates
Dashboard
Data Import/Export
Direct Deposit
Drag & Drop
E-Verify/I-9 Forms
Electronic Forms
Email Management
Email Marketing
Email Templates
Employee Database
Employee Directory
Employee Engagement Software
Employee Handbook
Employee Management
Employee Photos
Employee Portal
Employee Profiles
Employee Scheduling
Employer Accounts
Expense Tracking
Feedback Management
Float Pool Management
Goal Management
Goal Setting / Tracking
Gradebook
HR Metrics Library
Incident Reporting
Individual Development Plans
Internal Talent Mobility
Interview Management
Interview Scheduling
Job Management
Job Posting
Job Search/Filter
Labor Forecasting
Learner Portal
Learning Paths/Tracks
Leave Policy Management
Leave Tracking
Manager-to-Peer Recognition
Market Data Analysis
Mass Notifications
Mentorship
Merit/Bonus Management
Messaging/Shift Dispatching
Mobile Access
Mobile App
Mobile Learning
Mobile Receipt Upload
Multi-Channel Communication
Nominations
On-going Performance Tracking
Onboarding
Online Punch Card
Online Scheduling
Online Time Clock
Online Time Tracking Software
Org Chart Creation
Organisational Charting
Orientation Workflow Management
Overtime Calculation
Payroll Management
Payroll Reporting
Peer Appraisals
Peer-to-Peer Recognition
Performance Management
Performance Metrics
Performance Review Management
Process/Workflow Automation
Progress Tracking
Project Tracking
Publishing / Sharing
Pulse Surveys
Punch card
Question Library
Receipt Management
Recognition Tracking
Recruitment Management
Reimbursement Management
Reporting & Statistics
Reporting/Analytics
Resume Database
Resume Parsing
Resume Search
Resume Storage
Review Cycle Tracking
Rewards Catalogue
Role-Based Permissions
SCORM Compliance
Salary Planning
Self Assessment
Self Service Portal
Shift Scheduling
Shift Swapping
Sick Leave Tracking
Skills Assessment
Skills Tracking
Social Learning
Social Media Integration
Social Recognition
Spend Control
Succession Management
Succession Planning
Surveys & Feedback
Synchronous Learning
Talent Acquisition
Talent Management
Task Management
Tax Compliance
Tests/Assessments
Third Party Integrations
Time & Attendance
Time & Expense Tracking
Time Off Management
Time Off Requests
Time Tracking
Timesheet Management
Training Management
Trend Analysis
Turnover Tracking
Vacation/Leave Tracking
Version Control
W-2 Preparation
Workflow Management
Lotte G.
Senior Technical Project Manager in Qatar
Mechanical or Industrial Engineering, 10,000+ Employees
Used the Software for: 1-5 months
Easy Staff Managment Through Factorial
Comments: As of now, the Factorial Application is running smoothly and meeting all desired expectations in my business unit. Staff is much pleased with the software as they no longer need to visit my office to submit their leave forms physically as the application enables them to request these through the system. Likewise, never missed my tasks and not had any arguments with my subordinates with regard to their day-offs. All the above achievements emerged thanks to Factorial Software. You will never regret owning this software because this will help to save your human assets in the company.
Pros:
One of the best aspects of the Factorial app is its handy Dashboard. This provides a great helicopter view to senior staff with regard to identifying many activities such as upcoming events, pending tasks, upcoming holidays, and community posts. The Dashboard is in blocked shape with enlarged text, which helps users to quickly capture the eyes of the user without missing any activity! Furthermore, the users can easily install many user-friendly applications that integrate with Factorial through a few clicks. Some of the great features you can enjoy using these apps are Goals, reviews, surveys, training and etc. Another superb plus point is users can integrate the mailboxes, including outlook. If somebody thinks this is an exaggeration; I must tell you that you should try their free version before purchasing this! You will surely be mesmerized by your output!
Cons:
So far, I did not experience any issues, since I have been using limited features yet but there are many other areas to capitalize on. There are abundant capabilities this App has but I am yet to experience any misbehaves of this app. In a nutshell, there are literally zero issues for me as of now!
Rahul D.
email marketing manager in Spain
Marketing & Advertising, 51-200 Employees
Used the Software for: 1+ year
Qualitative use of factorial
Pros:
- It's really great place to engage with all employee plus to manage their track records & attendance. We can easily apply for leave application without writing big emails. - you can have working schedules & employee profiles up to date - you can manage payroll & holiday calendar + really useful place for survey
Cons:
sometimes it takes ages to load but might be server connection issues
Veronica T.
marketing executive in Italy
Information Technology & Services, 11-50 Employees
Used the Software for: 1-5 months
User-friendly HR software
Pros:
I like Factorial as it's a very simple and intuitive software. From the employee perspective, I think it's pretty valuable because all the documents are arranged in an orderly manner, and it's possible to upload files both from laptop and mobile devices. The dashboard gathers all the relevant information in one place so it's super easy to stay up to date with the events of the company.
Cons:
I haven't tried yet the integration with LinkedIn because Factorial is currently working to release an update, and I am really curious to examine this aspect (as a marketing executive, it's important to me that I can link the two platforms in order to enhance employee engagement)
Denisse H.
HR Specialist in Spain
Marketing & Advertising, 51-200 Employees
Used the Software for: 1+ year
Factorial for our changing process
Comments: We use to make the payrolls with a company and for me this process was terrible, was that time of the month when i really not wanted to be on. Now all this process is really easy and the communication with payroll staff is vry clear and fluid so any doubt it´s solved at the moment.
Pros:
What we like the most was how easy is understand the platform and used. There´s no one who can not be able to find what they need or registered in the platform. How easily is complete the payroll process and how attent are the payroll staff. That i can use the platform for more than just one use, as example: payroll, recruitment, as documentary, to share documents with the employees, etc...
Cons:
What i like least is that in the lead product that i think is the payroll i mis some usabilities as do changes directly in the payroll when are ready, like last minute changes that make the process return to scratch. Will be more easy if i can do it online. I really miss create differents document folders. I think that right now you have it but it´s a differente package.
Verified Reviewer
partner success manager latam in Spain
Verified LinkedIn User
Consumer Services, 501-1,000 Employees
Used the Software for: 6-12 months
All hr information Conected in one platform
Comments: for me it is a great HR Platform, because you can manage everything in one tool! even if you are from the HR Department, or an user (employee) that self manage their neccesities.
Pros:
it's easy to use. to ask for a free day it's quick, because your manager receive an alert to be approved or denied, you can control the schedules of all the employees, vacations, the exact hours an employee has worked. Also, all the information of all the employees in one hand.
Cons:
I think it is necessary to find another way to control attendance, either by synchronizing with a work tool to avoid forgetting to record worker attendance. In my case, I had to set a daily alarm to remember to fill it.