Local product
What Is SpamTitan?
SpamTitan is a cloud based Anti Spam email filter. It is an easy to use, effective, multi-award winning Anti-Spam, malware blocking and phishing prevention solution .
Blocks Phishing, spam, viruses, malware, malicious links, spyware and other email security threats. We provide sophisticated email security for your business without making it complicated.
Try a FREE 14 day Trial of SpamTitan Email Security today, full support included during trial.
Who Uses SpamTitan?
Business solution - applicable for every business with email.
Where can SpamTitan be deployed?
Cloud-based
On-premise
---
About the vendor
TitanHQ
Located in Galway, Ireland
Founded in 1995
SpamTitan support
Phone Support
24/7 (Live rep)
Chat
Languages
English, French, German, Italian, Spanish
SpamTitan pricing
Starting Price:
US$1.27/month
Yes, has free trial
No free version
SpamTitan does not have a free version but does offer a free trial. SpamTitan paid version starts at US$1.27/month.
Pricing plans
About the vendor
TitanHQ
Located in Galway, Ireland
Founded in 1995
SpamTitan support
Phone Support
24/7 (Live rep)
Chat
Languages
English, French, German, Italian, Spanish
SpamTitan videos and images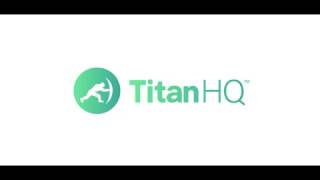 Features of SpamTitan
Allow/Block List
Anti Virus
Archiving & Retention
Behavioural Analytics
Data Loss Prevention Software
Data Retention Management
Data Security
Email Attachment Protection
Email Filtering
Email Management
Email Monitoring
Email Routing
Encryption
Endpoint Management
For Small Businesses
Fraud Detection
Microsoft Outlook Integration
Phishing Protection
Policy Management
Quarantine
Real Time Monitoring
Reporting & Statistics
Reporting/Analytics
Response Management
SURLB/URIBL Filtering
Shared Inboxes
Signature Management
Spam Blocker
Spam Detection
Third Party Integrations
Threat Intelligence
Threat Protection
Threat Response
Whitelisting/Blacklisting
Nabila
Human Resources Manager in Malaysia
Verified LinkedIn User
Investment Management, 10,000+ Employees
Used the Software for: 2+ years
Combating spam email with SpamTitan is very effective
Comments: Utilizing SpamTitan as the primary spam-fighting app has proven to be very successful, and it has provided me with more benefits than other more well-known brands. I am very pleased with the price and consider it to be very useful for the price I paid. Whenever I thought about email security, the first thing that comes to mind is SpamTitan.
Pros:
SpamTitan has a high level of consistency when it comes to preventing spam and malicious communications from reaching my primary inbox. Setting up the specific keyword that I want to be used in the blacklist keyword and the whitelist keyword is quite easy. After setting it up, the procedure is streamlined, and I would not have to keep track of it because it would send me a weekly report.
Cons:
There have been times that a legitimate email has been blocked and no message has been received to inform me about this practice, resulting in the email remaining in the junk inbox until I manually search and whitelist it. For the first time, adding a domain to the app can be daunting, and I had to seek assistance.
Syazwani
Talent Acquisition Executive in Malaysia
Verified LinkedIn User
Financial Services, 10,000+ Employees
Used the Software for: 1+ year
Protect my emails from vulnerable
Comments: Using SpamTitan as my main software to fight spam emails is very effective and more benefit i have seen better then other more popular brand. I am very happy with the pricing and really valuable with what i has paid. When I think about email protection, it is always SpamTitan that pop-up in my mind.
Pros:
SpamTitan has a very good accuracy in filtering a spam and malicious emails from entering my primary inbox. It is very easy to set up my own keyword that i want to include in the filter keyword and setting up the whitelist keyword. After setting everything up, the process is automated and i don't have to constantly monitoring it as it will sent me report for every-week activity.
Cons:
There are time that a legit email will be blocked and there are no notification sent to remind me about this activity, and resulting that email stayed in the spam inbox until i have to manually check and whitelist it. Adding domain into the software for the first time can be confusing and i had to ask for a support to fix it.
Computer & Network Security, 51–200 Employees
Used the Software for: 2+ years
Spam titan-link lock
Comments: A perfect solution and they are keeping update and upgrade it yet
Pros:
Spam titan is an exallent product for email securityIt has a full of features which pro ide all the needed criteria to detect the spam emails with a very hight rate of capture And I want to focus on the new feature LinkLockWhich raise the capture rate of spam detection to a hight standard Normally if the email is clean with no malicious content it will be Mark as clean and if it include a URL which is not included in any bad categories it will be marked as clean,But sometimes the URL is bad and not included in any bad categories cause it is still new Here the link lock works and scan the URL on the fly to decide if it is clean or not and if it is not clean , it will turn the URL to a text which the end user can not click on it and keep it that way and deliver the email and even if you forward the email to someone outside your organisation it will keep it as text also which protect even your customers
Cons:
Nothing for now , really it is miner issues which they always solve
Timothy
Managing Member in US
Facilities Services, 11–50 Employees
Used the Software for: 6-12 months
Source: SoftwareAdvice
SpamTitan works great -- until it doesn't
Comments: I am spending 30 minutes writing a review in the hope that other people will make a better first selection than we did. Our experience showed us that the product is only marginally reliable and their support is god-awful.
Pros:
Was easy to implement and, as the title said, it worked great until it did not.
Cons:
This is a cloud-based product. In early August, the product totally failed. (it was a Friday morning in the US, but dont remember the date as we have moved on to an)other product). Just noticed that we were no longer receiving emails. Rerouted DNS to cut SpamTitan out of the loop and email (unfiltered) started flowing. Contacted Spam Titan and they confirmed that the cloud instance on which we were running was offline for unknown reasons. Our business is 24x7. We ran without Spam Titan on Friday, and Saturday, and Sunday, and Monday. We called for updates, on Friday afternoon, Saturday, Monday, and Tuesday. Each time, there were no updates and were told that we would updated by email and by phone if we left our best contact number. Well, that never happened. Interestingly, we were not offered to route through any other web-instances. By late Tuesday, we had already vetted another product and moved our production platform to the new provider. Their support SUCKS. Moreover, I am going through the same goat-ropin' with trying to cancel my subscription. If you call them and make the appropriate selection, you always go to voice-mail (again, no callbacks). If you select "technical support", they have to connect you with Customer Service (one time out of two tries, I got a live CS person and they told me that they would have to connect me with "retention". Again, no one was available but was promised that someone would call me back -- never happened.
Patrice
IT System Administrator in Canada
Computer Networking, 201–500 Employees
Used the Software for: 1+ year
Great anti-spam solution
Comments: Great
Pros:
Lots of features, really easy to install, support is fast to answer
Cons:
Some features are not easy to deploy / use, documentation helps, but could be more complete, at least support is friendly and fast to respond
Alternatives Considered: Zerospam and Barracuda Email Security Gateway
Reasons for Choosing SpamTitan: Mostly price, Zerospam was not cheap to run
Switched From: Zerospam
Reasons for Switching to SpamTitan: Features / Price