What Is NinjaOne?
NinjaOne is the leading unified IT operations solution that simplifies the way IT teams work. With NinjaOne, IT teams can manage all their endpoints and support end-users within one fast, modern, intuitive platform, improving technician efficiency and user satisfaction. The NinjaOne platform gives IT teams proactive monitoring, patch management & more. NinjaOne supports over 10,000 customers around the world, and is consistently ranked #1 for our world-class customer support.
Who Uses NinjaOne?
For IT professional that need instantaneous response to user issues and secure their IT environments.
Where can NinjaOne be deployed?
Cloud-based
On-premise
---
About the vendor
NinjaOne
Located in San Francisco, US
Founded in 2013
NinjaOne support
Phone Support
24/7 (Live rep)
Chat
NinjaOne pricing
Starting Price:
US$3.00/month
Yes, has free trial
No free version
NinjaOne does not have a free version but does offer a free trial. NinjaOne paid version starts at US$3.00/month.
Pricing plans
get a free trial
About the vendor
NinjaOne
Located in San Francisco, US
Founded in 2013
NinjaOne support
Phone Support
24/7 (Live rep)
Chat
NinjaOne videos and images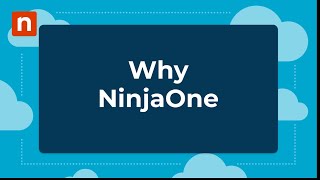 Features of NinjaOne
Access Controls/Permissions
Activity Dashboard
Activity Tracking
Alerts/Escalation
Alerts/Notifications
Anti Virus
Application Security
Asset Tracking
Audit Management
Audit Trail
Automatic Patch Deployment
Automatic Scans
Availability Testing
Backup Log
Backup Scheduling
Backup and Recovery
Bandwidth Monitoring
Bare-Metal Restore
Behavioural Analytics
Change Management
Cloud Backup
Compliance Management
Compliance Tracking
Compression
Configuration Management
Credential Management
Customer Support
Customisable Reports
Customization
Dashboard
Data Security
Data Visualisation
Deployment Management
Device Management
Diagnostic Tools
Disaster Recovery
Documentation Management
Encryption
Endpoint Management
Endpoint Protection Software
Event Logs
File Sharing
For MSPs
For Websites
For the IT sector
Full Backup
Help Desk Management
IP Address Monitoring
IT Asset Management
IT Asset Tracking
IT Reporting
Image Creation
Image Deployment
Incident Management
Incremental Backup
Inventory Management
Issue Auditing
Issue Management
Knowledge Base Management
Knowledge Management
Macros/Templated Responses
Maintenance Scheduling
Monitoring
Multi-Channel Communication
Multi-OS
Multiple Format Support
Network Analysis
Network Monitoring
Network Wide Management
Password Management
Patch Management
Performance Metrics
Performance Monitoring
Policy Management
Prioritisation
Problem Management
Process/Workflow Automation
Real Time Monitoring
Real Time Notifications
Real Time Reporting
Real-Time Chat
Real-time Alerts
Remediation Management
Remote Access & Monitoring
Remote Access/Control
Remote Monitoring & Management
Reporting & Statistics
Reporting/Analytics
Risk Assessment
Scheduling
Screen Sharing
Secure Data Storage
Self Service Portal
Server Monitoring
Session Recording
Support Ticket Management
Task Management
Third Party Integrations
Threat Intelligence
Threat Response
Threshold Alerts
Ticket Management
Unattended Access
Uptime Reporting
User Management
Vulnerability Scanning
Whitelisting/Blacklisting
Workflow Configuration
Workflow Management
Tim
Director of Technology in US
Verified LinkedIn User
Facilities Services, 1,001–5,000 Employees
Used the Software for: 6-12 months
Best RMM tool on the market
Comments: I manage an in-house IT department and we always struggled with tracking hardware, history, and status. No matter what we found, we just couldn't get one that was accurate and easy to keep up to date. Ninja just DOES it. I don't have to think about it. I know all my machines in Ninja and the latest info on them is all right there. This makes our network more visible, trackable. My team solves issues faster, more accurately, and in a happier way than ever before.
Pros:
Ninja was so easy to setup. It's fun to tweak. The scripts are simple and there are even some basic templates. It tells me everything I need to know about a computer and what's going on. The integrations have been a huge help. Their documentation is precise, easy to follow and accurate. Our account manager actually cares and checks in on us every 2 weeks. Good vendors are so rare, no matter the product. I'm not really sure I could love this product and this company any more than I do.
Cons:
The only things I can think that I wish was if Ninja made some their own basic ticketing system. That's not a complaint about the product at all, but the other partners they integrate are way more complicated and expensive than I'd like. I know Ninja would crush it if they made a simple one of their own that was tightly integrated with the Ninja portal. Also, the NMS deployment is slightly clunkly. I would like Ninja to bring that in house too.
Alternatives Considered: Atera and Kaseya VSA
Reasons for Choosing NinjaOne: spiceworks wasn't accurately keeping my hardware up to date.
Switched From: Spiceworks
Reasons for Switching to NinjaOne: Ninja was easier and integrated better with the tools I wanted. The company was more pleasant to work with too.
Brian
Technical Director in Ireland
Information Technology & Services, 2–10 Employees
Used the Software for: 1+ year
Ninja One changed our business
Comments: Fantastic, I can't fault ay aspect of the solution or the people working with the company.
Pros:
The ease of use along with the great development, technical, support and sales teams mean we are never stuck. That great relationship with the company along with the efficiency of the software means we gave gained and incredible amount of time to do work instead of working on the software.
Cons:
The only criticism I have of Ninja One is that they produce a huge amount of features regularly but we would love to have access to them often before they are ready. This is due to the development being customer driven so the upgrades they offer are always great and we are a little impatient!
Alternatives Considered: N-central
Reasons for Choosing NinjaOne: Needed a more mature and capable product
Switched From: Atera
Reasons for Switching to NinjaOne: Better functionality, better ease of use, better value, and better people to work with.
Information Technology & Services, 51–200 Employees
Used the Software for: 6-12 months
NinjaOne the all-in-one solution for IT
Pros:
I enjoyed using NinjaOne software. It provides a comprehensive suite of tools, making it the one-stop solution for most IT Departments or MSPs. However, what I liked most about the software is:Ease of Use: The user interface is intuitive and easy to navigate. The features are clearly labeled and organized, making it simple to find what you need.Customization: The software can be customized to fit your specific needs. You can add or remove features or customize the look and feel of the interface.Integration: NinjaOne integrates seamlessly with other leading IT management solutions, so you can quickly move data and information between systems.Support: The support team is always available and quickly responds to inquiries or issues.These factors make NinjaOne an excellent choice for any IT department or MSP. I highly recommend it!
Cons:
Lack of Network Mapping: NinjaOne does not currently offer network mapping capabilities, which would benefit more robust network monitoring.
Verified Reviewer
Verified LinkedIn User
Computer Networking, 2–10 Employees
Used the Software for: 1+ year
their SMS login is not working - no fix from their support in timly manner
Comments: not good, major issues should be fixed at the time and not dragged out,
Pros:
their is not a lot - I'm not impressed by their lack in support.
Cons:
the Sydney office is not picking up the phone - I doubt if it even exists, SMS verification not working - if you need Ninja to fix the issue they are not doing it in a timely manner.
Gil
CTO in US
Verified LinkedIn User
Accounting, 11–50 Employees
Used the Software for: 2+ years
Best-in-class RMM for internal IT Departments
Comments: Overall NinjaOne has allowed us, via automation, to turn our internal IT Department with very limited staff into an army. IT now has an insight into all assets, networks, and activities allowing us to become extremely proactive. Integrated ticketing and Documentation modules allow us to utilize NinjaOne as a nearly one-stop hub for all things IT (we still utilize a separate Remote Access vendor for enhanced features only they offer).
Pros:
After reviewing a host of RMM vendors we decided on NinjaOne for affordability, features, integrations, and support. What we like most is the feature set that revolves around automation. The dashboards, alerting and other features are intuitive and extremely effective. We now utilize the Ticketing module along with Documentation which alleviated two third-party vendors for us.
Cons:
Not much to report here. There are the occasional service disruptions to regional instances (ex. US, CA, EU, etc.) however we have not suffered any lengthy outages (typical growing pains).
Alternatives Considered: Datto RMM, Syncro and N-central
Reasons for Switching to NinjaOne: We chose NinjaOne over the competition due to its reliability, customization, affordability, integrations, and premier-level rapid support.