Who Uses HoneyBook?
Graphic designers, DJs, photographers, business coaches, web designers, consultants, florists, caterers, videographers, calligraphers, business coaches, health & wellness professionals, and more!
What Is HoneyBook?
HoneyBook helps creative entrepreneurs and freelancers book more clients, manage projects and get paid all in one place. With our business management software, you can automate your busy work and stay on top of all your to-dos, saving time and money so you can grow your business. Its like your own personal assistant.
Small business owners and freelancers have tripled their bookings and saved multiple hours a day using HoneyBook tools.
$1/month for 6 months with code "ALLINONE" :)
HoneyBook Details
https://www.honeybook.com/
HoneyBook Pricing Overview
HoneyBook does not have a free version but does offer a free trial. HoneyBook paid version starts at US$40.00/month.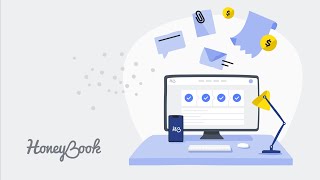 Play
Pricing Details
Annual or Monthly membership plans available
Christina S.
Owner
Legal Services, 2-10 Employees
Used the Software for: 2+ years
Overall Rating

Ease of Use

Features & Functionality

Customer Support

Value for Money

Likelihood to Recommend
Reviewer Source

Reviewed on 20/9/2019
"The Best Client Management Resource-- goes beyond normal software"
Comments: Before I used HoneyBook, I had tried several other client management platforms. All of them were clunky, and often I'd have to hunt around for things in the interest of the app developer's attention to folders and organization. What a mess! I'm so glad I switched to HoneyBook. They've consistently made product improvements and seem to really care about their customers. It gets easier and more fun to use every day, with just enough features to accomplish what I need without overwhelming me. I highly suggest this to anyone who is managing multiple clients, especially if you have client projects that tend to go dormant for awhile then pick back up.
Pros: I love how easy it is to use, and how amenable the HB team is to updating the software if you have a feature request or complaint. It provides very visual, easy user prompts that allow me to easily accomplish what I need in a fraction of the time of other software apps I've tried.
Cons: It's annoying that I can't delete the default emails that came with my account to replace them with my own workflow, so myself or a team member doesn't get confused with their suggested emails vs. the ones I actually want to use.
Vendor Response
by HoneyBook on 23/9/2019
Christina, thank you for you being a HoneyBook member! We are so happy to hear that HB allows you to manage your clients in a fraction of time of other systems! Our Product Team works hard to consistently meet and exceed our members expectations. Thank you for the feedback on the default email templates. I will share with our team. Incase you didn't know, you can edit the default templates text and format to meet your needs.
Reviewer Source

Reviewed on 20/9/2019
Alyssa P.
Founder & Creative Director
Design, Self Employed
Used the Software for: 1-5 months
Overall Rating

Ease of Use

Features & Functionality

Customer Support

Value for Money

Likelihood to Recommend
Reviewer Source

Reviewed on 1/9/2020
"Using HoneyBook is like having a personal sales assistant helping me run my business 24/7"
Comments: Wow, just keeping everything in one place for my business and the way HoneyBook automatically saves everything that I've been working on has been absolutely transformational. I feel like HoneyBook is 5-10 apps all in one. I also like your customer support and the overall vibe of your company that I get from using your product. I feel like you truly care about your customers :) Also, I'm currently on the $1 per month plan for 6 months. Keep offering that, because that is what made me commit to HoneyBook! Also, your pre-written proposal legal contract is AMAZING! So professional and easy to customize.
Pros: Honeybook is incredibly intuitive and easy to use. Luckily, I started using it when I began my business, so I didn't need to transfer any existing CRM or sales data over. When I was onboarding, HoneyBook's support staff loaded in a bunch of pre-designed templates specific to my industry. They also took images I sent them of my products and prices and turned them into usable sales proposals. That alone has saved me WEEKS of time that I would have had to spend learning how to use HoneyBook and manually inputting my content.
Cons: The time tracker does not function to the extent that I need it to. I currently use Time Doctor to track my time, but it would be nice if I could keep everything in HoneyBook. Also, I oftentimes don't see my reminders for following up with "tasks" for clients in my projects pipeline. If there's a way to have those notifications automatically sync with my personal google calendar and send me an email reminder, that would be helpful. Pipedrive's CRM and sales pipeline does a really great job of showing urgent prospects to follow up with. I think it color-codes them too. Also, the email feature within HoneyBook can be a bit confusing. Sometimes, I can't tell if an email sent or not. The notes are also not displayed in a way that's very easy to read. It would be nice to add bullets, bold text, underline, etc. Pipedrive does a really great job of showing all of the email threads and notes between clients and multiple team members in their CRM. Also, the first time I sent an invoice, HoneyBook automatically included a place for gratuity/tip. I've now figured out how to turn that setting off, but I couldn't see that it was automatically included in my invoice ahead of time. With my business (and I think most), they will never need gratuity, so I think that's kind of an odd setting. Maybe instead of having to click and review the settings in the left side bar of invoices, there could be an extra prompt to review those settings before the user sends the proposal to their client.
Reviewer Source

Reviewed on 1/9/2020
Paige E.
President
Photography
Used the Software for: 1+ year
Overall Rating

Ease of Use

Features & Functionality

Customer Support

Value for Money

Likelihood to Recommend
Reviewer Source

Reviewed on 7/6/2018
"Not User Friendly - Difficult Learning Curve"
Pros: Keeps contracts in one place, able to accept credit cards. You can network with other vendors, and they seem to really concentrate more on this than actually developing software that works well.
Cons: I am a "founding" Honeybook user and bought the lifetime membership. At first, HB was very convenient. The learning curve was very frustrating as the online software had many MANY bugs. It still does. The entire premise behind the software was to free up your time, have all your projects in one place, sign contract, get paid, etc. Yes, great idea! However, the software has so many glitches! You're not able to even edit a person in your contacts. Their customer support team used to be great you could actually message a real person - now you have to wait a day or two to get an email answer and most of the time they just send you a link to deal with your problem. Once you email your client the contract, everything goes down the Honeybook "rabbit hole". My clients are tech savvy and they can't even figure out Honeybook - the emails that I've received from frustrated clients is numerous. Save your time and money and get another online software that will actually do the job - like Sprout Studio or Dubsado. Wish I would have done that from the beginning. Regretting my purchase since my lifetime "membership" isn't transferrable and Honeybook continues to make money off of me by accepting credit card payments. I looked at 17hats, which also didn't have great reviews before I purchased Honeybook. Moving on, however, I'm assuming that the process will not be easy transferring existing contracts and other office files.
Reviewer Source

Reviewed on 7/6/2018
Leigh ann S.
Manager
Events Services, 2-10 Employees
Used the Software for: 2+ years
Overall Rating

Ease of Use

Features & Functionality

Customer Support

Value for Money

Likelihood to Recommend
Reviewer Source

Reviewed on 29/5/2020
"Powerful, Intuitive Tool"
Comments: When we were starting up our business, an event venue, I was going nuts comparing the different CRM software. When you haven't actually used them, you don't know which will work best for you. Another venue owner told me she used HoneyBook. I had learned a lot from her, and finally decided that if she thought HoneyBook was good, it probably was and I'd just go for that. Best decision ever!
Pros: I love the pipeline, where each client's project is categorized by stage (new inquiry, tour scheduled, proposal signed, etc.). I can pull up all clients who are in the "Planning" stage of the pipeline, for example. Under each client's project is absolutely everything related to their project: all emails exchanged, contracts, payment schedule, separate workspaces with vendors who will be working on the project, and more. I have templates for emails and have them sent automatically. One goes out when we receive an inquiry, a different one 5 days after client signs the contract, and another 30 days before their event date. There are also templates for brochures, contracts, and payment plans. I can't imagine having to do all of that manually! I set the system up for my business with no outside assistance. It was easy to understand.
Cons: Would like to have more ability to make formatting changes (bullets, numbering, bold, etc.) when editing a document. I can do this on a new document, but not when editing an existing one.
Workflows could be improved to have more triggers and the ability to automatically send files.
Vendor Response
by HoneyBook on 2/6/2020
Hi Leigh Ann,
Thanks for your feedback. It's helpful to know where we can improve. We're in the process of building in more formatting customizations right now, as well as new triggers within workflows to help you automate tasks on a more real-time basis. Stay tuned!
Reviewer Source

Reviewed on 29/5/2020
Janelle M.
Freelance Makeup Artist
Consumer Services, Self Employed
Used the Software for: 6-12 months
Overall Rating

Ease of Use

Features & Functionality

Customer Support

Value for Money

Likelihood to Recommend
Reviewer Source

Reviewed on 9/8/2020
"Organize My Squirrel Brain"
Pros: Everyone kept telling me, "Honeybook is great, but there's a learning curve." So I was a little intimidated. They were wrong, I could jump in face first and start using it exclusively immediately. Even in the middle of a terrible time for my little business, I will pull all the strings I can find to be able to afford Honeybook. It's easy for me, easy for my clients and keeps me focused. It saves me time and energy and thats the most important thing!
Cons: The only thing I'm having issues with right now is making a brochure. It probably user error, but I wish it there more extensive editing capabilities within the brochure making operation. I will play around with it some more though.
Reviewer Source

Reviewed on 9/8/2020