What Is Ravetree?
Ravetree is an award-winning work management solution for project-driven organizations. Our platform includes: Project Management, Resource Planning, Time & Expense Tracking, Digital Asset Management, CRM, and more. Easily see the big picture by having all of your information organized in one place!
Who Uses Ravetree?
Ravetree is designed for project-driven organizations including: marketing/advertising, consulting, engineering, accounting, non-profits, government, software companies, law firms, and universities.
Where can Ravetree be deployed?
Cloud, SaaS, Web-based
About the vendor
by Ravetree
Located in Apex, US
Founded in 2013
Phone Support
Chat
Countries available
Australia, Canada, New Zealand, United Kingdom, United States
About the vendor
by Ravetree
Located in Apex, US
Founded in 2013
Phone Support
Chat
Countries available
Australia, Canada, New Zealand, United Kingdom, United States
Ravetree videos and images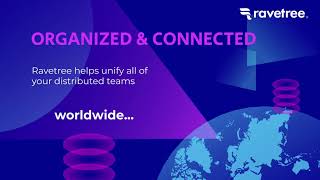 Compare Ravetree with similar products
Starting price
US$29.00/month
US$9.80/month
US$24.00/month
US$10.00/month
Courtney B.
COO in US
Verified LinkedIn User
Accounting
Used the Software for: 2+ years
Ravetree is incredible, in capacity and functionality. Customer service is top-notch.
Comments: Ravetree practically runs our business!
Pros:
Ravetree has transformed our business. Things that used to take multiple software and apps are now under one umbrella. The entire team loves Ravetree, and it's so amazingly powerful.
Cons:
The only con I can say about Ravetree is that, since it has so many capabilities, it can be a bit overwhelming to start with. It's really best to take it gradually, as you learn all the system can do.
Hannelie V.
Project Manager in New Zealand
Information Technology & Services, 11-50 Employees
Used the Software for: 1-5 months
One stop workflow and project management
Comments: Great customer service and response time. Easy navigation and setup.
Pros:
Incorporates Sales, Project Management, Finances, task management and resource management all in one. The Agile functionality is key for our business and was the core reason it was selected above other vendors. Overall view of tasks for teams across production and projects.
Cons:
The CRM component does not fully integrate with the Projects. Once an opportunity has been converted it would be great to automatically trigger Project setup. Retainer functionality does not suit our needs entirely but we have a unique offering.
Ravetree Response
2 years ago
Hello Hannelie. Thanks for writing a review of Ravetree. One feature that you may not be aware of is related to how projects integrate with our CRM. When you "win" a deal, Ravetree can automatically build out a project from a project template. In other words, Ravetree does automatically trigger project setup when a deal has been "won". We're happy to walk you through this feature if you'd like to learn more. Cheers!
Marketing & Advertising, 2-10 Employees
Used the Software for: 1-5 months
Alternatives Considered:
Be Warned
Pros:
The application has some great qualities, however many worked sporadically. On many occasions we reached out to support to ask why something was not working, only to be told it was working and instantly finding that it was (as if functions were being fixed as we mentioned them). I did reach out when we were considering leaving and received a response I was quite shocked with. The team responded with BYE and kicked us out of support completely. We were no longer able to contact them. SHOCKING support
Cons:
The lack of stability and the appalling support.
Ravetree Response
6 months ago
We banned this customer from our service after they repeatedly insulted our staff and made false accusations. They are the only customer we have ever banned from our service. All of our other reviews can speak to our outstanding customer service.
Marketing & Advertising, 11-50 Employees
Used the Software for: 1+ year
Human,
Comments: Over the past 5 years, we've utilized most/all of the leading project management systems and this is the first time that we've been able to find a lasting and meaningful relationship. Perhaps it was just the right tool at the right time. But I prefer to believe it was the right tool that we could have found at any time...ideally several years earlier than we did so we could have avoided all that heartache with other tools.
Pros:
Ravetree feels like the perfect blend of being universal enough for the masses and customized for the individual peculiarities of a mid-market full-service advertising agency of 35 people (i.e. us). In addition, Customer rep has consistently delivered the human element of a technology/subscription delivery and made it feel like we were a priority at each at every turn.
Cons:
It's nit-picking, but with technical updates and feature changes things inevitably break. That's completely understandable, but a little too often it has felt like we were the ones discovering those issues/bugs and we often lacked a heads up that change was upcoming.
Katie S.
Account Supervisor in US
Used the Software for: 6-12 months
I have enjoyed using Ravetree as a Project Management Software.
Pros:
What I like most is that you can easily track multiple projects, owners and milestones in a click of a button.
Cons:
Sometimes, getting alerts can be difficult. If you miss an email, you may miss an update or a tag in Ravetree. I wish there was a more easily digestible dashboard when you login to review the updates related to your projects.
Ravetree Response
4 years ago
Hi Katie, we're glad that you're finding Ravetree useful. One thing you may want to try out is our "Alerts" feature. Alerts allow you to create automated notifications that are sent to you when certain conditions are met. For example, you can receive an alert if you forgot to log time yesterday, or if you have work items or projects that are overdue. There are lots of possibilities for how you can set this up. With regard to the dashboard, we welcome your feedback. There are dozens of dashboard widgets for you to choose from, but if you'd like to see something specific, the let us know¿we're happy to build out new features so you can achieve the highest level of success!