What Is Archdesk?
Archdesk is the only business management platform built for the construction industry. It covers everything the modern business needs, including project, finance and asset management.
Archdesk is configured to work exactly how your business operates by optimising each workflow and automating where possible.
In real-time, bring your data into one place and visualise everything on customisable dashboards. This gives you the tools to make better decisions at every level of your business.
Who Uses Archdesk?
Archdesk works best for construction companies, specialist contractors and heavy industries.
Where can Archdesk be deployed?
Cloud-based
On-premise
---
About the vendor
Archdesk
Located in London, UK
Founded in 2016
Archdesk pricing
Starting Price:
Archdesk has a free version.
About the vendor
Archdesk
Located in London, UK
Founded in 2016
Archdesk videos and images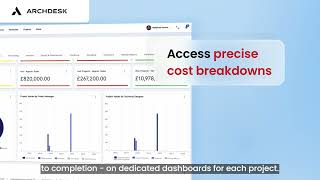 Features of Archdesk
Accounting
Accounting Integration
Action Management
Assembly Takeoff
Assignment Management
Audit Trail
Bid Management
Billing & Invoicing
Budget Tracking
CRM
Calendar Management
Calendar/Reminder System
Change Order Management
Checklists & Inspection
Client Portal
Client Tracking
Collaboration Tools
Compliance Management
Contact Management
Contract/License Management
Contractor Management
Cost Database
Customer Database
Customer Portal
Customisable Templates
Document Management
Electronic Plans
Enterprise Asset Management
Equipment Tracking
Estimating
Expense Tracking
Financial Management
For AEC Industry
Forecasting
HR Management
Historical Database
Inspection Management
Integrated Business Operations
Inventory Management
Job Costing
Job Management
Job Scheduling
Lead Management
Mobile Access
Mobile App
Permit Management
Photo Capture
Project Management
Project Planning/Scheduling
Project Scheduling
Project Tracking
Proposal Generation
Purchase Order Management
Qualification Tracking
Quotes/Estimates
RFI & Submittals
RFP Management
Real Time Notifications
Real Time Updates
Reporting & Statistics
Reporting/Analytics
Residential
Safety Management
Sales Approval
Sales Pipeline Management
Scheduling
Staff Calendar
Status Tracking
Subcontractor Management
Supplier Management
Supply Chain Management
Task Management
Task Scheduling
Third Party Integrations
Time & Expense Tracking
Time Tracking
Timesheet Management
Visual Assemblies
Work Order Management
Workflow Management
Gary
Director in UK
Verified LinkedIn User
Construction, 11–50 Employees
Used the Software for: 1+ year
Reviewer Source
The key to our growth
Comments: There is no doubt in my mind that we wouldn't have grown as far as we have without Archdesk. Knowing my company has a solid structure and system in place, I have every confidence that our growth will continue and will be manageable.
Pros:
We looked at so many products that would fit our business and kept hitting dead ends. Then we found Archdesk and one of the key things for me was it's easy to use interface. I had confidence straight away in training current and future staff to use it with it's current and 'app' like approach. It's fully customisable and the support staff are very quick to respond to our queries. This is essential for a young business like ours that needs help putting systems in place to help us go to the next level. Every body within the company uses it now and the processes make it so easy for everyone to see what the next step is for each project. From enquiry to estimating and all the way through to project cost analysis.
Cons:
It's hard to say anything negative really. Occasionally there is a minor glitch in the system presumably because they are making constant improvements. These are always dealt with quickly.
Christine
Accounts Manager in UK
Construction, 11–50 Employees
Used the Software for: 2+ years
Reviewer Source
A great tool for the whole team
Comments: I find Archdesk very user friendly and is suitable even for the people who have limited tech knowledge. I find that it is suited for every role within a construction company from estimating to accounts to general admin and even the engineers.
Pros:
I like that everything for each project is in one place. All members are able to view all of the critical information for their role, we dont have to do any double entry or input into multiple CRM systems / folders.
Cons:
There isnt much to say here the only thing I can think of is that you can only put one overall price in for a job and in construction, there can be many possibilities for costs, so to be able to put a few lines under contract price would be great.
Archdesk Response
2 months ago
We're thrilled to hear that you're enjoying Archdesk! We designed our software with the entire team in mind, and it's great to see that you're finding it to be user-friendly and suitable for every role within your construction company.
Construction, 11–50 Employees
Used the Software for: 1+ year
Reviewer Source
Review of Archdesk
Comments: Far more effective as a project management tool than something for a pre-construction team managing numerous estimates at any one time. It is a good administration tool however.
Pros:
Task management and workflow management, it easy to know what everybody in the team is working on
Cons:
No function for estimating, for this to be a truly integrated system for us we would need a bolt-on estimating module similar to what Esti-mate, conquest, causeways and Evaluate offer. Without this Archdesk are only offering a partial solution to cost management
Verified Reviewer
Verified LinkedIn User
Real Estate, 501–1,000 Employees
Used the Software for: 2+ years
Reviewer Source
Archdesk is good solution for customization/setup of workflow depending on company's needs
Comments: Approval workflows which was hard to manage the same for all countries. Transparency across all projects for all orders and and invoices. Great data sets for visual interpretation of dava for management.
Pros:
Possibility to customize workflows and create your own solutions for many different processes.Customizable templates
Cons:
As heavy solution it may cause someTrouble for users to used to it. It requires more trainings and overall feedback from our users is that it is hard to work with it when it is not on daily basis.
Chris
Contracts manager in UK
Construction, 11–50 Employees
Used the Software for: 1+ year
Reviewer Source
Key to the business performing.
Comments: From the very start it has been a great experience, support is first class. We found the different levels of elements in the software covers a lot of what we want, there is a few things that could help if changed but they seem very keen to develop with you.
Pros:
Scheduling and budgeting is a huge part of what we like about the software.
Cons:
The link up with Sage is the weak point of the software, it has improved but could still do with more work. Would be good if we could make are invoices abit more bespoke as well.
Alternatives Considered: Procore, Buildertrend and Smartsheet
Reasons for Choosing Archdesk: The endless levels of facilities to help all aspects of project management from start to finish.
Switched From: Procore, QuickBooks Desktop Pro, Buildertrend, monday.com and Smartsheet
Reasons for Switching to Archdesk: They didn't have as much to give.