Talkspirit
What Is Talkspirit?
Talkspirit is the #1 software for collaboration and team communication. It brings your employees together in a secure online workspace, wherever they are. By centralizing discussions, documents,
Read more
events and collaborative features in one place, it makes your teams more productive. Available in 8 languages. On any device (PC, mobile, tablet). Easy to use. Free trial. Free plan. Paid plans from 4 / month per user. Designated leading software for remote-work and team communication by GetApp.
Read less
Who Uses Talkspirit?
Companies who need a best-in-class collaboration and communication software for their teams. SMBs, public institutions and associations. From 20 people to 10.000.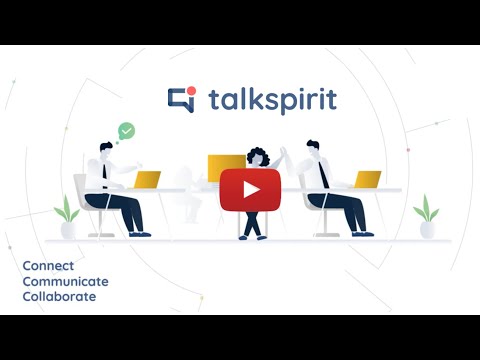 Not sure about Talkspirit? Compare with a popular alternative
Not available in your country
Grégory
Technical Chief Officer in France
Verified LinkedIn User
Computer Games, 11-50 Employees
Used the Software for: 1-5 months
Alternatives Considered:
Talkspirit : the perfect tool for teamworking
Pros:
Customization options and integrated polls
Cons:
They save payment information but they delete them on demand.
Bastien
Community Manager in France
Verified LinkedIn User
Animation, 11-50 Employees
Used the Software for: 6-12 months
tool of excellence to organize in the work
Comments: We are very happy with the progress of our projects, and are more productive since the installation of talkspirit by our teams
Pros:
We have been using talkspirit for a few months now at "Chartreuse Gaming" and we are very happy with the result on the quality of our work. Morover talkspirit is available on different platforms, be it computer, tablet, phone, all are synchronized and allow to advance on are work any time in any place. We particularly like the conf'call that allow us to work despite the distance of our members and collaborators. We also like polls in positions to brainstorm or quickly agree on one point or another. Notifications are also very convenient to quickly update the progress of a project or other ...
Cons:
The only drawbacks may be the application that does not benefit from all the options available on the site talkspirit but I think the update will be soon
Paul
Cofoundeur in France
Think Tanks, 2-10 Employees
Used the Software for: 1-5 months
Alternatives Considered:
Great product, great team !
Comments: Very nice ! All my users are pleased to use this tool (and they are all from tech industry)
Pros:
Beautiful and easy to use ! The team support is super nice !
Cons:
It can be difficult to get specific customization but there is always a way to get the job done !
Zeeshan
system engineer in US
Verified LinkedIn User
Information Technology & Services, 10,000+ Employees
Used the Software for: 6-12 months
extraordinary mean to have a good communication.
Comments: This software has allowed the company to make great progress in videoconferences, they are heard with very good quality, its instant messaging offers us a good opportunity to communicate easily and with high integration and to create work groups so that collaboration is more based on each comment or text that we want to add to the platform to share with each user.
Pros:
It is one of the best tools that maintains a good user interface that makes it more functional and excellent to use and is also very fast, which makes our experience extraordinary. Sufficient help to ensure that each one can be notified in advance of what is going to be discussed in videoconference through instant messaging and is more fluid, improves communication and reinforces our knowledge for better dissemination and the good is that they can be organized in groups and deal with each specific topic.
Cons:
I don't dislike Talkspirit at all as its configuration is really good and we can use it in the way we want, it is clearly easy and fast for notification configurations to be more comfortable. And you don't waste your has because it is exceptional at easily feeding back into its positioning.
Luc
directeur Innovation in France
Telecommunications, 10,000+ Employees
Used the Software for: 2+ years
better than slack and workplace
Comments: talkSpirit is used to bootstrap "on demand" innovation projects with distant co-workers. It's very easy to connect your daily tools and enjoy a single interface to work from
Pros:
- the super easy and intuitive interface, UX: no need for a user manual, - the ability to invite for free as many guests as you want to your common workspace, - a single interface to which you can connect all your external tools (twitter, linked, facebook, rss,..) and internal productivity tools (pipedrive, zendesk, trello, github, chargebee,..), - a multidevice chat + a social network with voice and visio integrated, - high level of security, - European SaaS solution accessible through local datacenter.
Cons:
I would like to have more bots available on their store. I tried the FAQ bot and it's quite immediate to put in production. I would like to have the same for a wide array of domains.