What Is Zoho CRM?
Zoho CRM empowers small to large-sized organizations with a complete customer relationship lifecycle management solution for managing organization-wide Sales, Marketing, Customer Support & Service and Inventory Management in a single business system.
Who Uses Zoho CRM?
Zoho CRM can be used by small, middle and large businesses. You can even build your own version of Zoho CRM. Sell smarter and faster with Zoho CRM.
Where can Zoho CRM be deployed?
Cloud, SaaS, Web-based, Android (Mobile), iPhone (Mobile), iPad (Mobile)
About the vendor
Zoho
Founded in 1996
Phone Support
24/7 (Live rep)
Chat
Zoho CRM pricing
Starting Price:
US$20.00/month
Yes, has free trial
Yes, has free version
Zoho CRM has a free version and offers a free trial. Zoho CRM paid version starts at US$20.00/month.
Pricing plans
get a free trial
About the vendor
Zoho
Founded in 1996
Phone Support
24/7 (Live rep)
Chat
Zoho CRM videos and images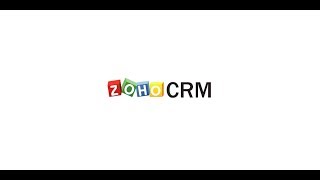 Features of Zoho CRM
Access Controls/Permissions
Activity Dashboard
Activity Tracking
Alerts/Notifications
Appointment Scheduling
Automated Routing
CRM
Calendar Management
Calendar/Reminder System
Campaign Management
Cataloguing/Categorisation
Channel Management
Client Management
Client Tracking
Client/Property Matching
Collaboration Tools
Commenting/Notes
Communication Management
Contact Database
Contact Management
Content Delivery
Content Library
Content Management
Contract/License Management
Customer Database
Customer History
Customisable Branding
Customisable Reports
Customisable Templates
Customizable Fields
Dashboard
Data Import/Export
Data Visualisation
Document Management
Document Storage
Drip Campaigns
Email Management
Email Marketing
For AEC Industry
For Financial Institutions
For Mac Devices
For Real Estate
For Sales Teams/Organizations
For Startups
For iPad Devices
Forecasting
Incentive Management
Interaction Tracking
Landing Pages/Web Forms
Lead Capture
Lead Distribution
Lead Management
Lead Nurturing
Lead Qualification
Lead Segmentation
Loyalty Program
Marketing Automation
Mobile Access
Multi-Channel Communication
Multi-Channel Data Collection
Multi-Channel Marketing
Multi-Language
Negative Feedback Management
Opportunity Management
Performance Metrics
Pipeline Management
Predictive Analytics
Prioritisation
Project Management
Prospecting Tools
Quota Planning
Quotes/Estimates
ROI Tracking
Referral Tracking
Reporting & Statistics
Reporting/Analytics
Rewards Management
Sales Activity Management
Sales Approval
Sales Pipeline Management
Sales Planning
Scheduling
Search/Filter
Segmentation
Service Level Agreement (SLA) Management
Social Marketing
Social Media Integration
Social Media Monitoring
Survey/Poll Management
Surveys & Feedback
Task Management
Template Management
Territory Management
Text Analysis
Third Party Integrations
Third-Party Integration
User Management
Web-based Deployment
Website Visitor Tracking
Widgets
Faisal faruque R.
Digital marketing Analyst in US
Verified LinkedIn User
Computer & Network Security, 2-10 Employees
Used the Software for: 2+ years
Dealing With Clients Is Easier Than Ever With Zoho CRM
Comments: Although I run a small marketing agency, I have to deal with a lot of clients. Initially used to manage all my clients manually and I didn't believe in any kind of CRM software. Later I started using Zoho CRM and never looked back. It has directly helped me to increase the overall yearly revenue of my company. Also, now I don't need to move from one tool to another just for doing simple tasks and my team can concentrate more on actual work.
Pros:
Zoho has different software for different purposes. But I must say that their CRM software is the best and it provides the best value to the users. I like the fact that you don't even have to pay if you don't need advanced features. In fact, I started with the free version and then upgraded to the premium package just because this software is excellent. Apart from being a great CRM tool, it can handle your email marketing and automation tasks. There are a lot of integrated modules that help me connect this with third-party popular services. Overall, I think nobody will regret purchasing this tool for their company.
Cons:
This tool is loaded with adequate features. One of them is the ZIA voice assistant which is not yet good enough. So, I think if the developers can improve this feature, Zoho CRM will be unbeatable.
Ephraim M.
Real Estate Agent in South Africa
Real Estate, 11-50 Employees
Used the Software for: 2+ years
Zoho CRM Review for Real Estate
Comments: I have been using Zoho CRM for four years now, and it has been a rewarding journey. We seen our sales increase, customer satisfaction is at a high and we are able to measure employee performance which is used for informed interventions.
Pros:
In my view, Zoho CRM is the most effective and flexible CRM I have used yet, considering that I use it at work and in my own business. As an Agent working in a mid-sized agency, it was easy for us to set it up for our agency because Zoho also provides a how-to guide. The features we have set up include but are not limited to: Automating email campaigns for new and existing leads and maintaining relationships with our long-time clients for repeat business. We are able to integrate WordPress Forms (Elementor API through Zoho Flow), Facebook, Twitter, LinkedIn and Google My Business using Zoho Social. Managing Leads and Clients and setting automated reminders when a contact has not been touched for a certain period. Allow being able to view and track a contact's activities on the timeline. Not forgetting the overall collaborative ability to centrally manage all contacts as a team. Making sure that all potential business can be attended to if a colleague is not available for one reason or another.
Cons:
As much as I love Zoho CRM, these are its limitations and areas of improvement: Zoho CRM needs to provide options on Graphic User Interfaces. As a visual person, that is really important, and I might not be alone. You are not even able to change the fonts. A user is not able to convert a client back to leads, unless they recapture the contact as a lead, export multiple clients and import them leads or write and run a Deluge script. This feature must come standard. Zoho CRM is a powerful app if you lack intent you will find yourself overwhelmed and unable to set it up for your business.
Alternatives Considered: Odoo and HubSpot CRM
Reasons for Choosing Zoho CRM: AppTivo lacked flexibility and features I considered critical.
Switched From: Apptivo
Reasons for Switching to Zoho CRM: Flexibility and cost.
Fi M.
Marketing exec in UK
Computer Software, 2-10 Employees
Used the Software for: 6-12 months
Good software for the price, has its quirks
Comments: It definitely helps me in that I can easily check my calendar anytime, anywhere and communicate with my colleagues. My experience has been alright on the whole.
Pros:
I like the holiday booking feature – it's nice that it shows you your available dates throughout the year giving you an idea of how to balance your leave from month to month. I also love Zoho cliq (the chat app), it's super easy, aesthetically pleasing and functional layout, very quick.
Cons:
The calendar could be improved – there's a lot that you can't do with it. I'm dying to be able to see what my Overdue Tasks are without having to click into them – if I could see what they are on my calendar and just drag and drop them from one day onto the next, that'd save a lot of time. I'd also love if the calendar had more display options – I'd really like to see at least a morning/afternoon split in the day so I can try to structure my tasks a bit better, and I'd looove to be able to colour-code tasks so they appear in that colour on the calendar, it'd really help me to visualise what I've got going on from week to week.
Kelly m B.
System Engineer in US
Verified LinkedIn User
Information Technology & Services, 10,000+ Employees
Used the Software for: 2+ years
Easy to use, monitor leads and manage team assignments
Comments: As a less expensive option, this is what I recommend to all of my clients. If you're comfortable with the platform, it will serve you for the rest of your life. It's been a wonderful experience. You may receive answers quickly and easily by chatting with a member of their chat support team.
Pros:
Zoho is a good alternative for clients who don't want to shell out money for Google Workspace. It accomplishes its purpose. My satisfaction with their efforts is based on the fact that they are attempting to make their platform accessible to everyone. Much of it is configurable and we were able to put it up 90% of the way we wanted. It's a breeze to use and keep track of.
Cons:
I'd like it if the platform's many sections were made a little easier to configure and understand. In my opinion, they are attempting to mimic Google Workspace, although I am more familiar with Google Workspace's features. I'd love it if I could make my email software look and work just like gmail.
Tyagarajan K.
CEO / Governing Board Member in India
Nonprofit Organisation Management, 51-200 Employees
Used the Software for: 2+ years
Zoho CRM for non profit animal welfare organisation -rescue, hospital and shelter management
Comments: The entire operations of our non profit are managed with Zoho CRM Enterprise Edition. The user experience based on feedback from 50plus users has been very balanced. Of course not every need can be met but the use-case to product fit is quite high at over 95%
Pros:
Incredibly flexible Allows a great deal of customisation to suit nearly any requirement a non profit can have User friendly Drag and drop customisation makes it easy to administer Deploying new features in a design done over 2 years ago is still a breeze Minimal deluge coding needed to achieve new functions not natively supported in configuration
Cons:
Having to use multiple satellite products like Zoho forms, Zoho campaigns, Zoho analytics though most of these are available natively in Zoho CRM are rudimentary. It's a commercial decision of Zoho but not an unreasonable one. The integration set ups between these satellite systems are quite easy but still needs learning a different UI as it's vastly different from the CRM UI.
Alternatives Considered: ERPNext
Reasons for Choosing Zoho CRM: Zoho CRM was easy to use and we could visualise the end solution without much difficulty while evaluating our use-case fit due to its incredible flexibility.
Switched From: Salesforce Sales Cloud, SugarCRM and ERPNext
Reasons for Switching to Zoho CRM: Use case product fit was much better. Our entire process listed below could be mapped quite easily in the core product. - receiving rescue requests for street animals using Zoho Forms - street animal rescues with GPS capture using Flutter app built on top of CRM - intake of sick injured animals and managing their veterinary care with case sheet for each one (over 2000 animals) - donor management - WhatsApp integration to communicate with rescue requestors and donors