What Is Gorgias?
Gorgias is the highest-rated customer service and live chat helpdesk for Shopify, Magento & BigCommerce stores.
See customer support requests from email, live chat, phone, and social media in one place. Edit/refund orders, cancel subscriptions, award loyalty points, and more in one click.
Use templates, automation, rules, and macros to cut support time. Your support team will be more productive and your customers will love you.
Get a demo today to see how it works.
Who Uses Gorgias?
Shopify, Magento, and BigCommerce stores that want to save time with a smart all-in-one helpdesk solution that helps drives revenue & streamlines the customer service experience.
Gorgias Details
Gorgias
Founded in 2015
Gorgias pricing
Starting Price:
US$60.00/month
Yes, has free trial
Yes, has free version
Gorgias has a free version and offers a free trial. Gorgias paid version starts at US$60.00/month.
Pricing plans
get a free trial
Gorgias Details
Gorgias
Founded in 2015
Gorgias videos and images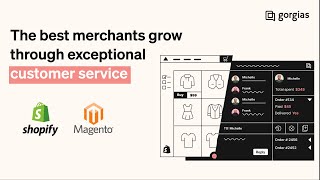 Gorgias deployment and support
Support
Email/Help Desk
FAQs/Forum
Knowledge Base
Phone Support
24/7 (Live rep)
Chat
Deployment
Cloud, SaaS, Web-based
Android (Mobile)
iPhone (Mobile)
Training
In Person
Live Online
Webinars
Documentation
Videos
Eszter D.
Marketing manager in US
Verified LinkedIn User
Automotive, 11-50 Employees
Used the Software for: 6-12 months
Best help desk, highly customizable, reasonable price
Comments: Although our website is not built on one of the major platforms that Gorgias integrates with we are still able to implement it and centralize all our messages, make it easy for our team to communicate, assign team members and deal with cases based on priority. Also, Gorgias pricing is based on how many tickets you use a month so it adapts to the ever-changing business needs.
Pros:
We were looking for a helpdesk tool to make our customer service team more efficient by centralizing all communication channels into one (email, live chat, social media). Gorgias offers it all! Highly customizable dashboard, they even offer a 5 day free trial and if you re not satisfied after the first month, they refund you the money! Their customer service team is very helpful and knowledgeable.
Cons:
It would be nice if they offered phone support and more e-commerce integrations.
Maria O.
Customer service department manager in Mexico
Consumer Services, 11-50 Employees
Used the Software for: 6-12 months
Very helpful for staying organized and consistent
Comments: Before we migrated to this platform, it would take almost 72 hours to respond to customer queries, but with this software, we cut that time down to just around 30 minutes on average within a few days after migration.
Pros:
The company's engagement with it's users. There's also a lot of helpful features that will optimize the customer service provided to our clients
Cons:
There's a lot of updates and it tends to interrupt the workflow sometimes. On boarding was slower than what we had been told also.
Alternatives Considered: Freshdesk and Zendesk
Reasons for Choosing Gorgias: We needed to improve the customer experience when it came to reaching out to customer service.
Switched From: Gmail
Reasons for Switching to Gorgias: It seemed like the best option when it came to functionality. The other two options we were considering seemed more old school, where as Gorgias seems more modern by allowing us to fully analyze customer issues, returns, questions, and doubts while allowing us to speed up response and relsoution time.
Jessica S.
Marketing in US
Verified LinkedIn User
Retail, 11-50 Employees
Used the Software for: 1+ year
Great!
Pros:
We like that Gorgias can integrate with most social media networks (Facebook, Instagram etc) and filter comments on posts, direct messages into Gorgias. This ensure our help team is truly covering everything. Easy to add agents, answer tickets, etc
Cons:
Gorgias can be glitchy sometimes but aside that it is a good software. We. will say we disliked their chat feature and we opt to only use their help desk/ticket management. We switched from Zendesk. We ended up keeping the Zendesk Live Chat because we feel like that is far superior but again, their help desk ticketing system is great.
Mark V.
Customer Experience Lead in US
Consumer Goods, 11-50 Employees
Used the Software for: 6-12 months
Gorgias Is Good But Having Severe Issues With Growth
Comments: It was good in the beginning but the many problems the young platform has have become blaringly obvious as time has gone on.
Pros:
Gorgias has a lot of integrated features that are great for our business such as Shopify integration and a great CSAT system that is easy to use and understand.
Cons:
Customer service is, unfortunately, not very good. I have been trying to get a resolution for a request to close out a number of tickets that fit into a certain parameter but nothin has been fixed for over 3 weeks. Every time I reach out, I am thrown to someone else who says they cannot help and now I do not get any responses. Their engineering team is having issues keeping up with the many bugs the system has. Also, updates will occur and shut your entire team down without notice. When I reached out about this, they claimed there was no way to give us forewarning the day of regarding possible updates that would impact our customer service productivity.
Claire B.
Senior Ecommerce Manager in UK
Retail, 51-200 Employees
Used the Software for: 6-12 months
Totally changed our customer service
Comments: I love working with the team at Gorgias and their product! The number of developments I have seen since moving to them 7+ months ago is crazy!
Pros:
I love how easy it is to treat our customer service team on this tool - the macro's make it easy to keep brand tone. It was helpful when we have a couple of other people within the company jumping in to help out with the customer service team to keep ontop of things as they can be allocated out. The onboarding and support provided by all the team were incredible!
Cons:
It can be a little clunky at points, I see a lot of issues online about downtime - although I think as we are in the UK we don't really see this with timezones. It would be good to have a few more 'zendesk' features on there like priority rankings just as when things get escalated to a manager it can be lost in a pool of issues.
Alternatives Considered: Zendesk
Reasons for Switching to Gorgias: It was very specific for ecommerce, had a strong integration with Shopify which was great!