What Is Todoist?
Todoist is the world's #1 to-do list & task manager to organise your life and work. Regain clarity and calmness by getting tasks out of your head and into Todoist, no matter where you are or what device you use. It's a simple yet powerful to-do list app ranked best-in-class by Apple, Google, The Verge, Forbes, and more. Since 2007, over 25 million people have used Todoist to organize work and life, completing more than two billion tasks along the way.
Who Uses Todoist?
Personal and team productivity.
Where can Todoist be deployed?
Cloud-based
On-premise
Todoist videos and images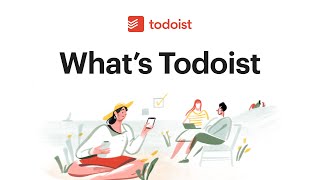 Compare Todoist with similar products
Features of Todoist
Activity Tracking
Alerts/Notifications
Assignment Management
Collaboration Tools
Commenting/Notes
Create Subtasks
Customisable Templates
File Sharing
For Small Businesses
Gantt/Timeline View
Kanban Board
Notes Management
Prioritisation
Project Planning/Scheduling
Project Tracking
Real Time Notifications
Recurring Tasks
Remote Access/Control
Reporting & Statistics
Reporting/Project Tracking
Search/Filter
Status Tracking
Tagging
Task Editing/Updating
Task Management
Task Progress Tracking
Task Scheduling
Task Tagging
Time & Expense Tracking
Workflow Management
Victória
HR Coordinator in Brazil
Verified LinkedIn User
Human Resources, 51-200 Employees
Used the Software for: 1+ year
Those who cannot remember, MAKE A LIST!
Comments: My experience with Todoist has been the best. I have tried tons of other apps in the past and this one has many features that makes it worth the try.
Pros:
This app is my second brain. I usually forget some tasks and with this app I can take notes and add to-do tasks pretty quickly using my phone.
Cons:
The free version has a lot of restrictions.
Saloni
Assistant Professor in India
Research, Self Employed
Used the Software for: Free Trial
If you use windows — go for it!
Comments: I would have gone forward with Todoist if I was only using windows and android. But the fact that it does not utilise some of the very distinctive functionalities that task managers on apple OS can was a big kill for me.
Pros:
It could be used across various devices and operating systems. Also, the user guides for project management are exceptionally good! There's a wide range of project templates that the company offers.
Cons:
It does not integrate well with the apple ecosystem as other task managers such as Omnifocus and Things 3 do. I would have liked a drag and drop option for email in this task manager. I would have also liked to have my calendar integrated in the day view and not in a separate tab. The interface could have been more minimalistic.
Sarah
System Administrator in US
Verified LinkedIn User
Information Technology & Services, 10,000+ Employees
Used the Software for: 2+ years
A Great Way to Keep Yourself Organized and Productive
Comments: It has a lot of wiggle room. Jobs may be broken down into smaller tasks, and each task can be scheduled. Custom categories can be created by you. On the go, there's an app to keep track of things. Has access to a wide range of equipment. And you'll get daily email reminders, with a lot of encouragement, as well.
Pros:
Todoist is a simple task management tool. Todoist may be accessed from a variety of devices. There are two ways to access it: online and on the go. User satisfaction will be enhanced by the fact that data is synchronized and may be modified simply. Managing task lists is a breeze because to the user-friendly layout, which makes it easy to find the most important features. It is possible to prioritize activities in Todoist, as well as add comments to each job and estimate the amount of time it will take to finish it.
Cons:
You have to keep going and be aggressive in order to succeed. A to-do list might start to feel like simply another thing to check off your list if you aren't actively interested in it. That's not Todoist's fault, though. But if you're serious about utilizing it, you'll need to put in the time and effort.
Ed
worship arts director in US
Music, Self Employed
Used the Software for: 1+ year
Alternatives Considered:
An invaluable tool
Comments: Todoist allows me to create a template for weekly recurring tasks in my work, to assign dates to time-driven tasks, to limit my view to only tasks in a certain category, and generally excels at all I need from a task manager.
Pros:
Todoist has proven to be the best task manager I've found. Having tried many others, Todoist is the first one that has had staying power for me. I continue to use it daily and can't imagine a better solution to my needs. I continue to learn new features the app offers and am always impressed with how richly featured the app is.
Cons:
None come to mind. I've been able to achieve anything I needed to within the software.
Photography, Self Employed
Used the Software for: 6-12 months
Alternatives Considered:
Great to do list. I recommend!
Comments: I love it. I recommended it to a friend too.
Pros:
it's intuitive. It's not overly technical. It's easy to continue using. It integrates with google mail (chrome extension)
Cons:
You have to have an internet connection for the desktop version to work.