What Is My Music Staff?
My Music Staff is the #1 studio management software that automates the way you run your music studio. Schedule lessons, create invoices, record payments and more! If you're looking for a solution that has everything all in one place and saves you time and money, then your search stops here! Discover why more music teachers are choosing My Music Staff. Start your FREE 30-day trial today. Free unlimited phone & email support.
Who Uses My Music Staff?
Individual music teachers, and studios with multiple teachers, who need affordable, easy to use software, to manage the core aspects of their teaching business.
Where can My Music Staff be deployed?
Cloud-based
On-premise
---
About the vendor
Port 443
Located in Burlington, Canada
Founded in 2004
My Music Staff pricing
Starting Price:
€11.95/month
Yes, has free trial
No free version
My Music Staff does not have a free version but does offer a free trial. My Music Staff paid version starts at €11.95/month.
Pricing plans
get a free trial
About the vendor
Port 443
Located in Burlington, Canada
Founded in 2004
My Music Staff videos and images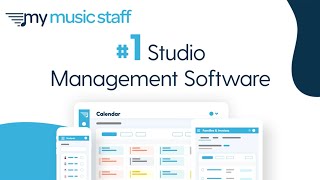 Features of My Music Staff
Attendance Tracking
Calendar Management
Class Management
Class Scheduling
Course Management
Customisable Branding
Progress Tracking
Student Management
Tests/Assessments
Third Party Integrations
My Music Staff Alternatives
Reviews of My Music Staff
Matthew
Owner / Music Director in US
Verified LinkedIn User
Music, 2–10 Employees
Used the Software for: 2+ years
Couldn't run my music school without it
Pros:
It is extremely simple and easy to use. I only use the Students, Family and Calendar portions of it, and it serves well beyond what I need it for. So easy to view schedule and filter and organize it based on location, teacher, student, etc. i LOVE , as do the parents, the 24-hour in advance automatic reminders auto-texted or e-mailed (your choice).
Cons:
Besides a couple of very minor workflow impedances, it would be nice to integrate the calendar with an existing website, rather than only having the option to do so with the current website.
Alternatives Considered: Jackrabbit Music
Reasons for Choosing My Music Staff: Google Sheets became too cumbersome as our school grow, and I wanted something that the families/students could also access directly
Switched From: Google Sheets
Reasons for Switching to My Music Staff: Jackrabbit just didn't seem to fit as well as MyMusicStaff
Adam
School Director in UK
Music, 2–10 Employees
Used the Software for: 6-12 months
Ideally for anyone managing a small music school
Comments: Really positive. Support staff are great and there is plenty of resources to problem solve any booking requirements. It's nice to see that the software is still being updated and invested in which makes me hopefully for the tools it will provide in the near future.
Pros:
It has features that I didn't realise I would need. It's the best blends of resources for music teachers and management software.
Cons:
The experience on phones feels clunky and difficult to navigate. All my staff use it on their phones and would prefer an app that is more condensed for just their day of teaching.
Alternatives Considered: Timely, Trello and monday.com
Reasons for Choosing My Music Staff: Time and efficiency. I was also looking for something that would benefit my teachers.
Switched From: Google Sheets
Reasons for Switching to My Music Staff: Music teachers resources
Jill
Billing Manager in US
Music, 11–50 Employees
Used the Software for: 2+ years
My Music Staff Falling Behind
Comments: We've been using MMS for over 4 years now. When we first found this program it was the all-in-one solution we were looking for but unfortunately, as the years have progressed, the site has gotten much slower to work with, updates made are off-point and not helpful and the program is falling behind in offering features that are standard with others. Most noticeable is the lack of an activity feed or notification system. While other customer management and team work platforms have made this piece a base offering, My Music Staff has no way to indicate who is making changes in the database, when changes are made or a way to be notified. They occasionally roll out new features which are of little use. The Beta Attendance update, still in Beta after more than a year has more steps than the original method and makes the routine more cumbersome instead of streamlining. Despite being around since 2013, My Music Staff is still lacking an application made specifically for your phone further hindering their usability. While we'd really like to continue using this program, the lack of investment to keep up with development and customer needs puts it on the verge of being outdated.
Pros:
Ease of set it and forget it weekly lesson management and invoicing for clients.Calendar is user friendly
Cons:
Not responsive to feedback, input. No feed or alert for user changes in any way makes it extremely difficult to track if a teacher makes a change or someone has changed something that will impact your client's billing.The adjustments they do make seem to glitch the system at times.
Port 443 Response
4 weeks ago
Hi Jill, we're sorry to hear you're feeling that way but appreciate you taking the time to share your feedback to help us improve! Over the past few years we've actually been rebuilding the entire platform on upgraded technology to address concerns like loading speed and modernize the layout. It's still being rolled out to our existing members, but if you don't see the banner on your homepage to upgrade just yet, we'd be happy to enable it for you so you can give it a try! If so, please send an email to [email protected] :) This major upgrade gives us a better foundation to add new features (like the recently added lesson note templates and auto-save lesson notes) and be able to adapt it into a downloadable mobile app. In the meantime, we did specifically focus on the mobile experience as part of the redesign so using the new version on mobile should already feel more like an app.
Stefano
Freelancer in Peru
Verified LinkedIn User
Music, Self Employed
Used the Software for: 1-5 months
My experience as an administrator user of the software for 3 months.
Comments: Overall my experience with this product was not so satisfactory, however the time I am testing it is short. Therefore, I will give it a few more months of opportunity.
Pros:
What I liked the most was being able to plan the lessons for the students, as well as the facility to make reports and statistics on the progress of the groups.
Cons:
What I did not like is certain errors that are presented, such as double payment and e-mail messages that generate some discomfort in users who pay for the service and get messages that confuse them.From my point of view an update is needed to correct these errors, improve the interface and reduce the cost.
Debbie
Manager in New Zealand
Health, Wellness & Fitness, Self Employed
Used the Software for: 2+ years
My Music Staff from a Person who is not techie
Comments: The problems solved by using My Music Staff include: 1. Streamlining the administrative processes of teaching music. 2. Automating lesson scheduling, billing, and invoicing. 3. Keeping track of student progress and attendance. 4. Reducing the time spent on administrative tasks. The benefits of using My Music Staff include: 1. Increased efficiency and productivity for music teachers. 2. Improved communication between teachers and their students. 3. Easier access to resources, such as music theory and practice materials. 4. Increased visibility into student progress and performance. 5. The ability to customize the system to meet individual teaching needs.
Pros:
- My Music Staff allows users to manage their music teaching business from one convenient location. - It is easy to use and navigate, with an intuitive interface.- My Music Staff provides great customer support and they have a wide variety of features such as scheduling, invoicing, and communication tools.- It offers a comprehensive range of features and is constantly being updated with new features.
Cons:
Some users have reported that the customer service can be slow to respond.- Reports can be difficult to generate.- There are some limitations when it comes to customizing the look and feel of the website.