What Is monday.com?
monday.com is a cloud-based Work OS, where teams create workflow apps in minutes to run their processes, projects, and everyday work.
Teams shape workflows and projects, code-free, with an adaptive platform that automates manual work and connects teams in a digital workspace.
The platforms features include: customizable workflow templates, time tracking, automations, data dashboards, and integrations with popular tools.
More than 100,000 companies around the world rely on monday.com.
Who Uses monday.com?
A multitude of teams, big, small, and cross-functional, in a variety of industries worldwide. Its intuitive interface and customization capabilities makes it suitable for any project and business.
Where can monday.com be deployed?
Cloud-based
On-premise
---
About the vendor
monday.com
Located in Tel Aviv, Israel
Founded in 2014
monday.com support
Phone Support
24/7 (Live rep)
Chat
monday.com pricing
Starting Price:
US$8.00/month
Yes, has free trial
Yes, has free version
monday.com has a free version and offers a free trial. monday.com paid version starts at US$8.00/month.
Pricing plans
get a free trial
About the vendor
monday.com
Located in Tel Aviv, Israel
Founded in 2014
monday.com support
Phone Support
24/7 (Live rep)
Chat
monday.com videos and images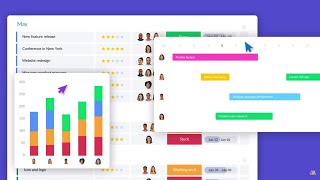 Features of monday.com
360 Degree Feedback
API
Access Controls/Permissions
Activity Dashboard
Activity Planning
Activity Tracking
Activity/News Feed
Advertising Management
Agent Management
Agile Methodologies
Alerts/Notifications
Annotations
Applicant Tracking
Application Management
Approval Process Control
Approval Workflow
Archiving & Retention
Artwork Management
Asset Categorisation
Asset Library
Asset Lifecycle Management
Asset Sharing
Assignment Management
Attendance Management
Attendee Management
Automated Scheduling
Automatic Time Capture
Backlog Management
Backorder Management
Bar Chart
Barcode/Ticket Scanning
Batch Processing
Bid Management
Billing & Invoicing
Brainstorming
Brand Guidelines
Browsing History
Budget Management
Budget Tracking/Job Costing
Budgeting/Forecasting
Bug/Issue Capture
Business Process Automation
CRM
Calendar Management
Calendar Sync
Calendar/Reminder System
Campaign Analytics
Campaign Management
Campaign Planning
Candidate Profiles
Candidate Tracking
Capacity Management
Capacity Planning
Case Management
Cataloguing/Categorisation
Change Management
Change Order Management
Channel Management
Chat/Messaging
Client Management
Client Portal
Collaboration Tools
Colour Codes/Icons
Commenting/Notes
Commission Management
Communication Management
Compensation Management
Compliance Management
Compliance Tracking
Configurable Workflow
Contact Database
Contact Management
Content Library
Content Management
Contract/License Management
Contractor Database
Contractor Management
Cost Tracking
Cost-to-Completion Tracking
Create Subtasks
Customer Database
Customer Segmentation
Customisable Branding
Customisable Forms
Customisable Reports
Customisable Templates
Customizable Fields
Dashboard
Data Connectors
Data Import/Export
Data Visualisation
Dependency Tracking
Deployment Management
Diagramming
Digital Asset Management
Discussions/Forums
Document Management
Document Review
Document Storage
Drag & Drop
Electronic Forms
Email Management
Email Marketing
Email-to-Task Conversion
Employee Database
Employee Directory
Employee Management
Employee Onboarding
Employee Photos
Employee Profiles
Employee Scheduling
Equipment Management
Equipment Tracking
Estimating
Event Management
Event Scheduling
Event Triggered Actions
Exhibit/Vendor Management
Expense Tracking
Feedback Management
File Management
File Sharing
File Storage
Financial Management
Fixed Asset Management
For AEC Industry
For IT Project Management
For Real Estate Agencies
Forecasting
Forms Automation
Forms Creation & Design
Forms Management
Front Desk Management
Full Text Search
Functions/Calculations
Gantt/Timeline View
Goal Setting/Tracking
Group Management
Guest Access
Guest Experience Management
HR Management
Historical Reporting
Housekeeping Management
IT Asset Management
IT Asset Tracking
Idea Management
Ideation
Import Tasks
Innovation Management
Inspection Management
Insurance Management
Integrated Business Operations
Integrations Management
Interaction Tracking
Inventory Management
Inventory Optimisation
Inventory Tracking
Issue Auditing
Issue Management
Issue Tracking
Item Management
Iteration Management
Job Scheduling
KPI Monitoring
Kanban Board
Knowledge Base Management
Knowledge Management
Landing Pages/Web Forms
Lead Capture
Lead Management
Lead Qualification
Lease Management
Listing Management
Maintenance Management
Maintenance Scheduling
Marketing Automation
Marketing Calendar
Material Requirements Planning
Media Library
Media Planning
Meeting Management
Meeting Notes
Messaging
Metadata Management
Milestone Tracking
Mobile Access
Mobile App
Multi-Account Management
Multi-Campaign
Multi-Channel Communication
Multi-Device Support
Multi-Language
Multi-Location
No-Code
Notes Management
Onboarding
Online Booking
Online Time Clock
Online Time Tracking Software
Order Entry
Order Fulfillment
Order Management
Order Tracking
Org Chart Creation
Orientation Workflow Management
Overtime Calculation
Parts Management
Payroll Management
Percent-Complete Tracking
Performance Management
Performance Metrics
Performance Review Management
Permit Management
Polls/Voting
Portfolio Management
Post Scheduling
Predictive Maintenance
Presentation Tools
Preventive Maintenance
Prioritisation
Process Modeling & Designing
Process/Workflow Automation
Product Data Management
Product Identification
Product Lifecycle Management
Product Roadmapping
Progress Tracking
Project Management
Project Planning
Project Planning/Scheduling
Project Scheduling
Project Tracking
Property Database
Property Management
Publishing/Sharing
Purchase Order Management
Qualification Tracking
Quality Control
Quotes/Estimates
RFI & Submittals
ROI Tracking
Rate Management
Real Time Data
Real Time Editing
Real Time Notifications
Real Time Synchronisation
Real-time Updates
Recruitment Management
Recurring Orders
Recurring Tasks
Registration Management
Release Management
Release Planning
Reminders
Remote Access/Control
Remote Support Software
Rent Tracking
Reporting & Statistics
Reporting/Analytics
Reporting/Project Tracking
Requirements Management
Reservations Management
Resource Management
Resource Scheduling
Returns Management
Risk Management
Roadmapping
Role-Based Permissions
Rules-Based Workflow
SEO Management
Safety Management
Sales Orders
Sales Pipeline Management
Sales Tax Management
Scenario Planning
Scorecards
Screen Sharing
Search/Filter
Segmentation
Self Service Portal
Shift Swapping
Shipping Management
Single Page View
Single Sign On
Skills Tracking
Social Marketing
Social Media Integration
Social Promotion
Spend Management
Sprint Planning
Staff Calendar
Stakeholder Defined Attributes
Status Tracking
Strategic Planning
Subcontractor Management
Succession Planning
Supplier Management
Supply Chain Management
Surveys & Feedback
Tagging
Task Editing/Updating
Task Management
Task Progress Tracking
Task Scheduling
Task Tagging
Task/Project Tracking
Template Management
Templates
Territory Management
Testing/QA Management
Text Editing
Third Party Integrations
Ticket Management
Time & Attendance
Time & Expense Tracking
Time Tracking
Timesheet Management
To-Do List
Traceability
Training Management
Transaction Management
User Management
User Profiles
Utilisation Reporting
Vacancy Management
Vacation/Leave Tracking
Vendor Management
Version Control
Video Chat
Video Conferencing
Video Support
Visual Modeling
Visual Workflow Management
Visualisation
Warranty Tracking
Web-based Deployment
What-if Analysis
Widgets
Workflow Configuration
Workflow Management
Amanda
Owner, Social Media Strategist & Idea Generator in US
Verified LinkedIn User
Online Media, Self Employed
Used the Software for: 1+ year
Monday.com will elevate your entire business!
Comments: I highly recommend utilizing Monday.com to my clients, the customer service is out of this world and super informative and often include screen recordings to ensure you are clear on how to do whatever you may be questioning. I love the visual features to be able to operate your workspace in an effective way.
Pros:
I love the team and collaborative workspace it allows for so that you can truly work remotely as an operational and efficient team.
Cons:
I think it can be a little expensive to utilize from a start-up perspective and could be priced more fairly to smaller businesses.
Alternatives Considered: ClickUp and Asana
Reasons for Choosing monday.com: The type of clients I was working with it made more sense to utilize the features that this platform offers in one place for most efficient time spent.
Switched From: Trello, ClickUp and Asana
Reasons for Switching to monday.com: The capabilities of integration and workflow just overpowered what the other platforms offer
Becky
Software Developer in US
Verified LinkedIn User
Hospital & Health Care, 51-200 Employees
Used the Software for: 1+ year
Excellent tool to organize our projects
Comments: As a member of a large team working on numerous projects at once, I like how simple it is to keep track of everything I'm doing, as well as to provide status updates and add comments. It's more convenient than searching through old chat logs or email threads.
Pros:
The freedom to construct everything you can imagine. This solution provides a customer relationship manager, inventory management, and scheduling capabilities. To have the means to make such things is great. In addition, each Monday provides yet another chance to study their new features. Classes, seminars, and a university all fall under the category of webinars. This is fantastic!
Cons:
Having more space for uploading and sharing really large files would make Monday ideal, as I find it inconvenient to send enormous files to others via drive or transfer.
Verified Reviewer
CEO in Togo
Verified LinkedIn User
Computer Networking, 2-10 Employees
Used the Software for: 6-12 months
A great software to increase the performance of your community
Comments: Monday.com has allowed me to have a great collaboration with my clients
Pros:
Monday.com is an interesting tool that allows to gather a whole community around one or more plans and it also allows a good management of the time flow.
Cons:
For the moment I haven't noticed any negative aspect about this software
Yashovardhan
Researcher in India
Education Management, 1,001-5,000 Employees
Used the Software for: 2+ years
Helpful Platform for Business Management
Comments: So far, my experience with monday.com has been positive. It is a very user-friendly platform that has made managing projects much easier for me. I love being able to see all of our tasks in one place and the fact that I can easily communicate with team members via the chat function. The only negative point I would make is that the platform can be a bit pricey for larger teams.
Pros:
I liked the flexibility of monday.com and the ease of use. I also liked the ability to customize the interface to my needs. The ability to customize the workspace to fit my team's needs was really helpful. Being able to drag and drop items around to create a visual representation of our work helped us keep track of everything we needed to do.
Cons:
I wasn't a fan of the design and found it to be very cluttered and confusing. Also, the pricing is a bit high compared to other options.
Alternatives Considered: Asana
Reasons for Choosing monday.com: Monday is more user friendly
Switched From: Asana
Reasons for Switching to monday.com: Since Monday.com is more user-friendly than asana
Marianela
Water Treatment and Environmental Management Consultant in Panama
Verified LinkedIn User
Chemicals, 51-200 Employees
Used the Software for: 1+ year
Plan, schedule and run Multiple Tasks in One Flow with Monday.com.
Comments: It is a very complete platform, which allows team members to interact collaboratively from multiple devices, automates project execution flows, and parameterizes actions so that they do not require human treatment, all of this increases productivity and favors the follow-up of projects in one extraordinary way.
Pros:
One of the most used functionalities in Monday.com is precisely the ability to manage and parameterize the email notifications that we and our coworkers receive daily, by implementing actions that must occur so that we can indicate who we want to notify.In addition, within the platform, we have the possibility to limit access to the boards, identify columns that will not be visible to everyone, or restrict editing, in addition to being able to combine these permissions based on the functions and role of each member of our team.
Cons:
Monday.com has become a platform for project management in cascade or under agile methodologies preferred in many organizations, partly due to its ability to adapt to the particular needs of each company and the number of integrations with third parties, but also from this, new products from the manufacturer are constantly being released, so we must be vigilant to take advantage of their maximum capacity and grow within the organization with the new features that constantly appear.