What Is Deputy?
Deputy is a multi-award winning workforce management tool. With Deputy you can complete staff schedules in minutes and then publish them to your team with a click, easily manage Staff Leave, track Time & Attendance, and sync your timesheets to payroll seamlessly. Deputy integrates with over 300 leading POS and Payroll providers for end-to-end confidence. Free iOS and Android apps mean you can manage your business from anywhere. Start your free Trial today.
Who Uses Deputy?
Deputy serves the following industries; hospitality, retail, event, healthcare, construction, teaching, childcare, security, service and any other industries that have a need to manage their staff.
Where can Deputy be deployed?
Cloud, SaaS, Web-based, Mac (Desktop), Windows (Desktop), Android (Mobile), iPhone (Mobile), iPad (Mobile)
About the vendor
Deputy
Located in Atlanta, US
Founded in 2009
Phone Support
24/7 (Live rep)
Chat
About the vendor
Deputy
Located in Atlanta, US
Founded in 2009
Phone Support
24/7 (Live rep)
Chat
Deputy videos and images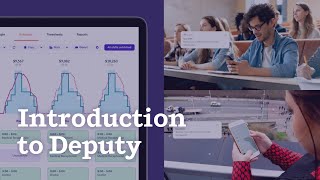 Compare Deputy with similar products
Features of Deputy
Activity Dashboard
Alerts/Notifications
Approval Process Control
Automated Scheduling
Automatic Time Capture
Availability Management
Budgeting/Forecasting
Calendar Management
Calendar Sync
Collaboration Tools
Commenting/Notes
Compliance Management
Compliance Tracking
Contractor Management
Drag & Drop
Employee Database
Employee Management
Employee Profiles
Employee Scheduling
Faculty/Staff Management
File Sharing
Labor Forecasting
Leave Tracking
Messaging/Shift Dispatching
Mobile Access
Online Punch Card
Online Scheduling
Online Time Clock
Online Time Tracking Software
Overtime Calculation
Payroll Management
Performance Metrics
Physician Management
Point of Sale (POS)
Real-time Scheduling
Real-time Updates
Reminders
Reporting & Statistics
Reporting/Analytics
Resource Management
Scheduling
Self Service Portal
Shift Scheduling
Shift Swapping
Sick Leave Tracking
Skills Tracking
Tagging
Task Management
Task Progress Tracking
Template Management
Third Party Integrations
Time & Attendance
Time Off Management
Time Off Requests
Time Tracking
Timesheet Management
Vacation/Leave Tracking
Visualisation
Glenda M.
Australia
Verified LinkedIn User
Used the Software for: 6-12 months
Source: GetApp
Excellent & Easy to Use Time Management System
Comments: Our experience with Deputy right from the very beginning has been nothing but fantastic. If you have any questions, they are answered, if you need help you can get it & it is also very cost effective.
We employ about 30 people & work in the Construction Industry. Due to the fact that there are many varied competencies involved in the type of works we do and there is also a number of different locations on any given day, rostering our staff used to be an absolute headache. Since implementing Deputy we have found this task to be completely trouble free. When we add our Employees to Deputy we input all of their relevant "Training" which includes competencies & site inductions which assists us tremendously when choosing who we can roster to the many different daily tasks we undertake. Our industry also requires that hours of work is reported of which is another feature Deputy is of tremendous value for. Not to mention the ease of actually paying our Employees each week via the connection with Xero.
Pros:
The most helpful feature for us is the "Training" which allows us to know which of our Employees are qualified to undertake different tasks. It is also extremely handy when it comes to paying our wages - no more time sheets !! Once the Employees times have been approved which we try to do on a daily basis, it is just a matter of pushing the button & our payroll in Xero is ready to go. Also the "Scheduling" is wonderful & extremely easy to use.
Cons:
The Android app doesn't provide as many features as the IPhone app.
Troy M.
Area Manager in US
Retail, 11-50 Employees
Used the Software for: 2+ years
Alternatives Considered:
Deputy is seriously like the sheriff that came in and cleaned up our employee scheduling nightmare!
Comments: We had employees staying clocked on after shifts milking the clock. We didn't notice it until it was time to run payroll. Now this tells me whenever someone stays on more than 5 minutes past their shift. Or clocks in more than 5 minutes early. 6 stores, 3 shifts a day, it really adds up quickly!
Pros:
Easy to learn. As the person in charge I not only had to learn this product, but I had to train everyone else on this product. And not just train them, but sell them on why it was better than what we were using. Luckily, Deputy is so complete, it was easy. They haven't forgotten a single step.
Cons:
I wish it synced with my Google calendar. Only thing missing.
Edie P.
Operations Support Manager in US
Hospitality, 51-200 Employees
Used the Software for: 2+ years
Deputy Review!
Pros:
What we like most about this software is the ease of clocking in and out and tracking our employees locations.
Cons:
We like almost everything about Deputy besides how it and ADP integrate. We are still trying to figure out how to connect the two.
Shamieg K.
Managing Member in South Africa
Facilities Services, 2-10 Employees
Used the Software for: Free Trial
Good scheduling product
Comments: The problems that Deputy would solve in my business is that it would move us away from paper registers and it is a good tool to habe as it allocates sites and works with our paid servicem8 plan.
Pros:
I like that my staff could clock in and i would see that they arrived on our clients sites. The booking system for Head office administrator staff also worked very well.
Cons:
It was abit challenging to navigate. A simpler more efficient way would make a great difference.
Grace T.
Copyed in Singapore
Publishing, 1,001-5,000 Employees
Used the Software for: Free Trial
Rostering by AI
Comments: Definitely would recommend this for companies that have shift work. The fee is not that expensive especially if it replaces an admin or HR person toiling over complicated rosters for days on end.
Pros:
I felt it was important that our company, or at least my department, moved into the 21st century. We had highly paid managers AND an admin person wasting an entire day or more doing a roster for 10-person teams each month. I tinkered around with it, putting in preferred shifts for each staffer, which busy days in the week we needed more staff, their off day preferences, the minimum amount of time between shifts, how many days a month some of the contract staff worked, etc, then let Deputy do its AI thing and automatically come up with a proposed roster. You can run it a few times to come up with different schedules, if the first time doesn't look ideal. Then it can be exported IIRC (or copied and pasted) including to excel (because "that's how we do things here" — people were just more used to viewing their roster on a spreadsheet, sigh). The best part is, once you set most of the parameters, subsequent rostering is a breeze. Users can log in to put in their own leave dates ahead of time. IIRC they can also request among each other to change shifts. During the trial, tech support was super responsive and even helped customise the backend of my account to allow a certain permutation we needed. Overall I really liked Deputy. Very regretfully, it was not adopted by my company. It didn't make it past my supervisor level as he felt that there would be management resistance to paying monthly for this service.
Cons:
Nothing really. It took time to figure out what parameters had to be input because my test team's roster had 5 different shift types over 7 days a week, and different people had different preferences for their rosters. It wasn't impossible to set Deputy up for this, but it was not straightforward (nothing to do with Deputy). It also seemed at first like Deputy was more set up for people to go in and grab the shifts they wanted. But I could ignore that and run the scheduler to get rosters done quite quickly after a while. It could take a bit of time for the automated scheduler to do its thing. But still much faster and fewer errors than human effort.