What Is Lucidchart?
Lucidchart is the intelligent diagramming application within the Lucid visual collaboration suite—it's the quickest and easiest way for individuals and teams to map out their organization's processes, systems, and people. Since it's cloud-based, you can work from anywhere, at any time, on any device or browser. This makes it easy to collaborate and align with teammates as you visualize complex ideas and bring those ideas to life.
Who Uses Lucidchart?
Lucidchart makes it easy for anyone to visualize a complex idea, process, or system!
Where can Lucidchart be deployed?
Cloud-based
On-premise
---
About the vendor
Lucid Software
Located in South Jordan, US
Founded in 2010
Lucidchart pricing
Starting Price:
US$7.95/month
Yes, has free trial
Yes, has free version
Lucidchart has a free version and offers a free trial. Lucidchart paid version starts at US$7.95/month.
Pricing plans
get a free trial
About the vendor
Lucid Software
Located in South Jordan, US
Founded in 2010
Lucidchart videos and images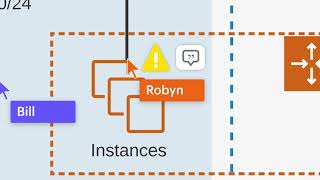 Features of Lucidchart
Access Controls/Permissions
Alerts/Notifications
Business Process Automation
Collaboration Tools
Commenting/Notes
Component Library
Customisable Templates
Data Import/Export
Data Linking
Data Visualisation
Design Management
Design Templates
Desktop Interface
Diagramming
Document Management
Drag & Drop
Drag & Drop Editor
Employee Photos
File Sharing
Forms Automation
Gantt/Timeline View
Graphical Workflow Editor
Mobile Interface
Mockup Creation
Process Modeling & Designing
Publishing/Sharing
Real Time Data
Rules-Based Workflow
Search/Filter
Task Management
Templates
Third Party Integrations
UI Prototyping
Version Control
Wireframe Creation
Workflow Configuration
Workflow Management
Abhuday
R&D Manager in India
Verified LinkedIn User
Education Management, 501–1,000 Employees
Used the Software for: 1+ year
Online visualization tool for every type of professionals
Comments: LucidChart makes every task very exciting and interesting.
Pros:
It supports integration with Google workspace.It has very sound security policy.
Cons:
Integration with google required too many access permission.
Verified Reviewer
Verified LinkedIn User
Staffing & Recruiting, 1,001–5,000 Employees
Used the Software for: 2+ years
Just a great tool professionally and personally
Comments: Helped 4x my income. I was able to communicate more, by saying less. This allowed C-suite leaders to quickly "see" what I was "saying" without having to utter more words than were necessary. My value to clients and companies exponentially grew by adding this tool
Pros:
How quickly I could get other teammates to start using it and start integrating in into their work. I even got my family to start using it for planning vacations and holiday travel and logistics.
Cons:
I love video games and some of my favorite RPGs start of in a "learning island" or "tutorial mountain," Lucid had a "throw you into the pool" kind of onboarding and I would have liked a little more guided entry. It's not a flaw and 90% of the time, I would prefer the "pool" approach. That said, there were lots of tools and tutorials that I reluctantly went back to once I realized I needed more training 🙄
Maximiliano
Head of Product in Ireland
Automotive, 51–200 Employees
Used the Software for: 2+ years
Good tool for workflow management
Pros:
It is quite easy to start using it and if you do workflows it has sufficient features
Cons:
I do not like the way you store files, it is not intuitive, and I think there should be more features to do a bit more than good enough workflows
Samuel
Intermediate UI/UX Designer in Kenya
Computer Software, 10,000+ Employees
Used the Software for: 6-12 months
Lucidchart Review: A Versatile and Collaborative Diagramming Tool
Comments: Overall, Lucidchart is a reliable and versatile diagramming tool that is well-suited for both personal and professional use. Its collaboration tools, integration options, and variety of templates make it a great option for team-based projects and individual use. While the pricing may be a bit high for some users, the overall experience of using Lucidchart is excellent. I highly recommend it to anyone looking for a versatile and collaborative diagramming tool.
Pros:
Lucidchart is a web-based diagramming tool that allows users to create and collaborate on various types of diagrams, such as flowcharts, mind maps, and organizational charts. Here are some of the pros of using Lucidchart:1. Versatile: Lucidchart is a versatile tool that can be used for a wide variety of diagramming applications, from software design to project management.2. Collaborative: Lucidchart allows users to collaborate on diagrams in real-time, making it a great option for team-based projects.3. Integration: Lucidchart integrates with a variety of popular tools, such as Google Drive and JIRA, allowing users to easily incorporate their diagramming into their existing workflows.4. User-friendly: Lucidchart's interface is intuitive and easy to navigate, making it simple for users to get started with the tool.5. Templates and shapes: Lucidchart offers a wide variety of templates and shapes, making it easy for users to create professional-looking diagrams quickly and efficiently.
Cons:
While Lucidchart is a versatile and collaborative diagramming tool, it does have a few drawbacks that should be considered before making a purchase:1. Cost: Lucidchart's pricing can be relatively high compared to other diagramming tools, which may make it less accessible for smaller businesses.2. Limited customization: While Lucidchart can be customized to some extent, it may not offer the level of customization that some users are looking for.3. Learning curve: Lucidchart can have a bit of a learning curve, especially for users who are not familiar with diagramming tools.
Marianela
Water Treatment Consultant in Panama
Verified LinkedIn User
Chemicals, 51–200 Employees
Used the Software for: 1+ year
Lucidchart, a platform to create ideas, document processes and increase agility in the organization.
Comments: Lucidchart is a spectacular tool, which has grown through its own concept, aimed at streamlining the process of creating ideas. In general, diagramming in different areas or specialties is very well received by engineers, designers, administrative staff, and managers, and its application is very wide, so it becomes a great technical support to make our processes flow more quickly.
Pros:
Its interactive and agile design is one of its greatest advantages since it does not require at all to spend time learning to diagram, work collaboratively or use the tool's functionalities. It has a high degree of usability and allows us to make almost any diagram, among them we can mention: UML diagram, iPhone/android mockups, workflow diagram, flowchart, org chart, data flow, kanban diagrams, and much more.Its integrations provide us with functionality to work collaboratively in environments such as MS TEAMS and its adoption in the organization is fast and intuitive.
Cons:
Lucidchart is great at what it does. We may try to ask for more of its scope and in many cases, it will not disappoint us, however if we are looking for a sophisticated design application that has powerful functionality related to specialized rich text fonts, color palette registration, a grouping of objects to create custom libraries in a project, to name a few examples, we are going to need to evaluate some other option, but if what we want is to work in agile and collaborative environments, Lucidchart is undoubtedly one of the best options today.