What Is UpKeep?
UpKeep is an Asset Operations Management solution that helps businesses scale by giving every Maintenance and Reliability team the tools and information they need to run Operations efficiently and effectively.
UpKeep gives you a central command center to efficiently manage all your work orders, assets, and maintenance to deliver fast resolutions. UpKeep enables you to create one front door for all your technicians to go through for all services and support.
Who Uses UpKeep?
Manufacturing, Healthcare, Agriculture, Food Processing, Facilities Management, Fleet, Hotels, Oil & Gas, Construction, Distribution, Warehousing, Utilities, Packaging, Utilities
Where can UpKeep be deployed?
Cloud-based
On-premise
---
About the vendor
UpKeep Technologies
Located in Los Angeles, US
Founded in 2014
UpKeep support
Phone Support
24/7 (Live rep)
Chat
Languages
Chinese, English, French, Spanish
UpKeep pricing
Starting Price:
US$45.00/month
Yes, has free trial
Yes, has free version
UpKeep has a free version and offers a free trial. UpKeep paid version starts at US$45.00/month.
Pricing plans
get a free trial
About the vendor
UpKeep Technologies
Located in Los Angeles, US
Founded in 2014
UpKeep support
Phone Support
24/7 (Live rep)
Chat
Languages
Chinese, English, French, Spanish
UpKeep videos and images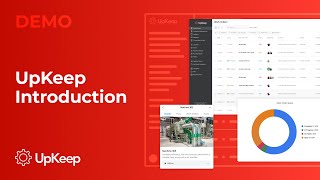 Features of UpKeep
Access Controls/Permissions
Activity Dashboard
Activity Tracking
Alerts/Notifications
Appointment Management
Asset Lifecycle Management
Asset Planning
Asset Tracking
Audit Management
Audit Trail
Autofill
Barcode/Ticket Scanning
Barcoding/RFID
Billing & Invoicing
Bills of Material
Built-in Accounting
Calendar Management
Check-in/Check-out
Code Enforcement
Collaboration Tools
Compliance Management
Compliance Tracking
Components Tracking
Configuration Management
Contact Database
Contract/License Management
Cost Tracking
Customer Database
Customisable Reports
Customizable Fields
Data Import/Export
Data Visualisation
Depreciation Management
Dispatch Management
Document Management
Downtime Tracking
Drag & Drop
Electronic Signature
Equipment Maintenance
Equipment Management
Equipment Tracking
Facility Asset Management
Facility Scheduling
File Storage
Fixed Asset Management
For HVAC Companies
For Mechanical Equipment
Forecasting
Forms Creation & Design
Fuel Tracking
GPS
Historical Reporting
IT Asset Management
Image Capture
Incident Management
Inspection Management
Inventory Auditing
Inventory Control
Inventory Management
Inventory Optimisation
Inventory Tracking
Invoice Management
Item Management
Job Management
Kitting
Labor Cost Reporting
Location Tracking
Logbook Tracking
Maintenance Management
Maintenance Scheduling
Map Creation
Mobile Access
Monitoring
Multi-Location
Offline Access
Online Booking
Online Time Clock
Order Management
Parts Management
Payment Collection in the Field
Performance Metrics
Predictive Maintenance
Preventive Maintenance
Process/Workflow Automation
Product Identification
Production Scheduling
Purchase Order Management
Purchasing & Receiving
Quality Management
Quotes/Estimates
Real Time Analytics
Real Time Data
Real Time Monitoring
Real Time Notifications
Real-time Scheduling
Real-time Updates
Receiving/Putaway Management
Reminders
Reorder Management
Repair Tracking
Report Templates
Reporting & Statistics
Reporting/Analytics
Returns Management
Root Cause Analysis
Routing
Scheduling
Search/Filter
Self Service Portal
Service History
Space Management
Status Tracking
Supplier Management
Task Management
Task Scheduling
Technician Management
Third Party Integrations
User Management
Vehicle Information
Vendor Management
Warranty Tracking
Work Order Creation
Work Order Management
Workflow Management
Dirk
Director of Operations in US
Verified LinkedIn User
Real Estate, 11–50 Employees
Used the Software for: 1-5 months
Crucial Team Management
Comments: This creates the foundation for extensive maintenance records, historical tracking of problems, inventory, and more. It allows you to monitor your entire portfolio on a macro and micro level.
Pros:
Functionality. This cloud-based task manager functions at the level that works for you. Whether you're assigning basic tasks at a complex you own and manage or inspecting individually tagged pieces of hardware this is essential. The accountability from a required signature showing this task has been done is reassuring. Should there be a hang-up or question UpKeep's customer service is there to help you through it.
Cons:
The initial challenge is determining the depth at which to utilize this software most effectively. Whenever an organization chooses to go with a task manager, it is only effective as the degree to which your staff buys into it.
Alternatives Considered: monday.com and Asana
Reasons for Choosing UpKeep: As we grew we needed better tracking and filtering. We lacked the ability to pull the reports we needed before.
Reasons for Switching to UpKeep: The tailored approach to real estate.
UpKeep Technologies Response
4 years ago
Hi Dirk, Thank you for taking the time to leave a review for UpKeep! We're so happy to hear that UpKeep is serving your team for tasks and projects big & small. The fact that the signature feature has provided a layer of accountability for your team is amazing! We're glad that the ability to historically track your work at a micro and macro level is helping you take the team to the next level. If you ever do need assistance in developing your maintenance program using UpKeep, feel free to reach out to your dedicated Customer Success Manager. Our team will follow up with you to connect your team to this dedicated resource. Thank you again for leaving us a great review. We really do take and appreciate your feedback seriously!
Lillian
Human Resources Generalist in US
Verified LinkedIn User
Hospital & Health Care, 10,000+ Employees
Used the Software for: 1+ year
UpKeep simplifies facility management!
Comments: Because of UpKeep, keeping track of maintenance is now a streamlined operation. Work orders may be monitored and scheduled with ease thanks to the app's straightforward design. Task delegation and real-time updates help the whole team stay on the same page.
Pros:
My team's maintenance management has been greatly improved thanks to UpKeep. Thanks to the app's intuitive design and constant updates, keeping track of and planning out tasks has never been simpler. If you're wanting to simplify your maintenance management procedures, go no further than UpKeep.
Cons:
Insufficient personalization choices may exist in UpKeep's work order forms. Improvements in functionality for the mobile app are needed.
Daniel
HSSE(Q) Advisor in UK
Machinery, 51–200 Employees
Used the Software for: Free Trial
Upkeep
Comments: I found the system over complicated and this made it harder to use than what was necessary
Pros:
Varied amount of functions to use although more complicated than it needs to be. No over Pros found
Cons:
Over complicated system and not as user friendly as it could be, found an easier system to use which worked
Sekou Djibril
Fondateur Président de CSK in Guinea
Accounting, 2–10 Employees
Used the Software for: 2+ years
UpKeep: An effective maintenance management tool for your business
Pros:
User-friendly interface: UpKeep offers a simple and intuitive user interface, which makes it easy to get started with the software for new users. Common tasks such as creating work orders or scheduling jobs can be done with just a few clicks.Proactive maintenance management: UpKeep lets you easily track work orders, service requests, and preventive maintenance tasks for your business. This allows you to resolve issues before they become critical and minimize downtime.Cross-Platform Availability: UpKeep is available on multiple platforms, including desktop, iOS and Android mobile devices, and the web. This allows you to access your maintenance data anytime, anywhere.Integration with other business management tools: UpKeep integrates with other business management tools such as Zapier, Quickbooks, and Slack, making it easy to integrate with your existing processes.Excellent customer support: UpKeep offers quality customer support, with a responsive support team and online training resources to help users get the most out of the software.In short, UpKeep is an excellent choice for companies looking to improve their maintenance management and optimize their processes.
Cons:
High cost: UpKeep can be relatively expensive compared to other maintenance management software on the market, especially for small businesses. Pricing plans start from $35 per user per month, which can be a significant investment for some businesses.Customization limits: UpKeep offers limited options in terms of customizing the user interface and work order structure. If you need a high level of customization, this can be a drawback.Internet dependency: UpKeep is cloud-based, which means you need a reliable internet connection to access the software. If your business does not have a stable internet connection, this could cause accessibility issues.Limited reporting capabilities: UpKeep offers basic reporting options, but some companies may find the reporting capabilities limited. If you need detailed custom reports for your business, UpKeep may not be the best choice.Learning curve: Although the user interface is user-friendly, some features of UpKeep may require a certain learning curve, especially for users who are unfamiliar with maintenance management software.In summary, UpKeep may not be suitable for all businesses due to its higher costs and some limitations in customization, reporting and internet dependency. However, for companies looking for easy-to-use maintenance management software with good customer support, UpKeep can be an attractive option.
Alternatives Considered: Instagram
Elhadj Sadou
Ingénieur avant vente chez E-cash guinée in Guinea
Accounting, 2–10 Employees
Used the Software for: 2+ years
UpKeep: An intuitive and complete maintenance management solution
Comments: UpKeep is a very complete and easy to use maintenance management software that allows companies to track and manage their maintenance operations efficiently.Key features of the software include work order management, job scheduling, asset and inventory tracking, inventory management, equipment management, vendor and supply management, and report generation.UpKeep also has a mobile app that gives service technicians access to work orders, instructions, and maintenance histories, even when they're on the go. In addition, the real-time tracking feature allows companies to monitor the status of maintenance tasks and react quickly in case of problems.The software is easy to install and use, even for companies without deep technical knowledge. The user interface is intuitive and well-designed, and customer service is responsive and helpful.In summary, UpKeep is an excellent choice for companies looking to optimize their maintenance operations and improve their productivity. The software is reliable, easy to use, and offers many features that can help companies track their assets and maintenance tasks efficiently.
Pros:
UpKeep is a maintenance management software that offers many advantages for companies. Here are some of the highlights of UpKeep software:Friendly User Interface: UpKeep has an intuitive user interface that makes it easy to navigate and use all of the software's features. Users can easily access maintenance and equipment information, schedule jobs, track job status, and generate reports.Job Management: UpKeep helps manage maintenance jobs efficiently by assigning jobs to specific technicians, tracking job status, and sending notifications for job updates or changes.Asset Tracking: UpKeep allows users to track asset history, save credentials, track maintenance costs, and schedule preventive maintenance.Reporting Features: UpKeep has many reporting features that allow you to generate reports on maintenance status, costs, response times, and turnaround times. These reports can be useful for performance analysis, process optimization and decision making.Quality Customer Support: UpKeep offers excellent customer support, with a dedicated support team to help customers resolve technical issues, answer questions, and provide information on software features and updates.In summary, UpKeep is a complete and easy-to-use maintenance management software, which can help companies to effectively manage their maintenance, improve performance and optimize processes.
Cons:
Although the UpKeep software has many advantages, here are some of the weak points that some users may encounter:Cost: The cost of UpKeep can be a barrier for some businesses, especially small businesses or start-ups. Subscription plans can be quite expensive, depending on the number of users and the features needed.Limited features in basic subscription plans: UpKeep's more advanced features are only available in more expensive subscription plans, which can be a drawback for businesses that need these features but don't can't afford the extra cost.Limited integration: Although UpKeep can be integrated with other systems, the integration can be limited, which can make it difficult for some companies to synchronize maintenance data with other systems.Learning curve: For some users, UpKeep can have a relatively long learning curve due to the variety of features and options available. This can make it difficult for users new to the platform to get to grips with all the features.Occasional bugs: Although rare, some users have reported occasional issues with app bugs or crashes, which can affect reliability and user experience.In conclusion, UpKeep is a good maintenance management software with many advantages, but high costs, limited features in basic subscription plans, limited integration, learning curve and occasional bugs can be drawbacks for some users.