What Is User.com?
User.com is an all-in-one marketing automation platform aimed at boosting engagement and improving conversion by using a single data source for your customers.
Reach clients through a wide range of communication channels: email, live chat, chatbot, push notifications, dynamic page content, and many more - all available in one place.
Interested in Marketing Automation? Get a free 14 day trial with no upfront payment
Who Uses User.com?
A Marketing Automation solution that helps Small businesses, Startups, Enterprises, Agencies, and more automate and manage users across an omni-marketing dashboard.
Where can User.com be deployed?
Cloud-based
On-premise
---
About the vendor
User.com
Located in Warsaw, Poland
Founded in 2015
About the vendor
User.com
Located in Warsaw, Poland
Founded in 2015
User.com videos and images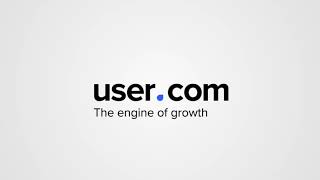 Compare User.com with similar products
Features of User.com
Access Controls/Permissions
Activity Dashboard
Alerts / Escalation
Alerts/Notifications
Appointment Management
Auto-Responders
Automated Responses
Automated Routing
Automated Scheduling
Behavior Analytics
Behaviour Tracking
Behavioural Targeting
CAN SPAM Compliance
CRM
Calendar Sync
Calendar/Reminder System
Call Centre Management
Call Logging
Call Monitoring
Call Recording
Call Scripting
Campaign Analytics
Campaign Management
Cataloguing/Categorisation
Chatbot
Client Database
Collaboration Tools
Communication Management
Confirmation/Reminders
Contact Database
Contact Management
Content Management
Customer Database
Customer History
Customisable Branding
Customizable Fields
Data Import/Export
Document Storage
Drip Campaigns
Dynamic Content
Email Campaign Management
Email Management
Email Marketing
Email Tracking
Engagement Tracking
Event Triggered Actions
Full Text Search
Geotargeting
Interaction Tracking
Knowledge Base Management
Landing Pages/Web Forms
Lead Capture
Lead Management
Lead Qualification
Lead Segmentation
List Management
Live Chat
MMS
Marketing Automation
Mass Texting
Mobile Access
Mobile Coupons
Mobile Optimised Emails
Multi-Channel Communication
Multi-Channel Marketing
Multi-Language
Multiple User Accounts
Offline Form
Performance Metrics
Personalisation
Pipeline Management
Predictive Analytics
Proactive Chat
Prospecting Tools
Queue Management
ROI Tracking
Real Time Data
Real-time Consumer-facing Chat
Referral Tracking
Remote Support Software
Reporting & Statistics
Reporting/Analytics
Response Management
Sales Pipeline Management
Scheduled Messaging
Search/Filter
Segmentation
Self Service Portal
Signature Management
Social Marketing
Social Media Integration
Softphone Software
Subscriber Management
Support Ticket Management
Tagging
Target Account Identification
Task Management
Template Management
Text Editing
Third Party Integrations
Ticket Management
Transcripts/Chat History
Transfers/Routing
WYSIWYG Editor
Web-based Deployment
Website Visitor Tracking
Workflow Management
Marcin
Marketing Manager in Poland
Verified LinkedIn User
Automotive, 11-50 Employees
Used the Software for: 1+ year
Marketing machine that can boost your effectiveness with no need of IT team
Pros:
If you know basics of Google Tag Manager, User.com is a very flexible tool that can broaden your range of possibilities when it comes to marketing efforts. For marketing teams in startups, it's a great way to do more things without waiting for IT team to do it for you.
Cons:
Some features aren't so flexible as they could be.
User.com Response
2 years ago
Thank you so much for taking the time to leave us this amazing review. It's a pleasure to work together with you.
Jakub
Web Analyst in Poland
Verified LinkedIn User
Marketing & Advertising, 501-1,000 Employees
Used the Software for: 6-12 months
Alternatives Considered:
Magnificent support, and a good product
Comments: I was truly satisfied we chose User.com. It wasn't easy to learn, but it was a profitable investment. Make sure you share your know-how with your team so that you're not the only one who understands what's going on under the hood.
Pros:
Well, it's their support. I had to spend dozens of hours configuring it and creating well-working automation rules. At that time, I had lots of questions. Too often I heard "it's not possible at the moment", but many times I got five-star assistance, including some extra debugging and programming tips. But in fact, the tool itself does its job very well and if I had to choose the app for marketing automation, I would probably pick User.com again. It has many useful features, they are working perfectly.
Cons:
It has a quite steep learning curve, so you need to invest some time first to learn what you can and what you can't do. It lacks of some basic functions, like subscription management for email subscribers; it also does not let you copy and paste automation blocks, so you often have click, and click, and click…
Verified Reviewer
Co-founder, web & graphic designer, PM, front-end developer in Poland
Verified LinkedIn User
Computer Software, 11-50 Employees
Used the Software for: 6-12 months
Source: GetApp
Software with a lot of potential but significant number of errors
Pros:
It surely offers a lot of functions - chat, email campaigns, CRM, marketing automations. It has potential to became an all-in-one platform. Support team, yep, UserEnagages support is AWESOME. Other companies could learn from them.
Cons:
UX is simply TERRIBLE, to tell the truth it took me a lot of time to get around some features like sending email campaigns. Mobile app is almost non-functional, so it is safer to assume that there is no mobile app. Web app is SLOW, terribly slow. Chat has a lot of bugs, sometimes it is hard to get ahold which conversation is new.
User.com Response
2 years ago
Thanks for the feedback! Over the last two years, we've made vast improvements to UX, mobile, fixing bugs, and speeding up the entire database to make functionality and usability key for our users. We would love to invite you back to check the software and see what we've done since you last used it. Thanks!
Amadeusz
Project manager in Poland
Verified LinkedIn User
Computer Software, 11-50 Employees
Used the Software for: 1+ year
A complex tool for live chat and automations on your website
Pros:
First I had an experience with their live chats, which was very pleasant. Later, i had to create automations like pop-ups and in the beginning it wasn't so intuitive, but thanks to their support and docs, soon i was able to create whatever automations i wanted to
Cons:
I really miss a section of the tool where i could gather product feedback from users
Verified Reviewer
Marketing Manager in Poland
Verified LinkedIn User
Accounting, 2-10 Employees
Used the Software for: 1-5 months
Alternatives Considered:
Great software with excellent customer service
Comments: I'm really content with using User.com, marketing automation and email marketing work really well. Software is easy to use, but if you can't do something by yourself their customer service is always happy to help.
Pros:
User.com is really easy to use and have a lot of features. Marketing automation works really well and have great capabilities. Implementation is really easy and onboarding is great.
Cons:
There could be more nice-looking templates to build emails and pop-ups.