15 years helping Irish businesses
choose better software
Local product
What Is HireHive?
HireHive is a smart, global ATS platform revolutionising recruitment. We combine intuitive tech, time-saving analytics, multilingual capabilities, and dedicated human support for smarter, faster hiring. We believe in fair pricing, customer-focused innovation, and the human side of HR. Empowering HR since 2011.
Book a demo: https://calendly.com/kevinhirehive/hirehive-demo
Who Uses HireHive?
Small to Medium sized businesses that are actively hiring.
Where can HireHive be deployed?
Cloud-based
On-premise
---
HireHive support
Phone Support
24/7 (Live rep)
Chat
HireHive pricing
Starting Price:
US$120.00/month
Yes, has free trial
No free version
HireHive does not have a free version but does offer a free trial. HireHive paid version starts at US$120.00/month.
HireHive support
Phone Support
24/7 (Live rep)
Chat
HireHive videos and images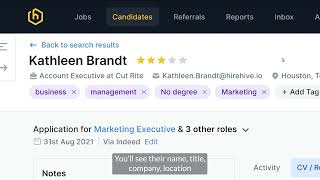 Features of HireHive
API
Application Management
Assessment Management
Candidate Management
Candidate Profiles
Candidate Tracking
Careers Page
Collaboration Tools
Email Management
Interview Management
Interview Scheduling
Job Posting
Recruitment Management
Reporting/Analytics
Resume Parsing
Self Service Portal
Social Media Integration
Emma
Head of People in UK
Verified LinkedIn User
Financial Services, 51–200 Employees
Used the Software for: 1+ year
Reviewer Source
Best ATS I've seen
Comments: The biggest benefit to me as the sole recruiter in my company is the time the platform saves me in terms of communicating with candidates and internally with Hiring Managers. My policy is to respond to every single candidate that applies to us here at CurrencyFair, and Hirehive allows me to do send a personalized email, with the relevant tailored message to each candidate, with only a few clicks.
Pros:
Hirehive is by far the best recruitment system I've experienced in terms of ease of use. It's clear the team at Hirehive care about the UX from the perspective of both the Candidate and Recruiter, and they are committed to ensuring users have the least amount of clicks to perform tasks, which pleases me! And best of all is that it is both configurable and customizable at Admin level; something you don't always get with this kind of software, giving me full control over how my hiring managers use the system, and how I categorize my candidate pipeline. At a basic functionality level, it does exactly what a good ATS should do, but there are little extras that make my life much easier so I can get on with the other element of my HR role. Some of my favorite product features include: I can move candidates between jobs if I think an applicant is more suited to a different role. At a glance, the pipeline is very clear to see per role, so I can clearly see what stage I'm at for each role. Quick and easy reporting which means I don't have to do any analysis at my end to gather insights. I can respond to candidates via email and HH will track this. Quick and easy to make notes on candidates and attach files. This might sound like a standard feature but I've used other systems that haven't supported this. I can shortlist with just one or two clicks. Setting up interviews is easy and intuitive from an admin perspective and also for the hiring manager.
Cons:
There may be some work required to make the mobile version a little easier to navigate - perhaps some bugs here
HireHive Response
6 years ago
Hi Emma, thank you very much for taking the time to write a review of HireHive!
Angela
Director in Brazil
Staffing & Recruiting, 2–10 Employees
Used the Software for: 1-5 months
Reviewer Source
Meat Staff - ALB Global Recruitment
Comments: I believe the experience with HireHive is good so far.
I would like to be able to manage HireHive through my mobile phone.
Release an App would be very important.
With a few improvements in the platform, I believe Hire Hive will be the best choice for candidate tracking and recruitment management for my business.
Thank you for your support so far, Kevin.
I really appreciate it.
Pros:
1- The customer service is very good, promptly responding to our queries, and genuinely dedicated to helping us and solving our difficulties in using Hire Hive. 2- AI-to write job posts. 2- Easy to track and control applications. 3- Possibility to advertise in many places and multilingual. 4- Application Form - good tool 5- Careers page 6- Hiring Team
Cons:
1- Advertisements - My advertisements are not reaching out to the public that I need. 99% of applications are coming from my social media posts. Instagram and Facebbok. I was told that I need to modify my adverts in order to be visible on the jobs board, Indeed, etc. But I do not know the criteria. Would be good if we had a direction or autocorrection when the system could identify errors that will not be acceptable in Indeed, and other job boards, for example. In my resume, I would like to write down a job post that would be posted and accepted on multiple and multilingual job platforms at once. We have no time to write a job post and track if it is visible on the job board. For my type of business. I would like to be able to select the countries I would like to advertise, the language specific for each country, and the region or cities of the country I would like to reach. Because at the moment, I am sure the adverts are not showing to the public what I need. 2- Sharing candidate's profile: I would like to be able to share with my clients a short profile of my candidates besides a copy of their video clips. Set up a short profile of the candidates to share specific pieces of information about candidates ( not a full profile). For example show only his first name, date of birth, marital status, city where he lives, job applied for, functions and skills, years of experience, avoiding full name, and contacts. 3- Inbox emails: two things: First: Responding to emails through my email account, it does not show in the Hire Hive platform. There was a lack of information when many emails were exchanged. Second: I would like to feel safe on deleting an email in my email account so that it would not be deleted on Hire Hive. Because I prefer to have everything in control through Hire-Hive.
Alternatives Considered: Zoho Recruit, Bullhorn ATS & CRM, Breezy and Greenhouse
Reasons for Switching to HireHive: To support Irish companies, and to believe that the HireHive features will really help my business grow in Ireland and Europe.
HireHive Response
last week
Hi Angela, thank you for taking the time to write a review of HireHive and share your feedback with us! I've shared your review with the rest of the team so we can look at improving the points you mentioned. - The HireHive Team
Angelika
Senior HR Consultant in Austria
Telecommunications, 51–200 Employees
Used the Software for: 2+ years
Reviewer Source
Evaluation
Comments: within the last two years I witnessed several improvements. Appreciate. In order that I highly can recommend it you need to work on the "cons", especially reporting :-)
Pros:
*the overview of stages and the sub-status within the status *GDPR is covers and anonymity automatized *different user rights and setting - this is great and really flexible! *look and feel of job list (this covers our Corporate Branding Identity) *filter possibilities of job list *the notes section and that you can now have a layout *the notification possibility in the note section
Cons:
*reporting, facts and figures *no Corporate Identity in e-Mails (wish look and feel set up functions like in Outlook Mails (Font size, color, font type, bulleted lists in CI design....) at the moment it looks unprofessional *no attachments on default basis *it does not show how old an application is ("applied 14 days ago.. would be cool to see that) *the history does not show the complete history (sent e-Mail, made a commend, ... this is missing)
HireHive Response
3 weeks ago
Hi Angelika, thank you for taking the time to write a review and for your feedback! An update on the reporting feature is coming by the end of 2023, and I've shared your feedback on the emailing tool and application history with the rest of the team. - The HireHive Team
Hilary
HR Manager in Ireland
Verified LinkedIn User
Financial Services, 51–200 Employees
Used the Software for: 2+ years
Reviewer Source
Excellent and Easy to Use Applicant Tracking System
Comments: Fantastic - HireHive is a great software at an affordable price that helps me streamline recruitment. The team are a pleasure to work with.
Pros:
HireHive is a great Applicant Tracking System. I've changed roles twice since I started using the software (when it was called Zartis) and have introduced it to both companies. I've worked in the Software Industry and is Financial Services and have found this software equally effective in both. In a standalone HR role, it is important for me to have the most efficient process for both hiring managers and candidates – HireHive helps me achieve this. The software is easy to use and the HireHive team provide excellent service when needed. They care about candidates and their clients – they are quick to respond and the way the product has developed over the years takes into consideration changing requirements. There are regular updates and enhancements to the software which take into account feedback they have received from clients. Here are a few features I really like: -Immediate job posting (linked to job boards and pushed to other social media avenues) -Customised emails to candidates – this makes responding to every candidate easy (and quick). -Delayed email replies. -Notes section – easy way to track information and communicate with the hiring team. -Reporting and Analysis -Interview Scheduling
Cons:
I honestly can't think of what I like least - it's come along way since I first starting using the software and has developed over the years to one I find is really helpful. Features that were once on the wish list are now live in the product.
HireHive Response
5 years ago
Thank you Hilary for your feedback and for your constant support! - The HireHive team
Jeff
Managing Director in Ireland
Verified LinkedIn User
Education Management, 2–10 Employees
Used the Software for: 1+ year
Reviewer Source
HireHive - The ATS For Your Business
Comments: It's been great. The team at HireHive has been so accommodating and supportive. They have taught us so much about how to attract and hire great candidates. I can strongly recommend HireHive to any business, regardless of the size or sector to try HireHive's free trial today. It will transform how you hire!
Pros:
During the 14 day free trial I was amazed at the number of applicants we had apply. We had our first hire before we'd even decided to use HireHive as our full time ATS. Now that we use it everyday, it's become essential to our business. I find it intuitive to use and the job integration on our website is seamless. It's functionality has grown with our business. Every time we've thought of a feature that would be helpful we were pleased to see it was already available or that it was under construction, soon to be ready with the next update. Customer service is excellent.
Cons:
I wish there was a quick search feature / look up that allowed us to see 'new' applicants - regardless of the job they've applied for. I'd like to be able to see who newly applied to various jobs overnight. I'd also like a check box - a flexible 'to do list' - attached to each candidate to help track applicants progress through the screening, interviewing and hiring process. Something with reminders that nudges you to follow up or even nudges the candidate to follow up.
HireHive Response
5 years ago
Thanks so much Jeff for your feedback and for your support! We are delighted to be working with you at Byron Recruitment. - The HireHive team