What Is LearnWorlds?
LearnWorlds is a powerful, easy-to-use and reliable training solution for individuals and enterprises. A fully customizable, white-label solution for training employees and associates, educating customers, or selling online courses to a diverse audience.
Our cloud-based eLearning platform offers Professionals, Entrepreneurs & Training Managers a solution tailored to their specific needs and a team of experts to help achieve your goals.
Who Uses LearnWorlds?
For Small & Medium Businesses, Training Organizations, L&D Professionals, Customer Education Program Managers, Coaches, Consultants, Entrepreneurs, Trainers & Professionals across different industries
Where can LearnWorlds be deployed?
Cloud-based
On-premise
---
About the vendor
LearnWorlds
Founded in 2014
LearnWorlds support
Phone Support
24/7 (Live rep)
Chat
LearnWorlds pricing
Starting Price:
US$24.00/month
Yes, has free trial
No free version
LearnWorlds does not have a free version but does offer a free trial. LearnWorlds paid version starts at US$24.00/month.
Pricing plans
get a free trial
About the vendor
LearnWorlds
Founded in 2014
LearnWorlds support
Phone Support
24/7 (Live rep)
Chat
LearnWorlds videos and images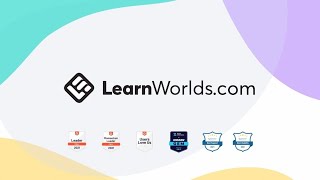 Features of LearnWorlds
Access Controls/Permissions
Activity Dashboard
Alerts/Notifications
Assessment Management
Assignment Management
Asynchronous Learning
Audio/Video Recording
Billing & Invoicing
Blended Learning
Built-in Course Authoring
Cataloguing/Categorisation
Certification & Licensing
Certification Management
Client Management
Communication Management
Content Management
Content Publishing Options
Content Sharing
Course Authoring
Course Management
Course Publishing
Course Tracking
Customisable Branding
Customisable Questions
Customisable Reports
Customisable Templates
Data Import/Export
Document Management
Electronic Forms
Email Marketing
Employee Engagement Software
Employee Portal
Full Text Search
Gradebook
Interactive Content
Interactive Learning
Learner Portal
Learning Management
Learning Paths/Tracks
Media Import
Mobile Access
Mobile Learning
Multi-Language
Multi-User Collaboration
Multimedia Support
PowerPoint Conversion
Progress Reports
Progress Tracking
Promotions Management
Question Library
Quizzes
Reporting & Statistics
Reporting/Analytics
SCORM Compliance
SEO Management
Scheduling
Self Service Portal
Self-Learning
Self-Service Content Curation
Shopping Cart
Social Learning
Storyboarding
Synchronous Learning
Template Management
Tests/Assessments
Text Editing
Third Party Integrations
Training Administration
Training Management
User Management
Version Control
Video Management
Virtual Classroom
Website Management
eCommerce Management
Jacqueline Zaleski
Author & Instructor in Ecuador
Verified LinkedIn User
Used the Software for: 1-5 months
Their initial proposal to switch hosts was the ultimate in a professional academic offer.
Comments: This software makes it possible to me to have an international school, to interact with a widely diverse platform of students without the "brick and mortar"overhead that continues to make education too expensive for many students. It also allows me the one-on-one contact with students who have very specific questions that I want to throughly answer, instead of sitting in a typical lecture hall with hundreds of others holding onto their unanswered questions.
Pros:
There's nothing wrong with making a fortune selling courses on using a hula hoop, but I've been professional field researcher outside the USA for nearly 13 years. I have five professional degrees in subjects that I am passionate about to my core. I want to attract self-directed students. All the other online hosts that I thoroughly researched or used focused on what I call "recreational learning." My courses are serious investigations to make a sizable income. LearnWorlds has so many professionals on staff that they understood that concept and are helping me to attract those who need CPD credits as an ESL teacher or a respectable career as an English Tutor in as little as a week."
E-Learning, 2-10 Employees
Used the Software for: 6-12 months
Learnworlds LMS platform. Worth it or not?
Comments: AWOKO.ng is an edtech start-up giving students access to quality materials that they'll need to prepare for their exams and used to study in their academics.
Thus far, we have been able to do all these using the Learnworlds platform and are gaining serious traction in our country. It's been an experience.
Pros:
The sitebuilder is great. It helps in creating easily navigable pages. The course creation process is simple and direct unlike other platform I've used. If anything, their support remains the best I've seen in a while.
Cons:
The pricing for the learning center plan which most people would prefer is a bit too expensive especially for some of us in third world countries.
Alternatives Considered: LearnDash
Reasons for Choosing LearnWorlds: Thinkific was a good product but at the time I left had issues with some of the features I wanted. I was surfing the internet one day trying to see if any other options had the features I needed. None came close to Learnworlds so I made the switch starting afresh from learnworlds.
Switched From: Thinkific
Reasons for Switching to LearnWorlds: I didn't like having too many moving parts. I didn't want to be responsible for the technical stuffs backend. I needed to focus on scaling my business and let other things be taking care of by the pros
Kelly-Ann
Chief Visual Officer in Australia
Education Management, 2-10 Employees
Used the Software for: 6-12 months
They sepnd a lot of time getting your business then ignore the problems
Comments: They are really responsive in the first couple of months so you can invest your time and money setting up in their system. Then once you're invested they ignore you and spend their time trying to grow their business model with new clients. If you have a long term plan for online learning I'm not sure they're ready to cater to any other businesses than their own.
Pros:
It has a nice look, and is user friendly.
Cons:
The software has problems. Tabulation of reports and certificates are something I have been going back and forth with the development and customer service team about, they have been incorrect. They apologise for the problems, come back to me every 4 days when they can be bothered and just say we are super busy growing our business due to the surge in online application due to Covid. That doesn't solve my problems, nor does it justify my subscription. My problems are still outstanding and months, weeks later they are still looking into it. Very poor.
E-Learning, 2-10 Employees
Used the Software for: 6-12 months
review of LearnWorlds by Mahjong Party
Comments: They respond with a lot of info and links anytime I have a question or don't know how to do anything. Customer service is prompt. Its a beautiful robust platform and looks so amazing. As well, I struggled at times with other platforms to get everything the way I like for my UI/UX and LearnWorlds met or exceeded all my expectations in that regard
Pros:
It integrates the most features into what I want while giving me a ton of freedom to create the course how I want, to make my course look awesome, to integrate tons of media types
Cons:
The price is high compared to other software for businesses / course creators just starting out but it offers a bit more than they do. The price is good and offers a lot for those able to pay a higher price.
Alternatives Considered: iSpring Suite
Reasons for Choosing LearnWorlds: I could not load up all of my media types I wanted to, I found the LearnWorlds UI/UX just really superior, I heard stories about how some other platforms will pursue your customer base
Switched From: Teachable, iSpring Suite, Absorb LMS, Udemy Business, Thinkific and Didacte
Reasons for Switching to LearnWorlds: iSpring came the closest to LearnWorlds and they have a great course authoring product but LearnWorlds offered unlimited courses / users / instructors - that is pretty well unbeatable whereas other similar platforms will charge after a certain amount of users or you are limited to how many users you can have in a year or your user has to purchase your product for a year instead of a shorter period of time... or you have to expel them from the product if they haven't used it for a while... its a lot to consider, I want my users to have lifetime access so LearnWorlds was the best
Alicia
Director of Online Learning in US
E-Learning, 11-50 Employees
Used the Software for: 1+ year
Perfect Solution for our Online School
Comments: The data we can pull from our courses is above and beyond. Learnworlds has given us everything we need to create innovative, engaging online courses that people LOVE taking. The interface is user-friendly and integrates with several other programs like Zapier and Mailchimp. They have constantly improved the platform and have gone the extra mile to help make our school successful with professional development offerings. We couldn't be more happy with our LMS selection!
Pros:
I love so many things about this software. I think first and foremost the best part is the team behind it. From every aspect of using this software they have been helpful and forward thinking. Everything they have promised, they have delivered. They are extremely helpful and responsive throughout the entire process. I researched over 100 LMS options when I began our school and I have never once regretted choosing Learnworlds.
Cons:
I wish there were more prebuilt templates in the ebooks. I also wish the built in assessment tool offered more question formats. They have recently added multiple selection answers which is great! I am also looking forward to more updates in the extra sections for users involving social interaction and communication in addition to what they already offer. For example, I'd like to be able to easily email users in a course directly from the LMS.
Alternatives Considered: Google Classroom, LearnDash and Schoology
Reasons for Switching to LearnWorlds: The ability to import SCORM files, price and user support.
LearnWorlds Response
2 years ago
Thank you so much for taking the time to leave us this insightful review, Alicia! We work hard to meet expectations like yours, continuously adding new features, and we are happy to hear we hit the mark for you! We are constantly working on new features or advancing the existing ones, so stay tuned.