What Is LearnWorlds?
LearnWorlds is a powerful, easy-to-use and reliable training solution for individuals and enterprises. A fully customizable, white-label solution for training employees and associates, educating customers, or selling online courses to a diverse audience.
Our cloud-based eLearning platform offers Professionals, Entrepreneurs & Training Managers a solution tailored to their specific needs and a team of experts to help achieve your goals.
Who Uses LearnWorlds?
For Small & Medium Businesses, Training Organizations, L&D Professionals, Customer Education Program Managers, Coaches, Consultants, Entrepreneurs, Trainers & Professionals across different industries
Where can LearnWorlds be deployed?
Cloud-based
On-premise
---
About the vendor
LearnWorlds
Founded in 2014
LearnWorlds support
Phone Support
24/7 (Live rep)
Chat
LearnWorlds pricing
Starting Price:
US$24.00/month
Yes, has free trial
No free version
LearnWorlds does not have a free version but does offer a free trial. LearnWorlds paid version starts at US$24.00/month.
Pricing plans
get a free trial
About the vendor
LearnWorlds
Founded in 2014
LearnWorlds support
Phone Support
24/7 (Live rep)
Chat
LearnWorlds videos and images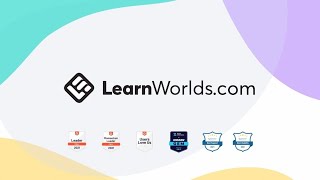 Features of LearnWorlds
Access Controls/Permissions
Activity Dashboard
Alerts/Notifications
Assessment Management
Assignment Management
Asynchronous Learning
Audio/Video Recording
Billing & Invoicing
Blended Learning
Built-in Course Authoring
Cataloguing/Categorisation
Certification & Licensing
Certification Management
Client Management
Collaboration Tools
Communication Management
Compliance Management
Content Library
Content Management
Content Publishing Options
Content Sharing
Course Authoring
Course Management
Course Publishing
Course Tracking
Customisable Branding
Customisable Questions
Customisable Reports
Customisable Templates
Data Import/Export
Document Management
Electronic Forms
Email Marketing
Employee Engagement Software
Employee Portal
Employee Training
Engagement Tracking
Feedback Management
For Schools
Full Text Search
Gradebook
Interactive Content
Interactive Learning
Learner Portal
Learning Management
Learning Paths/Tracks
Media Import
Microlearning
Mobile Access
Mobile Learning
Multi-Language
Multi-User Collaboration
Multimedia Support
PowerPoint Conversion
Progress Reports
Progress Tracking
Promotions Management
Question Library
Quizzes
Reminders
Reporting & Statistics
Reporting/Analytics
SCORM Compliance
SEO Management
Scheduling
Self Service Portal
Self-Learning
Self-Service Content Curation
Session Notes
Shopping Cart
Social Learning
Storyboarding
Surveys & Feedback
Synchronous Learning
Template Management
Tests/Assessments
Text Editing
Third Party Integrations
Training Administration
Training Companies
Training Management
User Management
Version Control
Video Management
Virtual Classroom
Website Management
eCommerce Management
Irene
Director in Greece
Verified LinkedIn User
Translation & Localisation, Self Employed
Used the Software for: 1-5 months
Excellent solution to create and sell courses
Pros:
I got rid of maintaining my WordPress website since LearnDash does this for me now. The creation of courses is easy and the features offered are sufficient to start with. If you need more features you must upgrade. Their support is extremely fast and helpful.
Cons:
White label and the App for your online school require an upgrade that is extremely expensive if you only have a few courses you want to sell.
Education Management, 2–10 Employees
Used the Software for: 2+ years
Create TOP courses with beautifull inteface anc TOP marketing tools
Comments: My school change and i use the new fatures when they came out.
Pros:
The support is incredible. Each time since 3 years, i got an a VERY RAPID answer. But the main difference with Learnworlds than other platform is the way they create the tools. It help a lot to win some time. You can use the layout they gave to you and just adapt it to your needs.Very professional and very usefull
Cons:
All the soft is in english and i am french, so it was more difficult ti use at first than 360Learning (whicj is created in France), but I can translate all the interface so my website and the learning platform is TOTALYY IN FRENCH, which was totally necessaray.
Eric
Learning Designer in Ireland
Information Technology & Services, Self Employed
Used the Software for: 6-12 months
The best LMS I worked with in years
Comments: Just the best LMS I used in years. It is so easy and quick to create a site, add courses and content and sell them.
Pros:
It is really easy to get started, start your design from a wide choice of templates and create courses to upload your content. Learners can very quickly log in and get started. Really an awesome platform.
Cons:
This is a LMS platform that has tons of options to allow academic like schools to get online and share courses, but also small and medium size businesses to sell their courses. One of the task is to go through a lot of options to turn off to suit your needs.
Alternatives Considered: Microsoft SharePoint, Docebo and TalentLMS
Reasons for Switching to LearnWorlds: The range of options is the widest for the best price
Kelly-Ann
Chief Visual Officer in Australia
Education Management, 2–10 Employees
Used the Software for: 6-12 months
They sepnd a lot of time getting your business then ignore the problems
Comments: They are really responsive in the first couple of months so you can invest your time and money setting up in their system. Then once you're invested they ignore you and spend their time trying to grow their business model with new clients. If you have a long term plan for online learning I'm not sure they're ready to cater to any other businesses than their own.
Pros:
It has a nice look, and is user friendly.
Cons:
The software has problems. Tabulation of reports and certificates are something I have been going back and forth with the development and customer service team about, they have been incorrect. They apologise for the problems, come back to me every 4 days when they can be bothered and just say we are super busy growing our business due to the surge in online application due to Covid. That doesn't solve my problems, nor does it justify my subscription. My problems are still outstanding and months, weeks later they are still looking into it. Very poor.
Aimee Rebekah
Director in US
Verified LinkedIn User
Alternative Medicine, 2–10 Employees
Used the Software for: 1-5 months
Best value for LMS for a small school
Comments: I have loved my experience so far with LearnWorlds so much that I decided to build another site with it for a membership site that has a meditation library that I was hosting on WordPress & that I was going to develop an app for. If you think outside of the box you can use LearnWorlds to deliver content not just for courses because it's so flexible this is what I love about it. You can scale it way up and have really high level courses and programs or you can scale it way down and have just a simple tool for content delivery.
Pros:
The things I love most about LearnWorlds are:1. The ability to import SCORM files and have them be part of the course delivery.2. The variety of assessments.3. The website templates.4. The ability to have all courses on a branded app.
Cons:
There is a little bit of a learning curve to get started. I switched from teachable and teachable does not have the functionality that LearnWorlds does and it also has a really simple start up process. LearnWorlds has more going on when you login and so you have to process more information to get started. Overall I still find it really simple and intuitive. It's not complicated it's just a lot more to process at first.
Alternatives Considered: Blackbaud eTapestry
Reasons for Choosing LearnWorlds: I needed to switch because Teachable doubled the monthly fee after I had only been signed up for a month and I also learned about an increasing number of limitations in Teachable after I got started. So, I started searching for an alternative after that happened (on Capterra!) and this is when I found LearnWorlds.
Switched From: Teachable
Reasons for Switching to LearnWorlds: Price. Learnworlds is MUCH more affordable than the major LMS softwares out there.