What Is vcita?
Automate time-consuming admin tasks like payment collection & billing, scheduling, and client reminders & management, so you can focus on growing your business. Stay organized and deliver exceptional client experiences with an intuitive management platform.
Who Uses vcita?
Small businesses who provide services. Over 100,000 users rely on vcita worldwide: accountants, lawyers, business & marketing consultants, coaches, counselors, fitness trainers, educators, and more.
Where can vcita be deployed?
Cloud-based
On-premise
---
About the vendor
vcita
Located in Bellevue, US
Founded in 2010
vcita pricing
Starting Price:
US$29.00/month
Yes, has free trial
No free version
vcita does not have a free version but does offer a free trial. vcita paid version starts at US$29.00/month.
Pricing plans
get a free trial
About the vendor
vcita
Located in Bellevue, US
Founded in 2010
vcita videos and images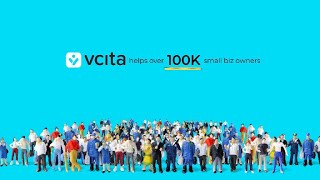 Features of vcita
Access Controls/Permissions
Alerts/Notifications
Appointment Management
Appointment Scheduling
Attendance Tracking
Automated Responses
Automated Scheduling
Availability Management
Batch Processing
Billing & Invoicing
Booking Management
CRM
Calendar Management
Calendar Sync
Calendar/Reminder System
Campaign Management
Case Management
Class Management
Class Registration
Class Scheduling
Client Database
Client Management
Client Portal
Client Profiles
Collaboration Tools
Colour Codes/Icons
Communication Management
Confirmation/Reminders
Contact Database
Contact Management
Content Management
Customer Database
Customer History
Customer Management
Customer Statements
Customer Support
Customisable Branding
Customisable Forms
Customisable Invoices
Customizable Fields
Data Import/Export
Dispatch Management
Document Management
Document Storage
Electronic Payments
Email Campaign Management
Email Management
Email Marketing
Email Reminders
Employee Management
Employee Scheduling
Enrollment Confirmation
Event Management
Exercise Library
Faculty/Staff Management
File Management
File Sharing
Fitness Plan
For Barbershops
For Carpet Cleaners
For Dance Studios
For Gyms
For HVAC Companies
For Handyman Industry
For Mac Devices
For Medical Purposes
For Medical Spas
For Mental/Behavioral Health Practices
For Physical Therapy
For Plumbing Industry
For Salons and Spas
For Small Businesses
For Startups
For Yoga/Pilates Studios
For iPad Devices
Gift Card Management
Group Registration
Group Scheduling
HIPAA Compliant
Healthcare Compliance
Interaction Tracking
Invoice Creation
Invoice History
Invoice Management
Job Management
Job Scheduling
Landing Pages/Web Forms
Lead Capture
Lead Management
Lesson Notes
List Management
Loyalty Program
Marketing Automation
Mass Texting
Medical Billing
Membership Management
Messaging
Mobile Access
Mobile App
Mobile Coupons
Mobile Optimised Emails
Mobile Payments
Multi-Currency
Multi-Location
Multi-Physician
Multi-Provider Practice
One-to-One Messaging
Online Booking
Online Classes
Online Invoicing
Online Payments
Online Registration
Parent Portal
Parent/Student Portal
Patient Communications
Patient Intake
Patient Management
Patient Portal
Patient Scheduling
Payment Collection in the Field
Payment Processing
Payroll Management
Performance Metrics
Physician Management
Physician Scheduling
Point of Sale (POS)
Practice Management
Progress Notes
Quotes/Estimates
Real-time Scheduling
Receivables Ledger
Recurring Appointments
Referral Tracking
Reminders
Remote Treatment Plans
Reporting & Statistics
Reporting/Analytics
Rescheduling
SMS Messaging
SMS Reminders
Scheduled Messaging
Scheduling
Search/Filter
Secure Messaging
Segmentation
Self Service Portal
Shared Contacts
Social Media Integration
Staff Management
Subscriber Management
Template Management
Territory Management
Third Party Integrations
Video Conferencing
Website Integration
Work Order Management
Workflow Management
John
US
Verified LinkedIn User
Used the Software for: 2+ years
Source: GetApp
No-brainer for appointment based business
Comments: I provide business management consulting for optometrists. All my work is done through appointments and email. vCita flawlessly syncs my calendar and allows clients to schedule when I'm actually available. Prior to vCita, I spent way too much time suggesting times, getting voicemails, etc. Besides that, they have done a great job of allowing a feature-rich "live-site" that is easy to set up and super customizable. I think for many businesses it would suffice to be the landing page.
Pros:
Very simple appointment set-ups. Before vCita there was a ton of back and other emails, or worse than that - phone calls.
Cons:
The invoicing/billing system is not as robust as some other programs out there. Specifically I would like the program to send out regular monthly retainer billing.
Joshua
Digital Product & Marketing Expert in US
Verified LinkedIn User
Marketing & Advertising, Self Employed
Used the Software for: 6-12 months
All around perfect solution for all types of businesses.
Pros:
I love how this app was thought through very carefully. Everything you need is literally within the app.
Cons:
I wasn't very fond of the lack of offerings for integration. More partnerships would help with that.
Alternatives Considered: HoneyBook
Reasons for Choosing vcita: With everything Vcita has to offer,I've gained way more control because of them.
Switched From: Copper and PocketSuite
Reasons for Switching to vcita: Partnering up with Vcita was the best thing my company could ever do. Overall capabilities are innovative, convenient, and lucrative because of all of it's features. Like for instance, it has a feature that you could use to generate or capture leads from your website by just simply installing a widget. What more could you ask for?
vcita Response
3 weeks ago
Thanks for your feedback Joshua! We are so glad to hear vcita has helped you gain control. It's our honor to support you business! We have taken note of your request to expand partnerships and hope to offer additional integrations soon.
Events Services, 2-10 Employees
Used the Software for: 6-12 months
Setting Up for Your Business - Not easy at all!
Comments: It has been a pretty frustrating experience trying to get this running smoothly. I have spent SEVERAL hours/days trying to figure out glitches, workarounds, etc. I don't feel it's the right product for my company. I do plan to switch to another platform that will work better for my needs. I know they have tried, but I only get short timeframes to work with them and then I have to schedule another appointment. I would have rather paid a lot more money upfront to have them work on it until it was perfect. I have now given up because I'm just tired of it.
Pros:
I love the way it looks on my website. I am able to use the colors of my logo, etc. so it looks professional. I think customers like to be able to book on the spot. I think it's nice that I can approve each event. It helps me from doing back and forth phone calls. I like that it gets integrated with my gmail calendars that are shared with the employees.
Cons:
It is taking FOREVER to figure out how to set things up to streamline for my personalized business needs. Not sure this is the best platform for my business. I don't like how "wordy" it is in my gmail calendar. I wish I could customize things more, like addresses for instant. It requires them to put an address in, but it is not integrated to ensure it is a true address. We have gone to the wrong location multiple times. I have multiple services w/ 2 separate trucks. I find myself having to try to do a lot of workarounds that don't go well for the customers.I wish it was easier to use with Quickbooks. You can do a one-time sync but then it only syncs if customers get sent an invoice, and only a few details get synced over to Quickbooks. My CRMs don't match.
Alternatives Considered: Calendly
Reasons for Choosing vcita: Quickbooks does not have a scheduling option.
Switched From: Quickbooks Online
Reasons for Switching to vcita: I honestly don't remember because it has been so long now. I do plan on looking into them again.
vcita Response
4 weeks ago
Thank you for feedback Amy! I'm glad to hear you like the website widget! Sorry to hear you are considering to switch to another platform. We see most businesses getting their account up and running pretty fast, but the more advanced customizations can sometime take some extra time. It's definitely work investing a bit more time to get things right for your business (: Our team is happy to help! The QuickBooks integration is pretty robust and offer a real time sync so please let us know if you need any help setting it up!
Accounting, Self Employed
Used the Software for: 1+ year
Get it!
Comments: Vcita has seriously freed up so much of my time with the automation and client portal. Now the client no longer have to call for a copy of their documents, they can just login and grab
Pros:
It's too much to like. I like Everything about the software.
Cons:
There's nothing I really don't like about the software.
Alternatives Considered: ShareFile VDR
Reasons for Choosing vcita: Vcita offered everything I needed in one package
Switched From: HubSpot CRM
Reasons for Switching to vcita: Vcita integrations were better.
Michelle
Owner/Head Dog Trainer & Behavior Consultant in Canada
Veterinary, 2-10 Employees
Used the Software for: 1+ year
Review
Comments: I needed a way for a small team to organize group classes, private appointments and lessons, communications with clients, and invoicing all in one tool. This does almost 95% of what I need, in one location.
Pros:
It contains all of our client information, calendar, scheduling, document sharing, invoicing and payments all in one convenient tool.
Cons:
When there are issues, they are usually epic and the support team isn't quick about fixing them (if they get fixed at all). The Marketing tool is very basic and isn't 'pretty' enough for my monthly marketing Newsletter.