What Is vcita?
Get your invoicing and billing tasks out of the way, so you can save time and focus on boosting your business. Easily issue beautiful invoices from your desktop or mobile, and speed up payments with automatic client reminders.
Who Uses vcita?
Small businesses who provide services. Over 100,000 users rely on vcita worldwide: accountants, lawyers, business & marketing consultants, coaches, counselors, fitness trainers, educators, and more.
Where can vcita be deployed?
Cloud, SaaS, Web-based, Mac (Desktop), Windows (Desktop), Linux (Desktop), Android (Mobile), iPhone (Mobile), iPad (Mobile)
About the vendor
by vcita
Located in Bellevue, US
Founded in 2010
Phone Support
Chat
About the vendor
by vcita
Located in Bellevue, US
Founded in 2010
Phone Support
Chat
vcita videos and images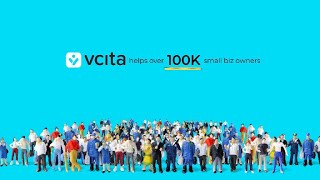 Compare vcita with similar products
Starting price
US$19.00/month
US$34.99/month
US$8.00/month
N/A
John S.
US
Verified LinkedIn User
Used the Software for: 2+ years
Source: GetApp
No-brainer for appointment based business
Comments: I provide business management consulting for optometrists. All my work is done through appointments and email. vCita flawlessly syncs my calendar and allows clients to schedule when I'm actually available. Prior to vCita, I spent way too much time suggesting times, getting voicemails, etc. Besides that, they have done a great job of allowing a feature-rich "live-site" that is easy to set up and super customizable. I think for many businesses it would suffice to be the landing page.
Pros:
Very simple appointment set-ups. Before vCita there was a ton of back and other emails, or worse than that - phone calls.
Cons:
The invoicing/billing system is not as robust as some other programs out there. Specifically I would like the program to send out regular monthly retainer billing.
Ernest C.
Chief Executive Officer in US
Health, Wellness & Fitness, 11-50 Employees
Used the Software for: 1+ year
Alternatives Considered:
Vcita Review Transcend Company
Comments: Overall, the Vcita team takes care of their customers, they listen and they are helpful. I truly believe they do not shy away from what could improve the product. I would be great to see their engineering team increase in compacity to provide some customer wish list items
Pros:
Simple to use, simple for a team to grasp and implement and generally speaking relikable
Cons:
The abilities to customize the software
Photography, 2-10 Employees
Used the Software for: 2+ years
Alternatives Considered:
Sinking Ship
Comments: Having been a customer for several years, vCita offered an all-in-one solution that few others compared to at the time. However, very little has changed in the last 3 years other than some unnecessary aesthetic updates and very minor enhancements. I got on board fully aware that there were several missing features I needed which were on the top of the feature request list and I put in place workarounds to suffice until these features were going to be implemented. I'm talking about pretty fundamental things, like the ability for online payments to be accepted with sales tax automatically calculated, and add-on/bundled products/services. Instead of the development team addressing critical upgrades the community is begging for, we get branding updates, color scheme changes, and random issues where things that have always worked fine no longer work properly.
Customer service is all but useless, and I constantly get the feeling their priorities lie in marketing the outdated product they have rather than improving it.
If you try the product and feel that it accomplishes 100% of what you need it to do, go for it. But if you find that it looks great but misses the mark on a few key areas, don't jump on board hoping it will be addressed in the next decade. Keep looking. I'm done waiting.
Pros:
Relatively easy to use and deploy. Client interface is mostly intuitive and easy to use.
Cons:
Product development is nonexistent. Customer support is a joke. On the rare occasion there is an update, I find something on my website no longer works, instead of being improved.
Brian V.
System Administrator in US
Consumer Services, 2-10 Employees
Used the Software for: 2+ years
Alternatives Considered:
Great Software with Awesome Support
Comments: Overall, Vcita has done a wonderful job with their support team when in helping me maximize their features.
Pros:
Calendar integration with my website, Revenue tracker, Invoicing, Easy of online payment integration.
Cons:
There could be more features in the calendar section of the software
Evelyn M.
Freelance Photographer and Jewelry Maker in US
Arts & Crafts, Self Employed
Used the Software for: 1-5 months
Vita has upped the professionalism of my website
Pros:
I love that it's a thorough yet simple to use software. It's one of the first things a client or someone visiting my website mentions. They like widgets and say that it makes my website look put together and trustworthy. I LOVE that I can list my different services in sections and overall Vcita has great customer service. I look forward to exploring the software more and maximizing what it can do for my business success.
Cons:
I don't like the features that force a time limit for a service, some services I offer I cannot put a time slot per say, for example, a service I offer is custom earring making and I wouldn't necessarily have someone sign up for a time slot to get their earrings done BUT my way around that issue is I have it as a waitlist for folks to inquire about a custom pair and they can sign up that way.