Local product
What Is Pulseway?
Monitor, manage and control your IT systems and applications in real-time using any smartphone, tablet or desktop. Pulseway has done for System Administration what smartphones did for email - you get a notification, see an issue and sort it in seconds. Monitoring is no longer a drama - you just monitor and instantly respond to server issues as soon as they arise. It's like having a NOC in your pocket.
Who Uses Pulseway?
Managed Service Providers (MSPs), IT departments, IT consultants and System Administrators.
Where can Pulseway be deployed?
Cloud-based
On-premise
---
About the vendor
MMSOFT Design
Founded in 2011
Pulseway support
Phone Support
24/7 (Live rep)
Chat
Languages
English, German
Pulseway pricing
Starting Price:
US$32.00/month
Yes, has free trial
Yes, has free version
Pulseway has a free version and offers a free trial. Pulseway paid version starts at US$32.00/month.
Pricing plans
get a free trial
About the vendor
MMSOFT Design
Founded in 2011
Pulseway support
Phone Support
24/7 (Live rep)
Chat
Languages
English, German
Pulseway videos and images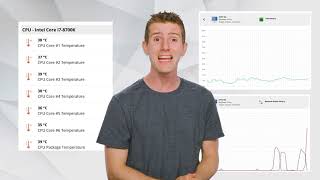 Features of Pulseway
Access Controls/Permissions
Activity Dashboard
Activity Tracking
Alerts/Escalation
Alerts/Notifications
Application Management
Asset Tracking
Audit Management
Automatic Patch Deployment
Automatic Scans
Availability Testing
Backup and Recovery
Baseline Manager
CPU Monitoring
Capacity Management
Collaboration Tools
Compliance Management
Compliance Tracking
Configuration Management
Contract/License Management
Customization
Dashboard
Data Import/Export
Data Storage Management
Data Visualisation
Deployment Management
Diagnostic Tools
Drag & Drop
Endpoint Management
Endpoint Protection Software
Event Logs
File Sharing
File Transfer
For MSPs
Help Desk Management
IP Address Monitoring
IT Asset Management
IT Asset Tracking
IT Reporting
Incident Management
Internet Usage Monitoring
Inventory Management
Issue Auditing
Issue Management
Knowledge Management
Maintenance Scheduling
Mobile Access
Mobile Device Management
Monitoring
Multi-Channel Communication
Multiple Authentication Methods
Multiple Monitor Access
Network Analysis
Network Monitoring
Network Security Software
Network Wide Management
Patch Management
Performance Management
Performance Metrics
Performance Monitoring
Policy Creation
Policy Management
Problem Management
Process/Workflow Automation
Real Time Monitoring
Real Time Notifications
Real Time Reporting
Real-Time Chat
Real-time Alerts
Remediation Management
Remote Access & Monitoring
Remote Access/Control
Remote Monitoring & Management
Reporting & Statistics
Reporting/Analytics
Resource Management
Scheduling
Screen Sharing
Self Service Portal
Server Monitoring
Service History
Service Level Agreement (SLA) Management
Simple Network Management Protocol (SNMP)
Support Ticket Management
Task Management
Third Party Integrations
Threshold Alerts
Ticket Management
Unattended Access
Uptime Reporting
Vulnerability Scanning
Web Traffic Reporting
Workflow Management
Corey
IT Administrator in US
Verified LinkedIn User
Furniture, 201-500 Employees
Used the Software for: 6-12 months
Low Cost RMM with Great Value
Comments: We transitioned from Labtech automate to pulseway and it's been remarkably simple to switch. The cost savings and what I find to be superior scripting automation has made pulseway my favorite RMM to date.
Pros:
Cost Ability to Deploy from local servers Remote Powershell/Command Prompt is a life saver The scheduled execution of Powershell/Batch Scripts Easily control windows updates
Cons:
No remote access for Mac OS The biggest con is that functions are split between the web interface, the Pulseway Remote Desktop app, and the Pulseway dashboard app, for example, you can only chat a user from the web interface and not directly from the remote desktop application, or you can only configure the customers pulseway monitor configuration from the Dashboard application.
Alternatives Considered: Rescue
Reasons for Switching to Pulseway: The tools the software offered combined with the low price point compared to our previous solution.
Lourenco
CEO in South Africa
Information Technology & Services, 2-10 Employees
Used the Software for: 1+ year
ICT Empire review on Pulseway
Comments: Overall im happy - looked at other RMM providers and so far im happy to stick with Pulseway.
Pros:
Easy to Implement and easy to use - very nice and clean GUI. Patch management is great - the other extra features look amazing and will be trying those soon. Security - after reading the Security Policy white papers - i feel more at ease that my clients data is secure. What i love most is the fact that the Pulseway team are all ears - always keen to hear what their clients want and need - Also the fact that they are continuously updating/upgrading and adding new features.
Cons:
No real cons at the moment - they are always keen to assist if i have any issues, which i haven't really had yet. I would like to have ESET integrated into Pulseway - but they are looking into that.
Alternatives Considered: ManageEngine ServiceDesk Plus, N-sight, Atera, NinjaOne and ConnectWise Automate
Reasons for Switching to Pulseway: Great value for Money Clean GUI and easy to implement - dont need hours and hours of training each time i have a new IT technician. Great support team - they are always keen to help wherever possible. I have not once ever heard "sorry, we cannot assist as that is our policy" as i usually get from other providers - They will ALWAYS make a plan to assist you - That alone is golden.
Rex
Business Owner in US
Verified LinkedIn User
Computer & Network Security, 2-10 Employees
Used the Software for: 1+ year
A Low Cost Option with Everything!
Comments: For the price, you have workarounds. It does havea learning curve, and will take you time to get used to the way Pulseway does things. Sometimes its seems wacky the way things work. They offer decent support and most questions get resolved. Good think is they are always fixing issues, and updating the features. Saving money with Pulseway was our draw to it. Very happy with the way it offers many of the features in solutions costing 5 times the price. No commitment, no contract pricing let us play with it and decide without worry. Enjoy the professional layout.
Pros:
It does take time to learn. It has many features, many modules and lots to offer. The price is the draw to Pulseway, as it is much cheaper than the leader in the RMM and MSP industry. They offer full managed support for servers, which if your an MSP, you will see the value there. The cost per server is low enough to make it profitable and give you access to network and server engineers at a low cost. The sales and marketing feature has lots of potential. The dashboard feature for systems is one the best.
Cons:
Workflow and process flow is confusing. Needs a better one dashboard solution for everything and not having to jump to differnet modules. The integrated help desk, has issues and needs better integration with the RMM. Overall it needs a better workflow process.
Computer & Network Security, 2-10 Employees
Used the Software for: 1+ year
Premium RMM at Great Cost
Comments: Pulseway is a great RMM tool, and with the introduction of third party patch management I think they have the opportunity to become one of the best platforms on the market in features, ease of use and cost. Support requests were generally answered quickly, the setup and deployment was easy and the use of the platform was easy to learn. This is a great platform.
Pros:
This RMM platform is incredibly easy to use and setup. Offering silent install of the agent, the ability to lock out the agent from users making changes and from our experience it used little system resources. The RMM comes with it's own integrated remote access tool which allows for seamless remote connection to client endpoints, as well as integrated remote command line tools and remote Powershell right in the dashboard, making it easy to perform tasks without interrupting users. Built in scripting with multiple predefined scripts was a plus, but the ability to custom create and deploy scripts to the dashboard was a huge benefit, especially when remote installing third party software and tools. The dashboard design is modern, the support agent can be branded to your company, and users can request support right from the quicklaunch icon. Additionally, the remote chat feature allows for communicating with a logged in user without having to remote connect to the endpoint, making it easy to give a user a heads up if you need to connect or reboot their machine. Overall the Pulseway RMM product is worth taking a look at for any MSP interested in getting premium features as half (or less) of the cost of the other guys, without compromising on ease of use or support.
Cons:
Third party patch management is just now being rolled out for Pulseway, a feature that many other RMM platforms we reviewed already had in place. We had to use a third party patch management platform to manage non-Microsoft patches. The antivirus integration (for Webroot) doesn't allow management from the dashboard - if you want to add sites or configure policies you have to connect to the Webroot dashboard directly. You can deploy the AV solution from the Pulseway dashboard, but you would have to have already setup the profile for the deployment in Webroot. Pulseway requires a minimum 25 seats - so if you are a small MSP or just starting out, you may end up paying for unused seats - however, the price per seat for workstations is one of the lowest I have seen in the industry, so you'd likely still save money over the other platforms.
Alternatives Considered: N-sight, ManageEngine Endpoint Central MSP and NinjaOne
Reasons for Switching to Pulseway: Cost, ease of use, included tools and available integrations.
Information Technology & Services, 2-10 Employees
Used the Software for: 1+ year
Customizeable and Easy
Comments: All tickets or issues i had with the software were fixed in a timely manner. Pulseway has also been adding features at a steady rate.
Pros:
The interface is very intuitive and customizable. It was also very easy to setup, not like other RMMs.
Cons:
I used to not like that the PSA would not talk to the RMM. However slowly that has been integrated.
Alternatives Considered: NinjaOne
Reasons for Choosing Pulseway: LMI was getting too expensive for what it was.
Switched From: Central
Reasons for Switching to Pulseway: customer service was more responsive and price point was great.