What Is Paymo?
Paymo is an intuitive work, project management, and invoicing solution for small businesses, remote teams, and freelancers that allows you to manage projects, track work time, invoice your clients, get paid online, and measure profitability from the same platform. This way, you can keep track of the entire lifetime of a project—from creation until getting paid—without having to use and pay for several apps.
Who Uses Paymo?
Small and medium project-based businesses—Creative and Marketing Agencies, Web Development and Design Agencies, Architecture firms, Law firms, Universities, Consultants, and Freelancers.
Where can Paymo be deployed?
Cloud-based
On-premise
Paymo pricing
Starting Price:
US$5.95/month
Yes, has free trial
Yes, has free version
Paymo has a free version and offers a free trial. Paymo paid version starts at US$5.95/month.
Pricing plans
get a free trial
Paymo videos and images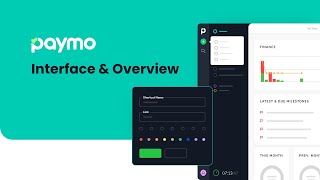 Features of Paymo
Access Controls/Permissions
Activity Dashboard
Activity Tracking
Alerts/Notifications
Assignment Management
Bar Chart
Billable & Non-Billable Hours
Billing & Invoicing
Budget Management
Calendar Management
Capacity Management
Client Portal
Collaboration Tools
Colour Codes/Icons
Commenting/Notes
Contact Database
Core Accounting
Customisable Templates
Document Management
Drag & Drop
Expense Tracking
File Sharing
For Creative Agencies
For Small Businesses
Gantt/Timeline View
Goal Setting/Tracking
Invoice Creation
Invoice History
Invoice Processing
Kanban Board
Marketing Calendar
Milestone Tracking
Mobile Access
Mobile App
Multi-Currency
Online Invoicing
Online Time Tracking Software
Percent-Complete Tracking
Portfolio Management
Prioritisation
Productivity Tools
Progress Tracking
Project Management
Project Planning/Scheduling
Project Scheduling
Project Time Tracking
Project Tracking
Real Time Data
Real Time Notifications
Remote Access/Control
Remote Support Software
Reporting & Statistics
Reporting/Analytics
Reporting/Project Tracking
Resource Management
Resource Scheduling
Status Tracking
Tagging
Task Editing/Updating
Task Management
Task Progress Tracking
Task Scheduling
Task Tagging
Time & Expense Tracking
Time Tracking
Timesheet Management
Visualisation
Web-based Deployment
Workflow Management
Krystle Chanel
Owner in US
Verified LinkedIn User
Marketing & Advertising, Self Employed
Used the Software for: 6-12 months
I finally found the one!
Comments: It is important to note that Paymo isn't idle in enhancing its software. Not only that, but new features are thoughtful and integrated seamlessly with the tool. I appreciate this because I have used other software that seem to have their priorities mixed up when releasing enhancements; adding things that don't move the needle ahead of things that do.
Pros:
After years of using project management software for both myself and companies I've worked for, I found the right tool for the job for my personal, small business as a marketing coach and online entrepreneur. Until I build a team, I'm using Paymo for myself, and other tools are not always price-sensitive for a solo user. I appreciate that Paymo provides an option to pay for one user until I'm ready to grow. A particular feature I was looking for was the option to view all projects on a single Kanban board. In the rare case that I found this option, it was a significant upgrade to acquire. But Paymo offers this and it's super easy to use! Other features I love: - Time-tracking/timesheet: Visual representation of where my time goes. I use the in-app timer every day. - Flexible viewing options: I can easily switch between list, table, board, and Gantt views, with easy to use filters that allow me to see exactly what I want. No custom reports or views need created - which can be time-consuming and inflexible (enterprise tools). - Note: The user experience of the Gantt chart was also what I was looking for. It is drag and drop and allows you to adjust your timeline from within the view. There's so much to love about Paymo! And that is saying a lot coming from someone who has researched and used as many tools as I have - including enterprise solution, Workfront. Paymo is definitely worth giving a try!
Cons:
I wish there was a way to invite collaborators/reviewers like there is in Asana. If I want a coaching client to be able to collaborate, there is no way to do this without paying for another user. This is superficial, but, the name! When I tell people about Paymo, they immediately think it's a financial tool, not a project management tool, based on the name. I would hate for this to hold Paymo back in the market.
Alternatives Considered: Teamwork, Airtable, Trello, Microsoft Project, monday.com, Adobe Workfront, Asana and Things
Reasons for Choosing Paymo: I switched from Asana, Teamwork, and Things. I was looking for a tool with a kanban board option that allowed me to view tasks across all of my projects and I needed a cost-effective tool for someone who is currently solo but building a business. Asana was cost-prohibitive in that I could not pay for a single user, but had to pay for 5 minimum. Also, the kanban board option I was looking for was an additional upgrade for Asana and Teamwork, making these options even more expensive. Additionally, user experience was a factor. Asana generally has a good UI but I just like Paymo better. Teamwork has some work to do in this regard.
Switched From: Asana
Paymo Response
3 years ago
You sure did your researh, Krystle, thank you for the review :) Actually, we're working on an improved client portal with in-app access to guest users, so they can collaborate with you on the same page. This is our #1 priority atm, so stay tuned! As for our name, this goes back more than 10 years when we started out as a time tracking and billing tool. The purpose was to use the app and GET PAID MORE, hence Paymo :) Hope this helps, thank you again!
Marketing & Advertising, 2–10 Employees
Used the Software for: 1-5 months
Paymo is the easiest project/billing/payment platform I've ever used and their support is fantastic.
Comments: I spend half as much time getting things done in Paymo compared to my last system (Bonsai). My old solution wasn't horrible, it's just that Paymo is so much better.I'm spending less time in the software because everything's seamless, and that's with my number of projects more than doubling right around the time I was onboarding. Seriously, the support has been fantastic.
Pros:
Before I talk about my experience with individual features, it's super important to me to say how incredibly responsive and helpful Paymo's support team is. Throughout my onboarding process, we ran into a few issues (some my fault, and a couple small glitches on Paymo's side), but their support team is the best I've ever had. They're fast, helpful, and are serious about taking care of me. Shout out to [sensitive content hidden], who have both been so helpful! The entire reason I switched to Paymo (from Bonsai) was because my old solution was so frustrating in locking me into dumb processes from Project > Tasks > Estimate > Complete Tasks > Invoicing, it was a nightmare. I have retainer clients that will send us a set of small 1 or 2 hour quick tasks, but billing against them was a nightmare because of how Bonsai locked you into their Step 1, step 2, step 3 process.Paymo doesn't get in my way like Bonsai did, it's soooo much easier to track time, capture a subset of timesheet hours into an invoice, and send it on. No kidding, Paymo saves me about 15 minutes on every invoice I sent and probably saves at least 30 minutes for each estimates/quotes.The Paymo macOS app is phenomenally convenient for tracking time on projects. I will never again be without a time tracking app like Paymo, I've recaptured so many lost billable hours by using it.Their Paymo Payments system has worked great for me. I don't have all that much to comment on because it's just seamless for the client.
Cons:
I ran into some issues when signing up for their payments system (their payment system works great, this is just the sign-up process). At the time, I was a sole proprietorship and I don't think their processes were tuned that well for my type of business because I had to send in a lot of documentation to get approved (I think it was for fraud prevention measures).BUT, I want to say [sensitive content hidden] was so helpful, and really made it her mission to handle it and get it pushed through, which she did. And she's also lovely and friendly to talk to.There have been one or two other small glitches I ran into that were both handled by support immediately. Neither of them were mission-critical or blocked anything I had to get done. Bpgo
Alternatives Considered: TimeCamp, FreshBooks, Harvest, Bonsai and Clockify
Reasons for Switching to Paymo: It did everything I needed it to and then some, but it was still simple and well thought out. Every feature is a real feature, there's nothing that's been shoehorned in or half-baked. Also, the workflows are really flexible, so I'm not stuck in "their process", I can use my own preferences and workflows.
Marketing & Advertising, 2–10 Employees
Used the Software for: 1-5 months
Monopolize you cause you can't export ANYTHING easily
Comments: Would NOT recommend it to anyone who has even the slightest of "outside the box" process for projects or billing/invoices.
Pros:
Yet another system that after several months of use only did what we needed it too at 75% of the way, then AFTER buying into the "huge discount" and special they had going, did I find out they do not allow refunds at all! If you put ANY data into the system and ever need to export it for any reasons ...find a data entry person and hope you didn't enter a lot of information because unless you are a developer that can setup custom API's...your info is stuck in their system! You can enter clients, companies, etc. and change view to "Table" and see it in table mode, but that view still only gives you the general company information, NOT the contacts for that company and that is 1 of 2, yes that is right 2 places in the entire system of everything you may have entered where you can download/export that view into Excel/CSV file....everything else is PDF if you are lucky!! If you are a VERY small, VERY basic bookkeeping/accounting freelancer (NO TEAM, just you and very basic billing) - fine, it may work...but if you have more than 1 person in your team other than you, have different rates or even the SLIGHTEST out of the norm billing or cycles...GOOD LUCK!!! I am furious with this system after being told what it could do and I explained in detail, and "oh yeah, that is not a problem at all"...only to find out, everything I explained about what we needed, went in one ear and out the other just to make the sale...now I have a barely usable system and wasted $$$$!!
Cons:
Can't export anything unless you have a developer standing bye. System is very "inside the box" thinking even after being told it would easily do what I had explained that I needed it to do support seems to take longer than usual and they are quick to respond with an answer that has NOTHING to do with what you originally asked (bots maybe?!?!) Can't get a refund, no matter how many lies they told you to make the sale in the first place!!!
Paymo Response
3 years ago
Hi Cameron, Sorry to see you disappointed. Our goal is to help you improve the way you work, not to sell you on something. Indeed, you can export client, project, user lists, as well as time reports in csv format - invoices and Gantt Charts are available in PDF only. However, due to the fact that there's no standardised data structure for project management data, the only practical way to export it is via our API. And no, we're no bots, and don't force anyones hand to make a sale.
Jessica
Game Programmer in US
Verified LinkedIn User
Computer Software, 201–500 Employees
Used the Software for: 1+ year
Paymo makes coordinating projects and tasks easy
Comments: We have complete control over all of our projects, both active and dormant, which allows us to give our clients nothing but the highest quality results.
Pros:
The Time-Tracking functionality is what ultimately led us to select Paymo. With Paymo, we can easily keep track of our time spent on each client's and each project's work, as well as generate time reports. When necessary, we can send out invoices that can be paid with PayPal, regardless of whether the customer is a registered Paypal user or not.
Cons:
I wish there were more visual formatting options for estimates and invoices. As a designer, I know how crucial it is to pay close attention to detail, and I'd appreciate it if my bills and estimates reflected that.
Mohammad
Software Developer in Jordan
Computer Software, 5,001–10,000 Employees
Used the Software for: 2+ years
Paymo is your project management partner.
Comments: One of the best project management and task management applications and I do recommend people to try it as there is a free way to use it at the beginning and if you like it then you can get more features and pay.
Pros:
The time tracking feature in Paymo is really great. The dashboards they have are even greater.
Cons:
There are limitations with the mobile application in functionality compared to my desktop application.
Alternatives Considered: Microsoft Project
Reasons for Switching to Paymo: The dashboard in Paymo gives more information than MS Project. The alerts are really wonderful.