What Is Odoo?
Odoo is a fully integrated, customizable, open-source software packed with expertly designed, user-friendly business applications. Odoo's intuitive database is able to meet a majority of business needs, such as CRM, Sales, Project, Manufacturing, Inventory, and Accounting, just to name a few. Odoo is an all-in-one software solution designed to meet the needs of any company, regardless of size (or budget).
Who Uses Odoo?
Odoo open source software exists to help everyone, from people who just need a blog to big companies that need a full ERP. The software is flexible and can be adapted to SMEs or large corporations.
Where can Odoo be deployed?
Cloud-based
On-premise
---
About the vendor
Odoo
Located in San Francisco, US
Founded in 2005
Odoo pricing
Starting Price:
Yes, has free trial
Yes, has free version
Odoo has a free version and offers a free trial.
Pricing plans
get a free trial
About the vendor
Odoo
Located in San Francisco, US
Founded in 2005
Odoo videos and images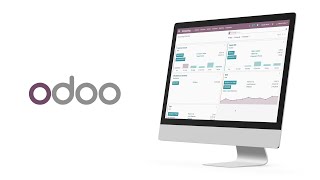 Features of Odoo
360 Degree Feedback
ACH Payment Processing
API
Access Controls/Permissions
Accounting
Accounting Integration
Accounts Payable
Accounts Receivable
Activity Dashboard
Alerts/Escalation
Alerts/Notifications
Applicant Tracking
Appointment Management
Approval Process Control
Asset Tracking
Attendee Management
Audit Management
Audit Trail
Automated Quoting
Automated Routing
Automated Scheduling
BOM Creation
Backorder Management
Bank Reconciliation
Bar Chart
Barcode/Ticket Scanning
Barcoding/RFID
Batch Processing
Billing & Invoicing
Bills of Material
Budget Management
Budgeting/Forecasting
CRM
Calendar Management
Calendar/Reminder System
Campaign Management
Cancellation Management
Capacity Planning
Cash Management
Cataloguing/Categorisation
Change Management
Check-in/Check-out
Client Management
Client Portal
Collaboration Tools
Colour Codes/Icons
Commenting/Notes
Compatibility Testing
Compensation Management
Completion Tracking
Compliance Management
Contact Database
Contact Management
Content Management
Contract Drafting
Contract Lifecycle Management
Contract/License Management
Core Accounting
Cost Tracking
Cost-to-Completion Tracking
Customer Database
Customer Segmentation
Customisable Branding
Customisable Invoices
Customisable Templates
Customizable Fields
Data Extraction
Data Import/Export
Debugging
Delivery Management
Demand Forecasting
Design Management
Digital Signature
Discount Management
Dispatch Management
Document Coding & Control
Document Management
Document Storage
Drag & Drop
Duplicate Payment Alert
Electronic Payments
Electronic Signature
Email Management
Email Marketing
Employee Database
Employee Management
Employee Profiles
Enrollments/Onboarding
Enterprise Asset Management
Event Scheduling
Expense Tracking
Feedback Management
File Sharing
Financial Management
Financial Reporting
Fixed Asset Management
For Insurance Industry
For Restaurants
For Retail
For Small Businesses
For Startups
For iPad Devices
Forecasting
Fuel Management
Full Text Search
GPS
Gantt/Timeline View
General Ledger
Gift Card Management
Graphical User Interface
HR Management
Idea Management
Integrated Business Operations
Integrated Development Environment
Interaction Tracking
Inventory Auditing
Inventory Control
Inventory Management
Inventory Optimisation
Inventory Tracking
Invoice Creation
Invoice History
Invoice Processing
Item Management
Job Management
Kanban Board
Kitting
Knowledge Base Management
Knowledge Management
Landing Pages/Web Forms
Lead Capture
Lead Distribution
Lead Generation
Lead Management
Lead Qualification
Lead Segmentation
Live Chat
Maintenance Management
Maintenance Scheduling
Marketing Automation
Material Requirements Planning
Milestone Tracking
Mobile Access
Mobile App
Mobile Payments
Multi-Channel Communication
Multi-Channel Management
Multi-Currency
Multi-Language
Multi-Location
Multiple Payment Options
Online Invoicing
Online Payments
Online Store Builder
Opportunity Management
Order Entry
Order Fulfillment
Order Management
Order Tracking
PO Reconciliation
Payment Processing
Payroll Management
Percent-Complete Tracking
Performance Metrics
Pipeline Management
Point of Sale (POS)
Portfolio Management
Pre-built Templates
Predictive Analytics
Predictive Maintenance
Preventive Maintenance
Preview Functionality
Price and Cost Calculations
Pricing Management
Pricing and Cost Calculations
Prioritisation
Procurement Management
Product Catalogue
Product Configurator
Product Data Management
Product Identification
Production Management
Production Scheduling
Project Accounting
Project Management
Project Planning/Scheduling
Project Scheduling
Publishing Options
Purchase Order Management
Purchasing & Receiving
Quality Management
Quotes/Estimates
Real Time Data
Real Time Editing
Real-time Updates
Receiving/Putaway Management
Recurring Invoicing
Recurring Orders
Recurring/Subscription Billing
Registration Management
Reminders
Remote Access/Control
Reorder Management
Reporting & Statistics
Reporting/Analytics
Reporting/Project Tracking
Requirements Management
Requisition Management
Resource Management
Retail Inventory Management
Returns Management
SEO Management
Sales & Operations Planning
Sales Activity Management
Sales Pipeline Management
Sales Reports
Scheduling
Search/Filter
Segmentation
Self Service Portal
Service History
Shipping Management
Shopping Cart
Social Media Integration
Social Promotion
Sourcing Management
Spend Management
Status Tracking
Subscription Plan Management
Supplier Management
Supply Chain Management
Support Ticket Management
Tagging
Task Management
Task Progress Tracking
Task Scheduling
Tax Calculation
Tax Management
Technician Management
Template Management
Templates
Territory Management
Third Party Integrations
Time & Attendance
Time & Expense Tracking
Training Management
Transaction Management
Transportation Management
Usage Tracking/Analytics
VIN Lookup
Vendor Management
Version Control
Visualisation
WYSIWYG Editor
Warehouse Management
Web-based Deployment
Website Management
Work Order Creation
Work Order Management
Workflow Management
Amjed
Project Coordinator in Jordan
Verified LinkedIn User
Mechanical or Industrial Engineering, 51–200 Employees
Used the Software for: 6-12 months
Revolution in ERP systems
Comments: We are still implementing Odoo in our company and still not going live, but at this point everything is going great.
Pros:
Odoo is one of the best ERP systems in the world, I like that Odoo is an open source and can be easily customized to cover all your needs in any type of business. We are still implementing Odoo and I like how easy and flexible is the system. Also, it covers everything about any business type to be analyzed.
Cons:
It is somehow hard to learn and as an administrator you need to know many things and it does not have many learning sources on the internet.
Alternatives Considered: Dynamics 365, Omega System and SAP Business One
Aline
developer in Cameroon
Computer Software, 2–10 Employees
Used the Software for: 2+ years
The best Open-Source ERP
Comments: Odoo is a very good workflow management software. It offers a variety of powerful and intuitive tools that simplify the management of finance, accounting, human resources and sales. The user interface is very intuitive and easy to learn, allowing me to start managing projects quickly and efficiently. The software is fully customizable with additional modules available that allow users to create workflows tailored to their specific needs.
Pros:
Odoo offers a multitude of features that can be adjusted to specific business needs, and is very easy to use. In addition, the platform is kept up to date and is constantly improved with new features and updates to adapt to developments in technology and business.
Cons:
some advanced features like cloud services integration can be cumbersome to set up. Additionally, there are limitations in its ability to automate certain processes and to perform complex tasks.
Alternatives Considered: Oracle Primavera Cloud
Switched From: HubSpot CRM
abliz
Business owner in US
Computer Software, 2–10 Employees
Used the Software for: 6-12 months
Very hard to customize
Comments: In order to learn the functionality of ODOO, I personally signed up for membership and paid for full year. After signed up, i found some of the tutorial video cannot accessable with my membership. then I become the learning partnership and paid 990 dollars for a year. Then, from that week, I watched tutorial video and start to learn with more details. However, today I received an email, they said I used extra" and force me to upgrade to "enterprise type" and treat me to deactivate my account if i dont upgrade. Here is the emailDear Odoo user,We have detected more users and/or apps* (*Odoo Online only) in use than provisioned for in your current subscription. A quote has been automatically created to adapt your subscription to the extra usage.....Please note that if you fail to regularise this situation before 2023-03-23, we will have no choice but to deactivate your Odoo database."So, that is not true you can use all apps with your subscription, and it is not also true to use this system in your business the whole day, if you run your business 10 hours a day and 7 days a week, you will have to pay extra forcefull , otherwise they will activate your database.
Pros:
May be, it is good for very simple operational business, like little restaurant, or little store. If you dont need to customize, it is easy to use and easy to learn.
Cons:
At the beginning , it seems easy to use, but in real practice, very hard to customize. After adding or changing the basic functions, they dont work as expected, especially, the purchase, sale and inventory numbers are not coordinating.
Jayvee
IT and Marketing in Philippines
Health, Wellness & Fitness, 51–200 Employees
Used the Software for: 6-12 months
Odoo: A Flexible, Scalable Business Management Platform
Comments: I appreciate the software's modularity and adaptability, which permit me to tailor the platform to my organization's specific requirements. I have access to a comprehensive set of tools for managing various aspects of our business operations thanks to the software's numerous modules and features.Although the user interface and technical complexity of some of the modules have presented some challenges, I have found that the available resources, such as documentation and support, have been helpful in overcoming these obstacles. Additionally, I value the global user and developer community's ongoing contributions to software enhancement.Overall, I believe that Odoo is a powerful and scalable software platform that can assist businesses of all sizes and industries in better managing their operations.
Pros:
There are a number of things about Odoo that I like as an employee who uses it. First and foremost, I appreciate that it is an open-source platform, making it extremely customizable and flexible. Because of this, I am able to customize the software to meet the particular requirements of my organization and to modify it as our requirements change over time.I also like the software's modular design, which lets me choose and use only the modules that are relevant to my job and duties. Because of this, the software is easier to use and more streamlined, and I don't have to deal with too many features and functions.Additionally, I like that Odoo offers both cloud and on-premise deployment options, allowing me to select the method of deployment that best suits the requirements and preferences of my organization.Overall, I believe that Odoo is a highly adaptable and scalable software platform that can assist businesses of all sizes and sectors in better managing their operations.
Cons:
As an employee who uses Odoo, I believe that a few things could be improved. Something that I like least about the product is that the UI can be to some degree confusing and overpowering at times, especially for new clients who are curious about the product. Although the software's modular design is generally advantageous, it can make it challenging to navigate the various modules and features, which can be frustrating.Another problem I've encountered is that configuring and using some of the software's modules might necessitate more technical knowledge. Even though there are resources to help users with implementation and support, it can still be hard to use all of the features if you don't know a lot about the technology behind them.I have found that the expense of a portion of the undertaking releases can be a bit high, especially for little and moderate sized organizations with restricted financial plans. Even though the community edition is free, it might not have all the features and functions that some businesses need, making it hard to justify the enterprise edition's price.
Elizabeth
Senior Director Of Digital Marketing in US
Verified LinkedIn User
Retail, 10,000+ Employees
Used the Software for: 1+ year
An open-source business solution
Comments: The setup is easy, it has many integrated solutions for sales, procurement and inventory, its menu is easy to navigate, and its cost is relatively cheap compared to other similar platforms.
Pros:
Something that I like about Odoo is that it is not a closed platform, but rather that it has an open-source development model, this is excellent since it has a community that provides many usability contributions. It has an all-in-one platform concept, it is a CRM, an electronic commerce manager and project management, it is a very well-integrated platform.
Cons:
If you're from another platform and you want to migrate a lot of data, it will be a bit complex, it's not that easy, it's something developers should work on, to avoid so many frustrations. Its platform sometimes presents certain Bugs and lags which causes the work to be delayed, it still needs better optimization. Although it has an open source community, it still lacks a section of tutorials and proper guides for users.