What Is Zoho Invoice?
Zoho Invoice is a 100% free, online invoicing software for freelancers and small to medium enterprises (SMEs). Key features include project billing, time tracking, reporting, customizable templates, and a client portaI. Teams using Zoho Invoice can track estimates, convert them to invoices, and send reminders to clients to complete their outstanding payments. Additionally, users can create tasks, collect advance payments for projects, and keep track of their invoice history.
Who Uses Zoho Invoice?
Zoho Invoice is the perfect invoicing tool for freelancers and small business owners. It caters to the needs of every size of business, especially small businesses.
Where can Zoho Invoice be deployed?
Cloud-based
On-premise
Zoho Invoice pricing
Starting Price:
US$0.00/month
No free trial
Yes, has free version
Zoho Invoice has a free version and does not offer a free trial. Zoho Invoice paid version starts at US$0.00/month.
Pricing plans
Zoho Invoice videos and images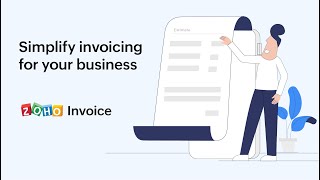 Features of Zoho Invoice
Accounts Payable
Accounts Receivable
Activity Dashboard
Activity Tracking
Alerts/Notifications
Automatic Time Capture
Billable & Non-Billable Hours
Billing & Invoicing
Client Portal
Contact Database
Core Accounting
Customisable Branding
Customisable Invoices
Employee Database
Expense Tracking
Financial Management
Financial Reporting
For Small Businesses
General Ledger
Invoice Creation
Invoice History
Invoice Processing
Mobile App
Mobile Payments
Mobile Time Tracking
Multi-Currency
Online Invoicing
Online Payments
Online Time Tracking Software
Payment Processing
Project Accounting
Project Time Tracking
Project Tracking
Reporting/Analytics
Task Management
Time & Expense Tracking
Time Tracking
Timesheet Management
Transaction Management
Zoho Invoice Alternatives
Julieanne
Owner in US
Verified LinkedIn User
Marketing & Advertising, Self Employed
Used the Software for: 1+ year
Great value
Comments: Overall I love Zoho Invoice simply because of how effectively they automate the process of sending invoices and collecting payment. It saves me so much time every month and is worth every penny.
Pros:
I needed an invoicing system that could send recurring invoices. I was spending too much time every month manually creating invoices, and would often send them out late, which meant I'd get paid late. Of all the options I researched (there were a lot) Zoho had the most features for the lowest price. Set up was easy, and they keep adding new features that are included with my subscription. They even have automatic reminder emails you can have sent to clients who are late in paying. This happens so often in my industry, that this feature has actually helped me collect my payments faster, without me having to spend time trying to get paid. I also love that as my business grows, Zoho has so many other products that I could add to my Zoho dashboard. I've also noticed that most of the other 3rd party programs I use have options to connect to Zoho.
Cons:
Their customer support is a bit slow. There's a new feature they've rolled out that I'd like to use, but there's not much documentation about it. I reached out a few days ago for help and still haven't heard back. It would be nice if step by step instructions were easy to find for their new features.
Alternatives Considered: Invoicely, QuickBooks Desktop Enterprise and Bitrix24
Reasons for Switching to Zoho Invoice: Zoho offered the cheapest price for the feature of sending recurring invoices. After using this program, I've seen there are many other handy features that come along with their low rate. Because it also connects to so many 3rd party programs, I don't foresee switching to another company for quite some time.
Zoho Response
3 years ago
Hi Julieanne, Thank you for taking the time to review us! We're glad to hear you were able to streamline your invoicing and payment collection processes. Regarding your feedback on the documentation, it would be very helpful if you could share more details. Please feel free to drop an email to [email protected] Regards, Harikrishna The Zoho Invoice Team
Nitin
Senior Graphics Designer in India
Verified LinkedIn User
Marketing & Advertising, 11–50 Employees
Used the Software for: 1+ year
Easy to create and deploy with other zoho softwares and professional invoicing and accounting
Comments: Entirely, I am pretty much pleased with the features and their UI. Although, they have some limitations in the case of templates overall they provide quick small-business invoicing that looks professional. If you're looking for an advanced invoicing tool for a big client then this tool is not that efficient but for small clients, it worked best for me.
Pros:
I loved their graphical interface which helped me to create my first invoice professionally with client details. I have updated my logo and address along with tax and discount. I can be able to edit templates where I can add colors and change fonts in invoices.Most prominently I have used their project cost tracking where I can be able to generate invoices that include working hours, costs incurred during that project, and overall costs.
Cons:
Even if I can be able to edit templates but is partial and doesn't allow everything to get changed like I can't be able to resize my signature image or logo. That's a little downside for me while using this tool.And their support team is a little slow in response, it took 1 hour to just respond to my hello message.
Alternatives Considered: Invoiced
Reasons for Choosing Zoho Invoice: Invoicely is a full-fledged invoicing tool and doesn't have many detailed invoicing options which made me switch to Zoho invoice.
Switched From: Invoicely
Nicholas
Director Of Operations in US
Real Estate, 51–200 Employees
Used the Software for: 1+ year
good software - some useful features
Comments: Overall it got the job done with creating invoices but we ultimately cancelled the subscription. It was too expnesive for what it was and we just started doing invoices through Word or Excel. If you have the entire suite I could see why some businesses love and succeed with Zoho.
Pros:
we used this software mostly to create intercompany and corporate invoices to vendors. I liked how you can set them up on a recurring basis, customize recipients and the look of the invoice and that you could access on your mobile device.
Cons:
didn't integrate with our main accounting software so it was a lot of double entry. I also didn't like how every part of Zoho was a different section and product and price. For just Zoho invoice it was expensive and confusing for some users, being unable to use other parts of the system
Alternatives Considered: Expensify and SAP Concur
Switched From: Expensify and SAP Concur
Reasons for Switching to Zoho Invoice: At the time we just needed the invoice feature so it was easier and cheaper to set up than others.
Zoho Response
3 years ago
Dear Nicholas, Thanks for taking the time to share your feedback. We understand that you felt the product to be expensive and that some of your users found it could be more intuitive. Sorry about that. If you are ready to give us a chance, we are happy to schedule a call, know your requirements and suggest the best plan. We believe the import/export functionalities and our REST APIs could help you with pushing the data to your accounting platform. Just drop an email to [email protected] and we shall get in touch with you. We would love to have you back with us! Regards, Harikrishna The Zoho Invoice team
Dedre
Business Owner in South Africa
Verified LinkedIn User
Luxury Goods & Jewelry, 2–10 Employees
Used the Software for: 1+ year
Very powerful for a free invoicing platform
Comments: Zoho Invoice makes the tracking of expenses and invoicing so much easier since you can do everything in one place.
Pros:
I am so impressed with Zoho Invoice.The Customer Portal is great to send invoices, timesheets and bills in real-time, and payment can be made directly from the porta. This is a great way for customers to stay informed of project progress and makes your life easy as well.Invoice templates can be customised and assigned per customer, which makes them great for branding or distinction between clients.Everything related to billing, invoicing, sending estimates and customer management can be done directly in your dashboard. Integrate with Zoho Mail, Zoho CRM or Zoho Expenses for an even more powerful suite to support your business.
Cons:
Invoice templates are standard and basic, and customization features are limited to a few fonts and colours. Payment gateway integration options are limited to Stripe, Paypal and a few others. As a South African, I can only use PayPal, which is limiting.
Alternatives Considered: Invoice2go and Wave Accounting
Reasons for Choosing Zoho Invoice: Wave stopped supporting business from South Africa.
Switched From: Wave Accounting
Reasons for Switching to Zoho Invoice: Zoho is an all-in-one solution that makes billing, tracking, reporting and invoicing so much more convenient than any of the other solutions available.
Andres
Founder in Belgium
Wine & Spirits, Self Employed
Used the Software for: 6-12 months
Zoho invoice is a very useful and not expensive tool to manage billing, invoicing and financials
Comments: reducing invoicing creation time, invoicing payment management and customer management.
Pros:
InvoicingFinancial reportingAccountingexpenses managementcustomers management
Cons:
integration with microsoft application will be ideal
Alternatives Considered: QuickBooks Desktop Enterprise and Wave Accounting
Reasons for Choosing Zoho Invoice: Zoho has more functionalities and easier to use
Switched From: Wave Accounting
Reasons for Switching to Zoho Invoice: Zoho has more functionalities and easier to use