What Is Zoho Books?
Zoho Books is an online accounting software that allows you to easily manage the money flowing in and out of your business. Manage your customers and invoices, while keeping expenses in check. Record, monitor and reconcile your bank accounts and transactions, and collaborate with your accountant in real-time. Most importantly, Zoho Books helps you make better, more informed decisions and stay on top of your business.
Who Uses Zoho Books?
Freelancers, Medium Business, Small Business
Where can Zoho Books be deployed?
Cloud-based
On-premise
Zoho Books pricing
Starting Price:
US$20.00/month
Yes, has free trial
Yes, has free version
Zoho Books has a free version and offers a free trial. Zoho Books paid version starts at US$20.00/month.
Pricing plans
get a free trial
Zoho Books videos and images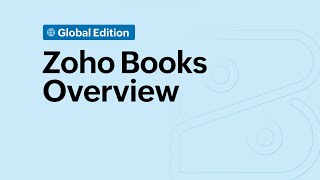 Features of Zoho Books
ACH Payment Processing
Accounting
Accounts Payable
Accounts Receivable
Approval Process Control
Audit Trail
Bank Reconciliation
Billing & Invoicing
Cash Management
Client Portal
Commission Management
Compliance Management
Consolidation/Roll-Up
Contact Database
Contact Management
Core Accounting
Customisable Invoices
Customizable Fields
Data Import/Export
Electronic Payments
Expense Tracking
Financial Analysis
Financial Management
Financial Reporting
For Real Estate
For Small Businesses
General Ledger
Income & Balance Sheet
Inventory Management
Invoice Creation
Invoice History
Invoice Management
Invoice Processing
Mobile App
Multi-Currency
Online Invoicing
Online Payments
PO Reconciliation
Profit/Loss Statement
Project Accounting
Purchase Order Management
Quotes/Estimates
Real Time Data
Real Time Reporting
Receipt Management
Remote Access/Control
Reporting & Statistics
Reporting/Analytics
Requisition Management
Spend Management
Supplier Management
Task Management
Tax Calculation
Tax Management
Third Party Integrations
Time & Expense Tracking
Transaction Management
Trust Accounting
Vendor Management
Workflow Management
Rexie
Director in UK
Verified LinkedIn User
Automotive, 2–10 Employees
Used the Software for: 1-5 months
Brilliant Accounting and Book Keeping software!
Comments: Great! Not been using it long but it is a vast improvement on functionality and reporting compared to old software.
Pros:
Love the customer portal! Our clients can use self service to manage their account with us and get all their invoice and payment records as well as access to documents like our T&Cs. The invoice generating is very quick and easy with lots of customisation and extra data collecting boxes. The app is reliable and easy to use with lots of functionality too. Retainer invoice function is great for us as we offer clients a promotion to top up their account in advance to receive discounts on future invoices so this works perfectly!
Cons:
There is no auto connection to my particular bank yet so can't connect it all automatically as I did with my previous software however it allows for bulk uploads so you can still reconcile everything.
Alternatives Considered: Xero
Reasons for Choosing Zoho Books: Lack of additional functions and reports weren't as relevant to our needs. Zoho Books came free with Zoho One plan and we were paying for Quickbooks so made sense to cut this cost.
Switched From: Quickbooks Online
Reasons for Switching to Zoho Books: It was included in Zoho One plan
Raksha
Operations Analyst in India
Verified LinkedIn User
Marketing & Advertising, 10,000+ Employees
Used the Software for: 1+ year
Comprehensive Review of Zoho Books: The All-in-One Accounting Solution
Comments: Overall, the experience with Zoho Books is generally positive. The software is well-designed, user-friendly, and provides a range of features to support accounting and financial management. The integrations with other Zoho apps and tools are a big plus for businesses that already use Zoho products. The mobile app is also a useful feature for businesses that need to access financial information on the go.
Pros:
I liked the following features of Zoho BooksUser-friendly interface with quick access to important featuresIntegrations with Zoho apps and third-party toolsAutomated invoicing and payment trackingMulti-currency supportBudgeting and financial reportingMobile app availableAffordable pricing, including a free planStrong customer support.
Cons:
Along with Pros, these are the limitations I faced:Limited inventory management featuresLack of advanced project management featuresBasic time tracking functionalitySome features can be confusing for new usersLimited integrations compared to other accounting softwareLimited customization options for invoices and other forms.
Alternatives Considered: FreshBooks and Quickbooks Online
Reasons for Switching to Zoho Books: Its worth considering that we chose Zoho Books over alternative products due to its user-friendly interface, integrations with other Zoho apps, affordable pricing, and strong customer support. Additionally, the software's focus on automating invoicing and payment tracking is a major selling point for businesses looking to streamline these processes.
Shyamal
Founder in India
Verified LinkedIn User
Information Technology & Services, 2–10 Employees
Used the Software for: 1-5 months
One of the worst customer support I have ever experienced
Pros:
Till now, we haven't been able to get it to run for our business at all. They have failed to setup the software, its been 2 months since we bought Zoho books and they have failed to help us migrate our data. When we bought the tool we were promised that migration would be done for us. After waiting for 45 days, they replied saying you would have to migrate data yourself, here's the migration wizard. This migration wizard fails for unknown reasons. Since then following up since 3 days, no response.
Cons:
One of the worst customer success I have ever experienced. 1. They forced us to buy 12 months subscription saying migration won't be done unless we pay2. After buying the tool, its been 2 months but the data hasn't been migrated yet. They have failed in the following counts1. Not delivering on promised timelines2. They don't reply till the time customers call them multiple time for resolution. 3. Even if the call connects we are asked to wait for a call back. This callback promise is not a gaurantee that someone would call. We had to wait for 2-3 days sometimes that too we got a callback when we again called the support channel4. Their migration team has not even started the import process and today its 2 months since we bought the subscription5. Alternatively, we were asked to utilize a migration tool. This migration tool fails for unknown reasosns. 6. Now we are forced to jump through hoops to just get our subscription up and running.
Jennifer
Bookkeeper in Poland
Internet, 11–50 Employees
Used the Software for: 2+ years
Comprehensive & Adaptable Accounting Platform
Comments: Zoho Books offers a comprehensive, easy to use accounting platform that is well suited for businesses of all sizes. The setup is quick and intuitive and the platform is incredibly adaptable. However, customer service needs to be improved and the interface can be hard to navigate.
Pros:
Zoho Books is an incredibly comprehensive and easy to use accounting platform. It provides a wide range of features that allow you to easily manage all aspects of your business finances. The setup is quick and intuitive and the platform is incredibly adaptable to meet the needs of any size business.
Cons:
The customer service is not always up to par and there have been reports of slow response times. Additionally, some users find the interface a bit cluttered and hard to navigate.
Immaculate
Finance Director in South Africa
Information Technology & Services, 201–500 Employees
Used the Software for: 2+ years
Zoho for small to medium business
Comments: This software is great for our business.
Pros:
This software it's very easy to setup and start using it. Even the free version is very rich in functionality. Once you have set it up you can also install the mobile app to keep up with the business. You can even create customer on the mobile app, invoice them, recon payment and send statements. The recurring schedule invoice are such a great feature. You can even setup reminders for unpaid invoices. Month end you can pull reports and understand your business
Cons:
The bank connection doesn't always work nicely, sometimes it delay to update and end up sending incorrect statements to customers.I wish the clone customer was also available on the mobile app.