Freshservice
What Is Freshservice?
Freshservice is an intelligent, right-sized ITSM solution that delivers exceptional employee experiences with an intuitive, scalable, no-code solution. With its state-of-the-art AI and ML capabilities
Read more
, Freshservice helps organizations ease an IT agents workload and improve their productivity by automating mundane tasks. In addition to its AI capabilities, Freshservice is flexible and scalable enough to be used by both: companies relying on legacy systems and modern enterprises.
Read less
Who Uses Freshservice?
Freshservice's customers include MSP's, financial organizations, educational institutions and several government organizations.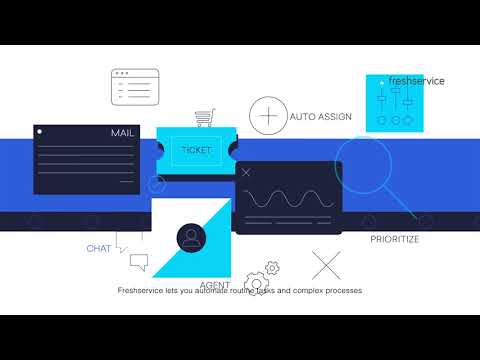 Not sure about Freshservice? Compare with a popular alternative
Not available in your country
Freshservice Alternatives
Erick
Client Technologies Manager in US
Verified LinkedIn User
Automotive, 1,001-5,000 Employees
Used the Software for: 1+ year
Probably the best tool for Help Desk Management
Comments: This is probably the best I used for ticketing. The support is really good, the only bad thing is that you have to contact mostly via chat.
Pros:
The features it provides are really good. The ticketing flow is easy to follow, we can handle our Service Catalog, integrate with Active Directory, manage Asset Inventory and now we started using the Project management tool.
Cons:
The configuration (Initial Setup) is kind of complex. Design the flows is friendly, but complex if you have many rules, but the good thing is that support guides all the way during this process.
Sarah
System Administrator in US
Verified LinkedIn User
Information Technology & Services, 10,000+ Employees
Used the Software for: 2+ years
You can do a lot of great things with Freshservice
Comments: Complete platform for IT service management and reporting on client needs. It gives me the ability to develop material that can be provided as assistance to customers, as well as report back internally to the team and to top board management.
Pros:
I appreciate that it is not only affordable, but also demonstrates a lot of value due to the fact that it comes with a lot of features considering how much it costs. FreshService is capable of competing with ServiceNow in terms of IT service management, and I am accustomed to utilizing ServiceNow.
Cons:
The constraints placed on portal design, in addition to the requirement of having HTML coding skills. I have not been able to determine whether or not it is possible for us to have parent portal sites that include kid pages, and the process of developing these pages will require experience in coding.
Paul
Lean System Analyst in UK
Information Technology & Services, 1,001-5,000 Employees
Used the Software for: 2+ years
Alternatives Considered:
FreshService is Great but not consistent
Comments: It's amazing! it's just hard for me to hand over some of the responsibility due to the steep learning curve. Support could really do with arranging time to speak to you instead of email tennis, support can be slow but some agents are stella!
Pros:
The way it can be used to report on bottlenecks and problem areas as well and programmed to tackle them is a game changer. It's great but you do have to know what changes impact others and I think it could be made more clear even for those with experience it wouldn't hurt and for those learning it would speed up the learning curve a lot.
Cons:
Inconsistencies in user interface. Menus and options and ways of changing things differs on newer or older modules. Also the Employee Onboarding is great but a pain to adjust if you wish to change the Stakeholder order and initiators. Also linking to AD groups for requesters and agents would be ideal.
Chris
IT Technician in Australia
Education Management, 1,001-5,000 Employees
Used the Software for: 2+ years
Great software, spotty support
Comments: I have had several tickets so far where the second level support team have sworn could not work or told me that the functionality is not possible, forcing me to push back on them. At this point they suddenly realise that the product can actually do what I have said all along it should, only a bug is in the way. On at least one occuration, they acknowledged a bug, spent weeks ignoring it, then when I asked for an update swore it wasn't a bug at all and I was just doing things wrong.... thus forcing me to escalate the case. In fact, on one occassion they submitted a set of incorrect repro steps, then blamed *me* for the mistake they made and told me there wasn't any problem!
Pros:
FreshService is one of those frustrating products where the potential is so high and overall execution is done very well, but is let down by ridiculous bugs and even worse support. If Fresh could get to grips with this then I'd score them *very* highly. Unfortunately, they have not proven to be able to achieve this.
Cons:
Reporting is dire. Bugs galore in modules you would not expect. Obvious features are missing, you try to work around them... and encounter a bug.
Olly
Senior IT Operations Specialist in UK
Computer Software, 5,001-10,000 Employees
Used the Software for: 1-5 months
Alternatives Considered:
Best ITSM / ESM tool out there
Comments: We are solving 1200 tickets a week with a team of 22, and automating resolution of 320 tickets a week using workflow automator. We were able to get up and running with Freshservice with only 3 months for planning, build and implementation.
Pros:
- Very little initial configuration needed - features work out-of-the-box - User experience (UX) very very good - modern, quick and easy to use, looks great - Workflow automations and orchestrations allow significant and valuable automation with little work - Sandbox mode allows safely making and testing changes, and syncing them into production easily - Ticket approvals system works very logically and very well
Cons:
- Sandbox sync sometimes fails and needs Freshworks support intervention - Only the main requester can access the ticket, and it's not possible to add others to see the ticket - No first-party SSO integration - we have to use a 3rd party plugin for SSO & SCIM which only syncs user attributes when they re-login - Agent permissions are not granular enough to allow us to lock down the number of admins as much as we want - WYSIWYG editor has quite a few quirks around new lines and styling