15 years helping Irish businesses
choose better software
What Is Front?
Front is a customer operations platform that enables support, sales, and account management teams to deliver exceptional service at scale. Front streamlines customer communication by combining the efficiency of a help desk and the familiarity of email, with automated workflows and real-time collaboration behind the scenes. With Front, teams can centralize messages across channels, route them to the right person, and unlock visibility and insights across all of their customer operations.
Who Uses Front?
Not provided by vendor
Where can Front be deployed?
Cloud-based
On-premise
---
About the vendor
Front
Located in San Francisco, US
Founded in 2013
Front pricing
Starting Price:
US$19.00/month
Yes, has free trial
No free version
Front does not have a free version but does offer a free trial. Front paid version starts at US$19.00/month.
About the vendor
Front
Located in San Francisco, US
Founded in 2013
Front videos and images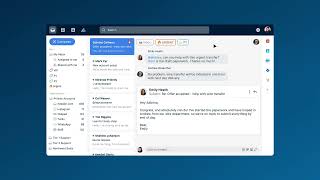 Features of Front
@mentions
Access Controls/Permissions
Account Alerts
Account Management
Activity Dashboard
Activity Tracking
Alerts/Escalation
Alerts/Notifications
Appointment Scheduling
Auto-Responders
Automated Routing
Business Process Automation
CRM
Calendar Management
Calendar/Reminder System
Call Centre Management
Call Recording
Call Routing
Campaign Analytics
Campaign Management
Chat/Messaging
Chatbot
Client Management
Collaboration Tools
Commenting/Notes
Communication Management
Computer Telephony Integration
Contact Database
Contact Management
Customer Communication
Customer Complaint Tracking
Customer Database
Customer Engagement
Customer History
Customisable Branding
Customisable Reports
Customisable Templates
Dashboard
Data Import/Export
Data Visualisation
Deal Management
Discussions/Forums
Document Storage
Drag & Drop
Dynamic Content
Email Management
Email Marketing
Email Reminders
Email Templates
Email Tracking
Employee Database
Employee Directory
Engagement Tracking
Event Triggered Actions
Feedback Management
File Sharing
For iPad Devices
Health Score
Inbox Management
Interaction Tracking
Inventory Management
Issue Tracking
Knowledge Base Management
Lead Management
Lead Qualification
Live Chat
Macros/Templated Responses
Meeting Management
Mobile Access
Mobile App
Multi-Channel Communication
Multi-Channel Data Collection
Multi-User Collaboration
Multiple User Accounts
Negative Feedback Management
Notes Management
Onboarding
Opportunity Management
Order Management
Performance Management
Performance Metrics
Personalisation
Prioritisation
Process/Workflow Automation
Project Management
Quality Management
Queue Management
Read Receipts
Real Time Data
Real Time Notifications
Real-Time Chat
Real-time Consumer-facing Chat
Remote Access/Control
Remote Support Software
Reporting & Statistics
Reporting/Analytics
Response Management
Role-Based Permissions
Routing
SMS Messaging
SSL Security
Sales Pipeline Management
Scheduling
Search/Filter
Secure Data Storage
Self Service Portal
Service Level Agreement (SLA) Management
Shared Inboxes
Shipping Management
Signature Management
Single Sign On
Social Media Integration
Supplier Management
Support Ticket Management
Surveys & Feedback
Tagging
Task Management
Team Management
Template Management
Territory Management
Text Analysis
Third Party Integrations
Ticket Management
Time Tracking
Transcripts/Chat History
Transfers/Routing
Two-Way Audio & Video
Usage Tracking/Analytics
Video Chat
Video Conferencing
Visual Analytics
Workflow Configuration
Workflow Management
Workforce Management
Marjolaine
Co-founder in France
Verified LinkedIn User
Transportation/Trucking/Railroad, 11–50 Employees
Used the Software for: 1+ year
Reviewer Source
Best email software ever
Comments: We have a shared inbox and we had trouble to avoid double answers and we had to forward the emails to each other or CC them on our replies so they could get informed of a conversation
Pros:
Sharing emails without having to forward them, being able to have internal conversations within an email, plenty of integrations
Cons:
When I need to speak to all the team, I have to create a discussion and add them all, one by one. I'd rather have the possibility to @team within an email or a discussion to make sure they are all included. I also whish we could find a slack inbox where we could find all the channels we have and avoid having to switch between the two softwares.
John
Founder/President/CEO in US
Telecommunications, 2–10 Employees
Used the Software for: 2+ years
Reviewer Source
Great Software, Terrible Billing and Support Policies
Pros:
It has a number of very good features for helping teams work together for sales and support. The abilities to share, assign, comment on, snooze and resurface issues makes zero inbox possible. Keeps clutter down and focus on what is most important at the moment. We really like the 'product'.
Cons:
-Front's Billing policies are absurd. If one signs up for an annual plan adding a user even if only temporarily for a day or a month while transitioning employees results in a charge for as much as a full year for that seat. -During the sales process, you will experience significant personal, real-time communications. Once the sales process is over, don't hope to EVER be able to have a real-time conversation with anybody. Regardless of the severity or complexity of the issue, the only option is email that often takes days to get a response which can be a real problem when the platform is down since it is the only way to contact them. They had a chat ability for a while but turned it off apparently because customer expectations for a timely response were too high. -Don't bother making suggestions. Although they have what appears to be a strong attitude towards involving customers, suggestions get a pat on the head and swept into a 'we'll pass that on' basket. No methods or interest to surface ideas and suggestions in a way that other end-users can expand upon or upvote/prioritize.
Transportation/Trucking/Railroad, 51–200 Employees
Used the Software for: 2+ years
Reviewer Source
If you have multiple teams managing emails daily, Front is for you.
Comments: Overall it was easy enough to set up and configure rules without much technical help. The difference from other systems we used to manage our email was instantly significant and improved efficiency and response times.
Pros:
The internal team chat enhances communication and collaboration. The clarity of who is responding or seeing quickly that someone has responded so you do not waste time on emails that someone has already sent or is working on sending.
Cons:
The integration with WhatsApp that we use to communicate with drivers is really more geared toward communicating with customers and is a bit quirky but we made it work.
Verified Reviewer
Verified LinkedIn User
Marketing & Advertising, 51–200 Employees
Used the Software for: 6-12 months
Reviewer Source
Source: GetApp
One of the worst email applications I've ever used
Pros:
The overall look of Front is simple, which is nice. The snooze function on emails. The support staff were friendly and quick to answer.
Cons:
My company switched my team over to Front after a couple people who shared an inbox had issues with managing it. I didn't have a shared inbox, but struggled with the lack of functionality for just personal inboxes. There are so many missed functionalities to Front it made my job incredibly inefficient. I found myself spending more time doing my job which consists of heavy emailing because of Front problems. 1. No calendar. Cannot make appointments, set up meetings, etc. 2. Unable to edit messages in a previous thread. Say someone sends you a list of questions. You cannot just answer next to their list in the previous email and say "see below." 3. Archiving messages... when we first switched to Front, the management team used it for a few weeks to test it. When the team was instructed to switch within the next couple weeks, and BOOM thousands of emails that Front could not autoarchive. I had about 10 emails in Outlook during the switch. The front inbox had accumulated thousands over the course of the management test period. Front could only auto archive shared inboxes, not personal. I had to spend 20 minutes selecting 3000 emails to auto archive since it didn't sync correctly with Outlook. 4. Saving emails... you can't. You only have the option to send a link of the email which only works for those that also used front. 5. You cannot edit pasted tables in front, as far as formatting goes. No deletion of columns or making rows smaller. 6. No red flags or categorizing. Often I'd keep emails in Outlook and red flag them to remind myself to check on it before I leave. No flagging in Outlook. This is replaced by snoozing in Front to make it reappear later, but I do miss the flag option. 7. You archive something in someone else's inbox that they share with you... it archives in their inbox, too. 8. No options to make folders. You want to move emails to a folder to refer to later? You cannot. I could go on and on and ended up emailing a list of 18 problems after using Front for the first 3 months to management who sent to Front support. The responses were basically they hope to rollout that feature one day. Which obviously doesn't help now.
Logistics & Supply Chain, 51–200 Employees
Used the Software for: 2+ years
Reviewer Source
Great email software
Comments: My overall experience has been positive. The software is very good and fulfills basically all our company's expectations.
Pros:
I like it a lot how we can keep our inbox organized. We also have the feature of tagging and asking for team members to check the email or send it to new inboxes within the same company. We can also snooze the email. We like the platform a lot!
Cons:
One thing that is bad in Front is that when you move a conversation to a different inbox, everyone who is not assigned to the 2nd inbox loses access to the conversation.