What Is Insightly?
With more than 1.5 million users across all industries, Insightly is a leading CRM software with native integrations to Gmail, Office 365, MailChimp, and other popular applications. Use Insightly to manage customer data, leads, and projects at every stage of customer relationships, monitor sales pipeline, and measure performance against your sales and business goals.
Who Uses Insightly?
Organizations in any industry looking for an easy to use yet powerful CRM with project management and delivery. Track everything from sales prospects to delivered projects in the same platform.
Where Insightly can be deployed?
Cloud, SaaS, Web-based, Mac (Desktop), Windows (Desktop), Android (Mobile), iPhone (Mobile), iPad (Mobile)
About the vendor
by Insightly
Located in San Francisco, US
Founded in 2010
Chat
Languages
English, French, Portuguese, Spanish
About the vendor
by Insightly
Located in San Francisco, US
Founded in 2010
Chat
Languages
English, French, Portuguese, Spanish
Insightly videos and images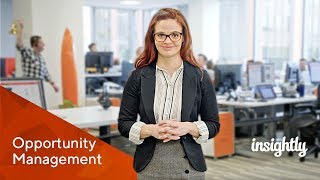 Compare Insightly with similar products
Starting price
US$29.00/month
N/A
US$12.50/month
US$50.00/month
Susan A.
Sr. Manager-Business Operations in US
Verified LinkedIn User
Information Technology & Services, 10,000+ Employees
Used the Software for: 1+ year
A reliable and completely user-friendly tool with immense productivity.
Comments: Insightly CRM offers a wide range of services for our business to improve our customer services and have provided us with benefits to enhance our marketplace. It has allowed us to successfully engage our working relationships with the clients in a more reliable way. I have also been performing project management tasks with this tool.
Pros:
Insightly CRM is itself a very reliable tool which allows the user to gain the most of the advantage with its easy to use features and efficient tools. We can also easily integrate it with other tools to improve the overall productivity. It's super responsive when dealing with the customers. We can easily maintain our sales cycles and ongoing customer service to provide extra care for the clients. The user-interface is also quite easy and manageable than other such tools.
Cons:
Chrome extensions are bit of a clunky addition which further complicated the working procedure so mostly avoid it. The other tools integration is right on point but the social media integration misses few of the parts and continues to be a wastage of time for us. In the end, it proves to be much effected on our overall work and improves the efficiency of our work routine.
Insightly Response
2 years ago
Hi Susan, Thank you for the feedback. The Chrome Extension you're talking about is actually sunset. Try the new Add-On. :)
Joshua K.
Owner in US
Verified LinkedIn User
Utilities, 2-10 Employees
Used the Software for: Free Trial
Alternatives Considered:
Brings all record-keeping together
Comments: We have only been using Insightly for a couple of weeks, but overall I've liked it a lot. Prior to using Insightly, we were manually note-taking in Word documents for each client. Each time that a lead was converted, we then had to go and update everything. Now that we are able to integrate all of our notes, contacts, emails, etc. into one system, the workload has drastically lightened.
Pros:
The thing that I like most about Insightly is that it allows me to document everything from start to finish with each customer. For example, if I send an email to a lead/customer, all I have to do is add that as an attachment in Insightly and I can go back at any time and see anything that was linked with that particular person. This helps track progress when passing off to other team members, too. In a sense, Insightly brings all of the "record-keeping" together and puts in one simple platform.
Cons:
The project management function is pretty basic. Unlike a couple other CRM software that I've tested, Insightly does not offer many of the graphical views that the others do. Being someone who has an easier time seeing data in the visual realm, this was a feature that I wished Insightly would add.
Insightly Response
2 years ago
Hi Joshua! Thanks so much for your kind words. We work hard to make Insightly a preferred CRM for businesses like yours, and are thrilled you're making the most out of our platform. Thank you for being our valued customer. We look forward to helping you and your team reach new heights!
Tarek B.
CEO in Canada
Verified LinkedIn User
Management Consulting, 11-50 Employees
Used the Software for: 2+ years
Insightly : a good option to start with cloud based CRMs for Small businesses
Comments: Insightly helps entrepreneurs and small businesses like most of our clients to get to the digital space and excel in no time. As a Technology expert, I highly recommend it to entrepreneurs beginning with tech and online platforms for their business.
Pros:
Insightly Helps small and mid business manage their leads and projects online, through a fully fledged cloud based tool that provides an abundance of smart features, including customer insights from internet sources, and structured project/opportunity management platform.
Cons:
It is probably requiring some advanced knowledge from our end, but integrating Insightly with e-mail services, social media and other 3rd parties seemed to be complex. We've been using Insightly in its early times, and I'm sure that things went better afterwards with the continuous improvements by Insightly amazing teams.
Iain M.
COO and Technical Director in UK
Verified LinkedIn User
Management Consulting, 51-200 Employees
Used the Software for: 2+ years
Source: GetApp
Long time user verging toward long-suffering user
Comments: This is a product I wanted to like so much. We have been using Insightly for many years. We were attracted to it because it combined CRM and Project Management. Over the years they have improved the CRM aspect, but have left PM virtually untouched. Their support is haphazard and they often introduce new *features* which cause problems - like the day Google Contact Sync stopped working, or the day Google Contact Sync started duplicating contacts in Google etc. Because we signed up so long ago, we have an excellent pricing model. If we were paying more I would be really dissatisfied. Oh and they are just appalling at sharing their product roadmap. It's like driving a manual shift car as the mechanic is fitting new gears as you speed up.
Pros:
Great CRM and Pipeline Management out the box! Contact Syncing for Google is great - despite minor issues. Good simple project lists. Links nicely to Mailchimp and Xero.
Cons:
Very very poor project management. You will need to use other packages for almost anything. No resource management. No Gantt charts. No visibility. Email integration is rudimentary. Task integration is non-existent. No Office 365 contact synchronisation.
Insightly Response
5 years ago
Thanks for the feedback. I'll pass this on to our product team because all feedback helps us improve. With regards to exposing our product road map -- it's common that privately held companies do not make their product road map public. If you have specific questions on features please send an email to [email protected] and we can let you know if they are on the roadmap. Thanks.
Verified Reviewer
Full Time Translator in Algeria
Verified LinkedIn User
Publishing, 11-50 Employees
Used the Software for: 1-5 months
Alternatives Considered:
It helped us to take a big picture of what's going on
Comments: The dashboard is great, neat and organized. The UX is modern and good-looking. And it's a pleasure to fire the app every time i need to work on something.
Pros:
The free plan. With it we managed to educate our clients on the software at no cost on us. Then they upgrade their accounts.
Cons:
It doesn't integrate with Google analytics, doesn't offer online forms or enable creating landing pages and all that is extremely important at the media startups and companies.