What Is Workable?
Workable provides best-in-class recruitment tools, processes and automation in one complete solution. Whether you're hiring employee #2 or 200 new employees, Workable's scalable tools, know-how and support help you make the hires that make your business great.
Companies who use Workable get from requisition to offer letter faster, with automated and AI-powered tools that source and suggest candidates, simplify decision making and streamline the hiring process.
Who Uses Workable?
Workable is for organizations of all types, anywhere in the world. From high-growth tech start-ups to well-established organizations in healthcare, hospitality, media, manufacturing and more.
Where can Workable be deployed?
Cloud-based
On-premise
---
About the vendor
Workable Software
Located in Boston, UK
Founded in 2012
Workable support
Phone Support
24/7 (Live rep)
Chat
About the vendor
Workable Software
Located in Boston, UK
Founded in 2012
Workable support
Phone Support
24/7 (Live rep)
Chat
Workable videos and images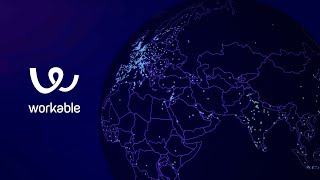 Compare Workable with similar products
Features of Workable
360 Degree Feedback
Activity Dashboard
Applicant Tracking
Application Management
Assessment Management
Billing & Invoicing
CRM
Campaign Management
Candidate Management
Candidate Profiles
Candidate Tracking
Careers Page
Collaboration Tools
Compensation Management
Customisable Branding
Email Management
Email Marketing
Employee Database
Employee Profiles
Employer Accounts
Goal Setting / Tracking
Individual Development Plans
Internal HR
Interview Management
Interview Scheduling
Job Management
Job Posting
Job Search/Filter
Jobs Board
Multi-Channel Marketing
Payroll Management
Performance Management
Performance Metrics
Recruitment Management
Reporting & Statistics
Reporting/Analytics
Resume Database
Resume Parsing
Resume Search
Resume Storage
SMS Messaging
Self Service Portal
Social Media Integration
Social Recruiting
Succession Planning
Talent Acquisition
Task Management
Time & Attendance
Training Management
Workflow Management
Neelam
Associate in India
Verified LinkedIn User
Management Consulting, 1,001-5,000 Employees
Used the Software for: 6-12 months
Workable Review
Comments: It is helping me to download resumes, track applications, shortlist candidates, and tag the interviewer with my comments.
Pros:
Tracking any candidate with an email ID and showing how many times the candidate applied for multiple positions. and it's very simple and easy to track and update feedback.
Cons:
Nothing as such but searching with name is a bit confusing as we get the various result which is not relevant.
Workable Software Response
2 months ago
Appreciate the invaluable feedback, Neelam. Always working to better search results - will look to make search by name as tight as possible. Thanks for being a Workable customer!
Information Technology & Services, 201-500 Employees
Used the Software for: 2+ years
Alternatives Considered:
A great ATS
Comments: IT was great from search to implementation to using it, the experience was very positive and the impact it made to our recruitment activities was apparent day one
Pros:
We love having everything related to the candidate in one place. And being able to have the entire hiring team able to collaborate in one space is excellent
Cons:
We can't sort and file the talent pool for future use except if it is into positions. Also, information from archived positions is not available unless you unarchive a position which can be a bit inconvenient
Tiffany
Talent Acquisition Associate Specialist in US
Pharmaceuticals, 1,001-5,000 Employees
Used the Software for: 1-5 months
Workable is easy for everyone to use!
Comments: Workable has been great. definitely one of the most intuitive ATS that i've ever worked with. It's easy to onboard our hiring managers into the system too because everything is right there for them:
clear toolbar, comment, evaluate, and so much more.
Pros:
The customizability of everything that Workable has makes the experience for the candidate so smooth. We can find out what information we're looking for right in the application. Reviewing, sharing, evaluating candidates have never been easier! The timeline tells you all the communication and actions taken with the candidate and the tabs organize the topic so that you can easily see all evaluations at once. Integration with Outlook/Microsoft 365 has made my workflow so smooth as well. Customer support is also SO helpful whenever I have a question, I know someone will be able to help me with it.
Cons:
There are a few features I wish Workable had. 1. while we are able to have the candidate's first name and last name, there is no placeholder for preferred names (Johnathan Smith's first name will always be Johnathan unless we manually type "John" or something else.) 2. A place where we can send a link to a sourced candidate's application instead of creating a separate google doc with their information or filling out the application on their behalf. ICIMS has a way to send a personalized link and login to candidates to see their application + fill in blanks.
Workable Software Response
last month
Wonderful detail, thanks Tiffany. Will roll the preferred name and custom link ideas to product. You're also welcome to suggest them directly in our customer community: https://community.workable.com/ideas . Appreciate your feedback and support!
Sofia
Director of HR in US
Computer Software, 201-500 Employees
Used the Software for: 1-5 months
Source: SoftwareAdvice
Love and hate relationship with this ATS
Comments: Not what I expected, although I really like a lot of the features, many I do not and it's very frustrating the lack of support, and the system is not cheap at all, so you do expect much better customer support. I will most likely look for a new system, for next year as it is very unlikely we will be renovating the contract next year.
Pros:
I like that I am able to review candidates from my phone or desktop, that I am able to leave comments and feedback and rate candidates right from the system, and that it has lots of bulk features like emailing in bulk and communicating with candidates via email and text. I also like it that we can post to different countries.
Cons:
The main thing I do not like about this system is that its integration features do not always work, I just found out that although Checkr, a background check software that conducts background checks all over the world is able to do this, it does not integrate fully with Workable as they claim it does, so you can only send a background check request through Workable for US candidates but not for international candidates. There are many things that are not customizable and are easily accommodated with other systems I have used in the past, like the requisition fields. You also cannot store your in-house job description templates in Workable, you can only either cut and paste or use them from Workable job descriptions. The number one thing, I am very disappointed with is their customer support, it is terrible, they take days to answer, although their salespersons claimed that customer support is 24/7, this is not true and it is false information. You do not have 24/7 customer support over the phone, email, or live chat. Phone line, nobody answers EVER, email expect no response or at least a day or 2 wait. Chat is the only way you may have faster service. But their agents are not very helpful nor knowledgeable of the process. I used Paylocity in the past which is not just an ATS but HRIS all in one, and their customer support is exceptional, you always get an answer and anyone that you reach out to is very knowledgeable of the product, Workable can learn a lot from it.
Jessica
Game Programmer in US
Verified LinkedIn User
Computer Software, 201-500 Employees
Used the Software for: 2+ years
Recruiting has never been easier and more efficient!
Comments: Workable was able to fix a few issues. Excellent work, in my opinion. Online Video Interview and Online Assessment Test services have already been incorporated, and this was undoubtedly one of the tool's most significant enhancements. As a result, when you purchase the ATS, you get both services for free.
Pros:
One of the most useful features of Workable is the ability to take notes at any point along the way. You may use Workable to send and receive candidate emails through the system, including a notifications page that functions something like a telephone. It has several AI integrations.
Cons:
As Workable is still a relatively young ATS that requires updates and a little of effort, reporting and other more complicated functionalities are a bit limited. Workable isn't the best choice if you want a tool that can do whatever you want it to.