What Is CANVAS?
Open, intuitive, and born in the cloud, Canvas LMS has become the most widely used learning management system by colleges and universities in North America, and the fastest growing worldwide. Delivering dynamic, engaging learning experiences, its 99.99% uptime ensures instant connection between students and educators, anywhere, anytime. Visit us at www.instructure.com
Who Uses CANVAS?
Canvas is the industry-leading platform for millions of passionate students and educators around the world.
Where can CANVAS be deployed?
Cloud-based
On-premise
---
About the vendor
Instructure
Located in Cottonwood Heights, US
Founded in 2008
Countries available
United States
About the vendor
Instructure
Located in Cottonwood Heights, US
Founded in 2008
Countries available
United States
CANVAS videos and images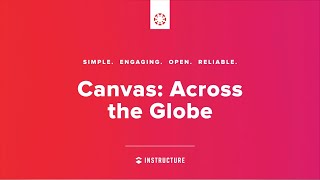 Compare CANVAS with similar products
Features of CANVAS
API
Activity Dashboard
Alerts/Notifications
Assessment Management
Asynchronous Learning
Attendance Management
Attendance Tracking
Blended Learning
Built-in Course Authoring
Certification & Licensing
Certification Management
Class Scheduling
Class Summary
Classroom Management
Communication Management
Compliance Tracking
Content Library
Content Management
Course Authoring
Course Management
Course Publishing
Course Tracking
Curriculum Management
Curve Scores
Customisable Branding
Customisable Reports
Data Import/Export
Document Management
Drag & Drop
Faculty/Staff Management
Gamification
Grade Calculations
Gradebook
Higher Education
Individualised Assessments
Interactive Learning
Learner Portal
Learning Management
Learning Paths/Tracks
Lesson Planning
Media Import
Mobile Access
Mobile Learning
Parent Portal
Progress Reports
Progress Tracking
Real-time Broadcasting
Report Cards
Reporting & Statistics
SCORM Compliance
Screen Sharing
Self Service Portal
Social Learning
Storyboarding
Student Information/Records
Student Portal
Synchronous Learning
Teacher Dashboard
Tests/Assessments
Third Party Integrations
Virtual Classroom
Weighted Assignments
Ilan
Graphic Designer in US
Verified LinkedIn User
Graphic Design, Self Employed
Used the Software for: 2+ years
Canvas Review
Comments: Being a university student I didn't have the full scope of Canvas from the uploading perspective but it allowed me to look at whatever was submitted for our review, download files, check grades and upload homework. As far as a virtual classroom goes this was a slick and useful program in academia with no hassle involved.
Pros:
The software experience was as a student in college or university as opposed to a teacher. From my end everything worked seamlessly to give us classroom assignments to do at home. We could turn in documents and essays and even do online testing. I was always able to navigate the Canvas portal and from what I understood my teachers had little stress in uploading work for us.
Cons:
There wasn;t anything I'd call a major problem with Canvas. Obviously it will have some features beat out by more commonplace methods, such as email instead of an internal messaging system.
Education Management, 501-1,000 Employees
Used the Software for: 1+ year
Review on Canvas
Comments: As a user of 2 years and counting, I am very satisfied with my overall experience with Canvas and am very likely to share it with others. It is software that will continue to be used in the future; it's a major improvement to online learning.
Pros:
This software is very well organised with minor issues. I think as a user of 2+ years, I am extremely satisfied with the software. Although there are some minor improvements to be made, I believe that this software is the future of remote higher education.
Cons:
I think my major complaint about this software would be the fact that hiding and/or deleting certain courses' cards/lists isn't an option. When one year is over and another begins, half of the courses still on my dashboard can be considered clutter and are no longer needed. I think another feature that would make organising easier is editing the name of the course on my dashboard. Organisations usually title their courses in the same format with minimal changes which does make it harder to differentiate from one another. Adding subtle features that allow for personalising your dashboard without compromising the content of the courses would be helpful, I believe.
Design, 10,000+ Employees
Used the Software for: 2+ years
Canvas Review
Comments: I think Canvas is very powerful and it keeps my courses organized but it has a learning curve. I'd recommend training your employees instead of hoping that they figure Canvas out on their own because it can turn into a mess.
Pros:
I like that I can keep track of all of my courses and tasks.
Cons:
I don't like all of the notifications. Some of them are useful like the ones that warn you about deadlines but others are just plain annoying and useless and clutter your dashboard.
Mechanical or Industrial Engineering, 201-500 Employees
Used the Software for: 2+ years
The Blackboard Slayer
Comments: The benefits of canvas over blackboard make it the clear winner. It built the habit of checking my grades and checking the schedule for more work really easy and convenient.
Pros:
Canvas is a flexible learning management platform that integrates well with zoom, panopto, proprietary websites, and more. It helps students take exams and submit homework with reliable automatic grading and robust grade calculations. It does a good job at providing an efficient interface between teacher and learner, and helps students make better study habits. Very happy user of CANVAS
Cons:
The biggest drawback of using canvas is easily the possibility that an administrator doesn't set their course up efficiently. However, this is no fault of the platform itself as many make it perfectly easy to use and reliable.
Richmond
Manager in Ghana
Arts & Crafts, Self Employed
Used the Software for: 2+ years
A great experience so far
Pros:
It's such an awesome software i must say. I'm really blown away by the Progress Tracking aspect!
Cons:
It was just fine. I actually didn't have anything wrong