What Is Birdview PSA?
Birdview PSA is a full-cycle platform that helps professional services organizations plan, manage, and forecast resources, finances, and projects in one place. With a focus on giving customers a birds-eye view into their business, Birdview PSA helps organizations streamline their processes and drive growth. BI-powered dashboards and reports allow teams to make insight-driven decisions and optimize processes for increased productivity, profitability, and efficiency.
Who Uses Birdview PSA?
Birdview is perfect for teams of 10-1000 people managing Professional Services across various industries, including Engineering, IT, Business Consulting and Operations, Marketing and more.
Where can Birdview PSA be deployed?
Cloud-based
On-premise
---
About the vendor
Logic Software
Located in Toronto, Canada
Founded in 1999
Birdview PSA support
Phone Support
24/7 (Live rep)
Chat
Languages
English, French, German, Spanish
Birdview PSA pricing
Starting Price:
US$13.50/one-time
Birdview PSA offers a free trial. Birdview PSA paid version starts at US$13.50/one-time.
Pricing plans
get a free trial
About the vendor
Logic Software
Located in Toronto, Canada
Founded in 1999
Birdview PSA support
Phone Support
24/7 (Live rep)
Chat
Languages
English, French, German, Spanish
Birdview PSA videos and images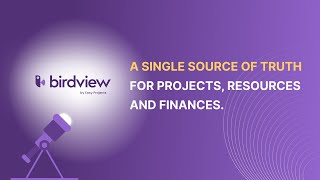 Features of Birdview PSA
Access Controls/Permissions
Accounting Integration
Activity Dashboard
Activity Tracking
Agile Methodologies
Alerts/Notifications
Approval Process Control
Assignment Management
Billing & Invoicing
Budget Management
Budgeting/Forecasting
CRM
Calendar Management
Capacity Management
Client Management
Client Portal
Collaboration Tools
Colour Codes/Icons
Commenting/Notes
Cost-to-Completion Tracking
Customisable Templates
Dashboard
Digital Asset Management
Document Management
Drag & Drop
Forecasting
Gantt/Timeline View
Kanban Board
Milestone Tracking
Mobile Access
Percent-Complete Tracking
Portfolio Management
Prioritisation
Product Lifecycle Management
Progress Tracking
Project Management
Project Planning
Project Planning/Scheduling
Project Scheduling
Project Tracking
Real Time Data
Real Time Editing
Real Time Notifications
Recurring Tasks
Reporting & Statistics
Reporting/Analytics
Reporting/Project Tracking
Resource Management
Resource Scheduling
Search/Filter
Status Tracking
Tagging
Task Editing/Updating
Task Management
Task Progress Tracking
Task Scheduling
Team Management
Template Management
Time & Expense Tracking
Time Tracking
Visual Workflow Management
Visualisation
Workflow Management
Birdview PSA Alternatives
Shahila
Business Development Manager in Malaysia
Verified LinkedIn User
Facilities Services, 10,000+ Employees
Used the Software for: 2+ years
Project management software with useful customization
Pros:
I really love that Easy Project has multiple choices for the project view, which every user can choose the project landscape view that they want. Each of the task are accompanied by the task progress percent or tracker, thus making the process in tracking our project accomplishment percent is very easy.
Cons:
I would really love if they make changes and updating the system so that user experience with this software could improve. For now, the communication platform, like the private message is still quite lacking in the feature, there are no notification that we can see if the recipient has read our message or not.
Christian
Temp Office in US
Verified LinkedIn User
Machinery, 5,001–10,000 Employees
Used the Software for: 2+ years
Easy Projects - Honest Review
Comments: Easy Projects has really helped our business quote projects and collect data on our previous projects. This made it possible to make comparisons and drill into our data to determine where our weaknesses were. We we're able to identify key areas, and improve them, creating shorter lead times, and increasing the efficiency of our resources.
Pros:
I like the structure Easy Projects provides. It's nice to have a software that is pre-built and ready right out of the box to collect your data and analyze it with reports. Instead of using software that you have to build your own reports, charts, and metrics. Easy Projects makes it simple to budget resources, time, and capital. Easy Projects also integrates with Zapier, which helped us automate most of our time entry needs.
Cons:
Some times the structure was too ridged. The financial tab isn't built for non-profit, and the learning curve for using the software was fairly steep.
Alternatives Considered: Smartsheet and Microsoft Excel
Reasons for Switching to Birdview PSA: We chose Easy Projects for the structure it provided over spreadsheet style project management softwares
Selma
Content Manager in Algeria
Internet, 2–10 Employees
Used the Software for: 6-12 months
Easy Projects: A Comprehensive Project Management Solution for Teams of All Sizes
Comments: Overall, Easy Projects is a great project management tool for teams of all sizes. It is easy to use, and provides teams with the necessary tools to successfully manage their projects. The customer support team is also very helpful and responsive. The only downside is the cost for additional features and the limited mobile app.
Pros:
Easy Projects is an incredibly powerful and user-friendly project management tool. It allows teams to easily track their projects, assign tasks, monitor deadlines, and collaborate. The intuitive interface is easy to use, and the custom reporting features provide great insights into project progress. The customer support team is also very friendly and helpful.
Cons:
Although Easy Projects is a great tool, it can be a bit pricey for some teams. The basic plan does not include many features, so teams may have to pay extra for features like time tracking and resource management. Additionally, the mobile app is quite limited in terms of features.
Jennifer
Development Writer in US
Verified LinkedIn User
, 51–200 Employees
Used the Software for: 1+ year
I use Easy Project but I don't administer it. My projects are tracked there.
Comments: My boss can see that I am super productive, not only from compiling statistics, but also because she is notified as I complete tasks.
Pros:
We use a general project template and that helps me remember to do all the small, "finishing up" tasks.
Cons:
I wish I could adjust the column widths on the "My Assignments" page. Only about 17 letters of the project names are visible, and I need to see more than that because most of our projects start out with a similar string of letters and numbers (the date, the campus, the college, etc). I end up using the Dashboard instead, which show s ALL my tasks, not just the ones I'm working on. The second column in My Assignments isn't useful to me, so if it could be customized so I could get rid of it (or move it to the third spot, since it doesn't matter if I can't see the whole word), that would be helpful.
Kelly M
System Engineer in US
Verified LinkedIn User
Information Technology & Services, 10,000+ Employees
Used the Software for: 1+ year
Easy Projects is a robust, easy-to-use project management solution
Comments: When it comes to managing projects, teams of any size can benefit greatly from using Easy Projects. It's simple to learn and implement, and it equips groups with all they need to run projects efficiently. It also has a responsive and helpful customer service crew. The only drawbacks are the app's lack of features and the associated expense.
Pros:
It's a breeze to implement and keep tabs on how much time and effort you're spending on every type of movement for different projects. I like that I can record my workouts and keep track of my progress.
Cons:
The price tag of Easy Projects may be prohibitive for some groups, despite the fact that it is a fantastic tool. Teams may have to pay more for add-ons like time monitoring and resource management because they are not included in the basic plan. Additionally, there is a severe lack of functionality in the mobile app.