15 years helping Irish businesses
choose better software
What Is Trello?
From sales and marketing to HR and operations, teams can design and customize Trello to fit their unique needs and work styles. And with over 100+ integrations with other key tools like Google Drive, Slack, Jira and more, Trello is a living, breathing project hub of cross-team collaboration no matter where your work needs to happen. Trello brings joy to teamwork by making it transparent and easily shareable across boards and teams.
Who Uses Trello?
Trello is for teams of all sizes, for the creators and doers, and for those who take dreams to done. Trusted by millions, Trello powers teams all around the world.
Where can Trello be deployed?
Cloud-based
On-premise
---
About the vendor
Atlassian
Located in San Francisco, US
Founded in 2013
Trello pricing
Starting Price:
US$6.00/month
Yes, has free trial
Yes, has free version
Trello has a free version and offers a free trial. Trello paid version starts at US$6.00/month.
About the vendor
Atlassian
Located in San Francisco, US
Founded in 2013
Trello videos and images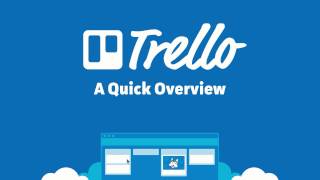 Features of Trello
@mentions
API
Access Controls/Permissions
Activity Dashboard
Activity Tracking
Activity/News Feed
Alerts/Notifications
Assignment Management
Automatic Backup
Backlog Management
Billing & Invoicing
Brainstorming
Budget Management
Business Process Automation
CRM
Calendar Management
Campaign Management
Campaign Planning
Channel Management
Client Portal
Collaboration Tools
Commenting/Notes
Communication Management
Configurable Workflow
Content Management
Cost-to-Completion Tracking
Create Subtasks
Customisable Dashboard
Customisable Templates
Dashboard
Data Import/Export
Data Synchronisation
Deadline Management
Discussions/Forums
Document Storage
Drag & Drop
Electronic Forms
Email Management
Email-to-Task Conversion
Employee Management
File Management
File Sharing
File Transfer
Financial Management
For Creative Agencies
For Small Businesses
Forms Automation
Gantt/Timeline View
Goal Management
Goal Setting/Tracking
Graphical Workflow Editor
Guest Access
Idea Management
Import Tasks
Innovation Management Software
Inventory Management
KPI Monitoring
Kanban Board
Knowledge Management
Live Chat
Marketing Automation
Marketing Calendar
Media Planning
Meeting Management
Messaging
Milestone Tracking
Mobile Access
Multi-Campaign
Multiple Projects
No-Code
Notes Management
Order Management
Order Tracking
Orientation Workflow Management
Percent-Complete Tracking
Performance Metrics
Polls/Voting
Portfolio Management
Prioritisation
Process Modeling & Designing
Product Data Management
Product Lifecycle Management
Product Roadmapping
Productivity Tools
Progress Tracking
Project Management
Project Planning
Project Planning/Scheduling
Project Tracking
Real Time Data
Real Time Notifications
Real Time Updates
Recurring Tasks
Remote Access/Control
Remote Support Software
Reporting & Statistics
Reporting/Analytics
Reporting/Project Tracking
Requirements Management
Resource Management
Resource Request
Resource Scheduling
Risk Management
Roadmapping
Rules-Based Workflow
SSL Security
Search/Filter
Secure Data Storage
Skills Tracking
Sprint Planning
Status Tracking
Strategic Planning
Surveys & Feedback
Tagging
Task Editing/Updating
Task Management
Task Progress Tracking
Task Scheduling
Task Tagging
Template Management
Third Party Integrations
Time & Expense Tracking
Time Tracking
Training Management
Vendor Management
Visual Workflow Management
Visualisation
Web-based Deployment
Workflow Configuration
Workflow Management
Dr. Jeanette
President in US
Verified LinkedIn User
Health, Wellness & Fitness, Self Employed
Used the Software for: 2+ years
Reviewer Source
Trello Is A Must Have With Project Management and Team Collaboration
Comments: Trello is a fantastic way to organize professional and personal projects. I use it professionally to create projects and tasks with my virtual team. I use it personally to keep my grocery list and homeschool resources organized. When we relocated to another state a few months ago, I created a moving checklist in Trello and it helped me keep tasks and contact information all in one place on my phone!
Pros:
Trello is user-friendly, collaborative, and inexpensive. I am a solopreneur and have used the free version for the past 5 years. It accomplishes all my needs and I am able to collaborate with my virtual assistants without delays.
Cons:
The customer service is terrible. They basically read off their website and are not able to answer questions. It's a good thing I've have only needed Customer Service twice in 5 years.
Alternatives Considered: Asana
Reasons for Switching to Trello: Trello was recommended to me by a trusted colleague and it was free!
Jose Miguel
Professor in Chile
Education Management, 1,001–5,000 Employees
Used the Software for: 1+ year
Reviewer Source
When simplicity can be your best ally
Comments: The simplicity of Trello is what keeps me as its faithful user, and every time I have to present this type of tool to my students, it is the only time I do not have to spend a large amount of time teaching how to use it. Despite having many more features since it began its journey with Atlassian, Trello maintains its main asset, which is simplicity, but don't be fooled, you only have to scratch the surface, and you will find that Trello allows you to organize your work efficiently and powerfully.
Pros:
Trello is the task manager that I continue to use, despite using another application as a project manager. The reason is simple, Trello was born as a simple tool and remains so, despite having many more features since I first used it about 10 years ago. This ease of use means that it can be used by people of all levels and ages, facilitating teamwork, and having a free tier that has everything you need to enter the world of modern task managers. If you want more, no problem, you can increase your features for a low cost. I can switch from project manager for sure, but in my day to day, Trello is my preferred task manager.
Cons:
Although its free tier gives a good idea of the type of product that the user has in front of him, it is strange that one of the functionalities that it restricts in that layer are views apart from the classic dashboard. The best way to show the versatility of Trello is by taking a look at the various ways it has to present tasks and workflow. I hope that as its features continue to grow, views will become part of the free core of Trello.
Verified Reviewer
Verified LinkedIn User
Construction, 11–50 Employees
Used the Software for: 6-12 months
Reviewer Source
Trello App Review
Comments: Overall was great but i opt out to use Notion.
Pros:
It is a app that is user-friendly, easy to use
Cons:
I need to purchase a subscription to be able to activate an alarm for a comment or subtask
Alternatives Considered: Notion
Reasons for Choosing Trello: Notion is much more powerful and at the same time it is free
Marketing & Advertising, Self Employed
Used the Software for: 1+ year
Reviewer Source
Using Trello for a Digital Agency Start up
Comments: Very positive. Easy to use and integrate with other tools through powerups
Pros:
This is my Goto for planning projects with my customers. It is zero effort to show a customer how to use it and start collaborating. This in contrast to a tool like Jira is really good for a startup business like mine. I intend to upgrade to premium version but it has been great to get me started.
Cons:
Would have liked to be able to trial premium features before making decision. Maybe this is possible but cannot remember.
Alternatives Considered: Zoho Sprints
Reasons for Choosing Trello: Cost and easy of use
Switched From: Jira
Reasons for Switching to Trello: Just easier to use in the main and Jira is more expensive with it
zoie
Lifestyle Coach in US
Verified LinkedIn User
Health, Wellness & Fitness, Self Employed
Used the Software for: Free Trial
Reviewer Source
Trello is the Perfect Tool for Visually Creative Task and Project Management
Comments: I have tried so many Task and Project Management tools... it's a long list. Trello is the only product that I have stuck with and continually use daily. I'm a visual organizer and love to use imagery to not only keep me organized but also to keep me inspired. Trello lets me set up my Project Boards and Tasks in a creative and fun way. It feels less like a "todo" list and more like creative vision boards. I highly recommend it.
Pros:
I like having separate boards for each project and creating visual themes for each board which helps me to stay motivated and excited about my projects. Trello makes setting up this type of system easy. I'm a big Kanban System fan. In my opinion, nobody does Kanban better than Trello. I also like setting up my Task cards using images. This keeps me interested in my tasks and projects—so I get things done. In addition, I like how detailed the Tasks cards are, which allows me to keep sub-tasks, checklists, images, and additional documentation all within one card, making organization simple. Overall if you are a visual organizer like me Trello is a perfect fit.
Cons:
This is not really a negative, but Trello has a lot of features that I'm still trying to figure out like Power Ups, Automation Buttons, and Templates. Clearly, I have more to learn, and look forward to it. However, beginners may feel a bit overwhelmed at first.